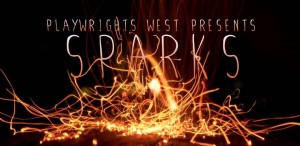 A collection of short works from the writers of Playwrights West
Playwrights West, a professional theatre company composed of nine acclaimed local playwrights, announces its first-ever gala benefit performance. Entitled Sparks, this performance will feature short excerpts of works by all nine member playwrights, culminating in a world premiere excerpt of Playwrights West's upcoming 2013 season performance, Licking Batteries by Ellen Margolis. In addition to the performance, the evening will feature delicious food and wine and a silent auction.
EVENT INFORMATION
Sparks: A Benefit Performance
By the writers of Playwrights West
Directed by Playwrights West Company Member Andrew Wardenaar
Date: Monday, May 20th
Time: Cocktail Hour & Silent Auction at 6 pm . Performance at 7 pm . Post-show reception at 8:30 pm .
Venue: CoHo Theatre ( 2257 NW Raleigh St )
Cost: $40; tickets at door (cash/check only) subject to availability. Seating is limited.
Featuring excerpts from:
Eating in the Dark by Debbie Lamedman
Consider the Ant by Karin Magaldi
Licking Batteries by Ellen Margolis
Bus Stop by Steve Patterson
Ithaka by Andrea Stolowitz (opening May 28th at Artists Repertory Theatre)
Jeepers by Andrew Wardenaar
Where There Is Darkness, Light by Claire Willett
The Chain and the Gear by Patrick Wohlmut
Forky by Matthew B. Zrebski
About Playwrights West
Founded in 2009, Playwrights West, a professional theatre company composed of nine Portland playwrights known for the high quality of their writing, focuses on presenting top-level productions of its members' work as well as supporting the development of original work in Portland . The nine member playwrights are: Debbie Lamedman, Karin Magaldi, Ellen Margolis, Steve Patterson,Andrea Stolowitz, Andrew Wardenaar, Claire Willett, Patrick Wohlmut, and Matthew B. Zrebski.
Drawing upon a growing national movement of playwrights taking the reins for productions of their work, Playwrights West seeks to introduce Portland audiences to compelling, innovative theatrical experiences, while engaging in a dialogue with the Portland theatre community about the rewards of presenting vital new plays by gifted local authors. Playwrights West believes staging new work is essential to furthering Portland theatre's continued relevance to its audiences and the region's overall culture. New plays provide thrilling, unique evenings at the theatre, while exploring the complex dynamics of the 21st-century human condition.
All originals. All premieres. All Portland.