ClownFest:
9th Discrict Circus Court
Presented By Clown As Protest
September 23, 2023 @ 7:30 PM
Clown as Protest (CaP) is a local clown troupe that uses anti-imperialist clowning to structure social and political agitation toward leftist and humanitarian issues.
In their most recent show, a two-headed clown Judge (Judge Boopee) and their three buttcheeks, ahem, clown bailiffs, and Feather Boy (an intern?) are facilitating the trial of three really, really, extra really bad guys who are but puppets of the imperialist state, and it shows. The show will include three accusations, a plea from the accused on trial, and will end with a sentencing by the jury (you, the audience). Someone WILL be pied – catch the show to find out who!
Clown as Protest is a project using Clown to get people educated and involved in the struggle against US-Led War at home and abroad. Clown as Protest performances leave room for experimentation and adaptation, fostering a creative, communal environment. Clowning invites audience members into fun, meaningful dialogue around the plague of American imperialism and
what we can all do to fight its violent impacts on our communities and beloved world.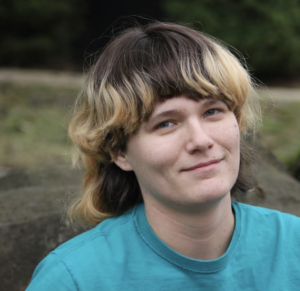 Grace (they/she) is an actor-creator and clown who loves collaborating with others to make silly shows that make a mockery of our current political system, or to create experiences that facilitate healing and joy or even, ideally, devising situations that do both. Recently they were in Anonymous Theater's Pirates of Penzance and devised and acted in their fellow Dell' Arte alumni's cabaret Doom and Bloom down in Arcata, California. They're grateful to be a part of Clown as Protest and to share this new work with you.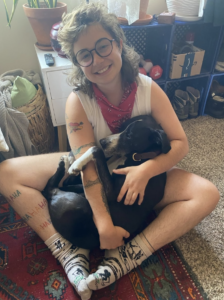 Morgan Clark-Gaynor (they/them) graduated from Lewis & Clark college in May of 2019 with a major in Anthropology and a minor in Theatre. They are an alumni of Portland Experimental Theatre Ensemble's Institute for Contemporary Performance, class of 2020. They have worked around Portland expanding their artistic pursuits in everything from comedy to administration, serving as a tech for Curious Comedy Theater and Operations Manager at CoHo Productions. They have also directed and performed in devised and traditional pieces, using theater to agitate social habits in both performers and audiences. They are currently building a continued career in Performance Studies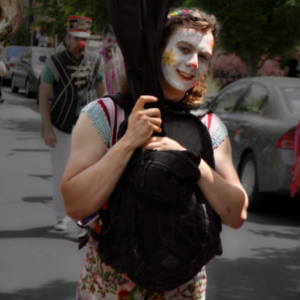 in order to create cultural technologies for community engagement and political activation. Morgan is interested in theatre's ability to unearth new ideas and collaboratively
experience the re-evaluation of everyday life.


Alasdair (they/them) has been performing comedy for the last 3 years. They love creating surreal and silly art.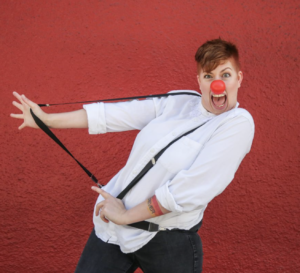 Laurel Wilde (they/she) is a multi-faceted theatre geek based in Portland, OR. Originally from the Appalachian mountains of North Carolina, Laurel started at CoHo Productions in 2018 as a volunteer and is now the CoHo Communications Director at the little 95-seat black box theater she feels lucky to call home. With a background in technical theater and a BA in Performing Arts Studies, Laurel occasionally moonlights as a stage manager or a stagehand at various theaters around town. When she's not working behind the scenes, Laurel can be found in her kayak on the river, clowning around with her local clown pals, or occasionally slinging pies in the side. A major shout-out goes out to her kids (one who is making their Clown as Protest debut!), who patiently tolerate her theatre habit.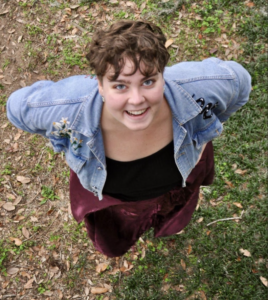 Ceana is just some guy who showed up to one of our rehearsals and would not stop rhyming at us. We couldn't get her to leave, so now we just put up with her. Like any good clown, what she lacks in social skills, she makes up for in height.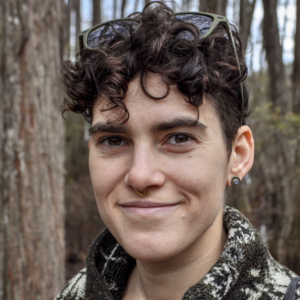 Julia Seydel is not your typical theatre performer. With 7 years of gymnastics experience as a youth, she makes her debut performance at CoHo Theatre to appease her adoring fans. With a love for exploration and nature™️, she can often be found admiring beautiful leaves or collecting rocks, sticks, and moss. During the day, she moonlights as a purchasing agent in the custom fabrication industry.