ClownFest:
All Boats,
All Clowns
Presented By Julia Bray
September 22, 2023 @ 7:30 PM
All Boats, the beloved community variety show, has teamed up with CoHo's Clownfest to bring you a robust, wacky, wild & daring array of solo and duet performances from some of Portland's most experimental clowns!  Hosted by Renman, your favorite Stand Up Comedy Goblin, this night packed with four wildly different clown acts is not to be missed!


OF NOTE: Tickets to All Boats generally sell out very quickly, we highly advise booking your tickets to this one-night-only event in advance!
All Boats was founded in 2015 in NYC as a solution to the exclusive, hierarchal, and insular circles of art that tend to feature the same creators and play safely within their own mediums. To obliterate this phenomenon, All Boats operates through a nomination-based model. Previous performers are asked to pass the opportunity on to artists who need the catalyst to create, the space to be witnessed, and the chance to forge community. This organic expansion of creative connection and wild artistry has generated the All Boats motto: Make Work, Get Lifted–the more we make, dream, and dare to create, the bigger our communal web of magic and artistry becomes. In connecting through the ritual of art, a rising tide lifts All Boats.
"All Boats is a space where a truly wide range of work can be explored and presented,
where risks are championed and diversity of artistry is ever-present."
-Hannah Whitney, Actress, NYC
"'All Boats' is a powerful anecdote to the New-York-is-dead malaise so many people speak of nowadays. It's Bohemia in Bushwick-a combination of Dionysian inhibition and cosmopolitan flare"
–Dan Sickles, Director of "Dina" the grand prize jury winner for Documentaries at Sundance 2017
"A place to get lit up inside, inspired and meet your next collaborator, All Boats offers so many gifts: a creative deadline, a captive audience, and a web of authentic connections between the multitude of talented creators"
– Joseph Merlo, Playwright, NYC
"Sotheby's Live Auction from the Artist's Estate"
Presented by Libby Landauer
Libby is a multidisciplinary creative based in Portland, OR wearing hats such as Artist, Designer, Writer, and Color Concierge. When they aren't creating under the gorgeous umbrella of Marketing they love to dance wildly, walk aimlessly but quickly, read to their friends out loud, and perform on small stages. When they're not in Portland you'll likely find them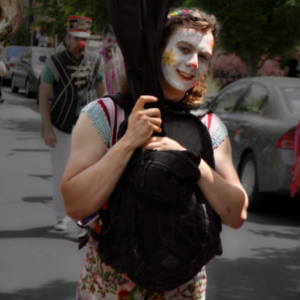 at Lorane Beach Club where they are the resident sign painter or on Orcas Island learning how to sail. Connect online at @libland and @libtech_420candelabras.
"It's A Drill"
Presented by Alasdair
Alasdair has been studying clown for two years now through the Pacific Northwest. They have been in shows from Portland to Seattle spreading their love of physical comedy. Connect online at @Alasdair_Comdey.
"Big Baby"
Presented by Emily June Newton
Emily is an international multi-skilled comedic performer specializing in the areas of clown, physical comedy and character creation. Originating from Australia, she now resides in Portland, Oregon. Emily has performed both nationally and internationally with companies including Terrapin Puppet Theater (AUS), Oregon Children's Theater (OR, USA), The Children's Art Theater of China (Shanghai, CHN) and Dell'Arte International (CA, USA). She also writes, performs and tours solo interactive comedic works throughout the USA including 'Frank: to be Frank' and 'For the love of down under: an evening with Australia'. Emily holds a Master of Fine Arts (MFA) degree in Ensemble-Based Physical Theater from Dell'Arte International (CA, USA), and is a member of the Coho Clown Cohort (CoHo Productions PDX) and San Francisco's premier burlesque clown troupe Fou Fou Ha (PDX chapter).

JULIA BRAY is a renaissance human – whether she is creating, acting, singing, dancing, producing or teaching, she is thrilled by the study of human behavior, the ways we can laugh about it, and the opportunity to deepen intimacy with the human experience through performance. After 10+ years living in NYC, she has made Portland her home. Her favorite professional experiences range from Off Broadway plays and musicals, to "Law and Order SVU", HBO's "How to Make it In America" and her recent gig, stealing a pig from Nicolas Cage in the feature film "Pig". Julia's plays and solo-shows have been seen at Dixon Place, Fresh Ground Pepper, Theater in Asylum, The Habitat Theater Company & CoHo Theater Lab". Julia graduated from NYU Tisch with a double major in Drama and Sociology. As a queer spiritual human, their work lives in the intersection between spirituality, science and comedy. She is obsessed with immersive spaces and the opportunity that art has to transform consciousness. Alongside her artistic career, she is a trauma-informed peer coach, a practicing astrologer, a dance and meditation teacher, and a hospice volunteer.
CoHo is a nonprofit theater that heavily relies on the generosity of our community to continue. If you support our mission, please give what you can!