Created And Performed By Amica Hunter
Sept. 15 & Sept. 16 @ 7:30 PM
International Comedian & Weird-Lil'-Gremlin, Amica Hunter, GETS UNDER YOUR SKIN and CRUSHES YOUR FUNNY BONE in this hilarious, captivating, and sometimes-unsettling-comedy about the horrors of living in a body. An intimate, unpredictable exploration of pain, zoology, & collective imagination. ANATOMICA is a hilarious, captivating, and sometimes unsettling comedy about skeletons. Every animal has got one – But which biological structural system is the BEST? With candidness and a comfortably casual tone, Amica reviews the three skeletal systems found in earthly organisms and discusses the limitations of each one. What would it be like to inhabit a body completely alien from our classic human form?
Part stand-up, part storytelling, and part clown, ANATOMICA is an investigation of the inadequacies of different animal body models, and a celebration of the absurdity of being trapped in a body that is limited by pain, fatigue, and ultimately decay. But, you know, make it fun.
"

One of the buzziest shows this year has been "Anatomica," from Amica Hunter. It's hard to define, really – it's performance art mixed with educational lecture and audible memoir. And it's really, really good.

"
– Cincinnati Fringe Festival, Artists' Pick
"
Hunter is relatable, engaging, and infinitely likable…an expertly crafted piece of theatre…
you'll walk away wondering what you've just seen and wishing for more."
– The Sappy Critic
"A brilliant stand-up set disguised as a serious science lesson, Amica Hunter's
show is like the mutant love child of Laurie Anderson and David Attenborough."
– Winnipeg Fringe Reviews
"Effortlessly funny and great at what they do!"
– Fish Griwkowsky, Edmonton Journal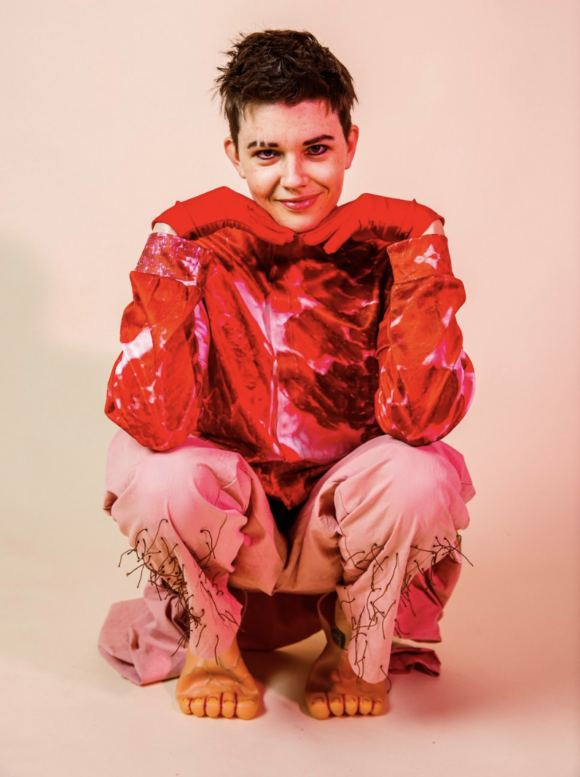 Amica Hunter (they/them) is a multidisciplinary artist and performer who has been devising, performing, and producing clown shows since 2012. They are a graduate of the San Francisco Circus Center's Clown Conservatory Program under director Joe Dieffenbacher. 
Amica is a co-founder of the multi-award-winning physical comedy duo, A Little Bit Off, which has created and toured shows around the US, Canada, Europe, Australia, and New Zealand. A Little Bit Off's physical comedy show Bella Culpa was a part of CoHo's Summerfest series in 2016, and in 2019, Amica got to work with Philip Cuomo as part of the CoHo Clown Cohort in Witch Hunt. They found it an honor to work with such a fun, generous, and clever man. Amica is thrilled to be back at CoHo doing what they love with these loving, brilliant, and inspiring clowns.
You can find out more about what Amica is up to on Instagram (@MeatyMeekers), and if you like spooky things, check out the brand-new local horror theater festival they are co-producing: Stage Fright Festival (www.stagefrightfestival.com)