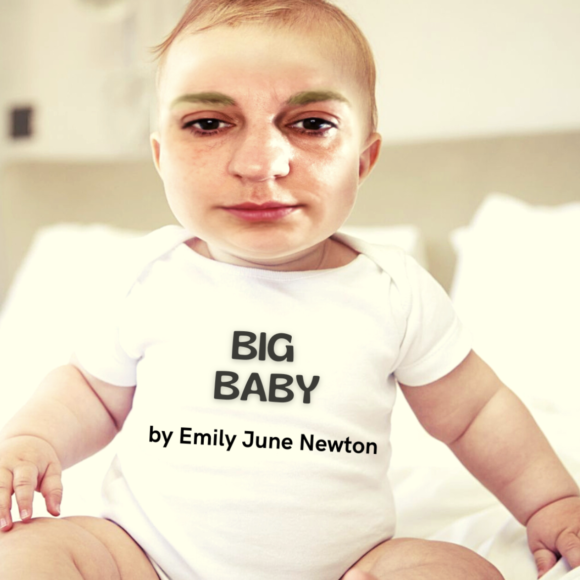 Big Baby
Presented by Emily Newton
Run Time: 20 Minutes
Sept 23 @ 7 PM: OPENING ACT For Mind Blown
Sept 24 @ 7 PM: OPENING ACT for Renman Live!
Do you have what it takes to take care of a baby? Come and find out. Inspired by The Rehearsal (HBO) and combining her love of non-speaking characters/interactive performance, long-time CoHo favorite, performer, and grown-adult-woman, Emily June Newton, performs her most ambitious role yet: 'Big Baby'.
Interested in meeting the Big Baby in person? Stick around after the opening act to meet the artist in person and learn more about their creative process before our headliner takes the stage at 8 PM.
"Newton captures the innocent ignorance that makes clowning an engagement with humility and discovery."
– The Portland Mercury
"Emily Newton stole the show. Her performance style is comparatively subtle, but so polished that she has merely to walk on stage to elicit laughter. Every scene she's in is comedic gold."
– Broadway World 
"…complete and beautiful nonsense. Uniquely twisted and inane."
– Plank Magazine
Emily June Newton is an international multi-skilled comedic performer specializing in the areas of clown, physical comedy and character creation. Originating from Australia, she now resides in Portland, Oregon. Emily has performed both nationally and internationally with companies including Terrapin Puppet Theater (AUS), Oregon Children's Theater (OR, USA), The Children's Art Theater of China (Shanghai, CHN) and Dell'Arte International (CA, USA).
Emily also writes, performs and tours solo interactive comedic works throughout the USA including Frank: to be Frank and For the love of down under: an evening with Australia. Emily holds a Master of Fine Arts (MFA) degree in Ensemble-Based Physical Theater from Dell'Arte International (CA, USA), and is a member of the Coho Clown Cohort (CoHo Productions PDX).