Our final featured resident is Claire Rigsby, a performance artist who specializes in devised theatre and solo work. Claire is a performer, mover, maker, and shaker originally from Atlanta, GA. She is a graduate of Emory University and the Institute for Contemporary Performance with additional training with the London Academy of Music & Dramatic Arts, Dr. Sarah Maines, Jacob Jonas The Company, and more.

Claire's piece, (un)tangled, explores the mind through knitting and crochet, the power of one stitch at a time, and accepting how easy it is to unravel. Through movement, text, and a whole lot of yarn…(un)tangled asks…is this a mess, or the beginning of a beautiful new creation?

Learn more about Claire's creative process, her inspiration for the piece, and her favorite part of participating in the CoHo Residency Project. 
---
body copy
Tell us a little bit about yourself as an artist. What kind of art do you create?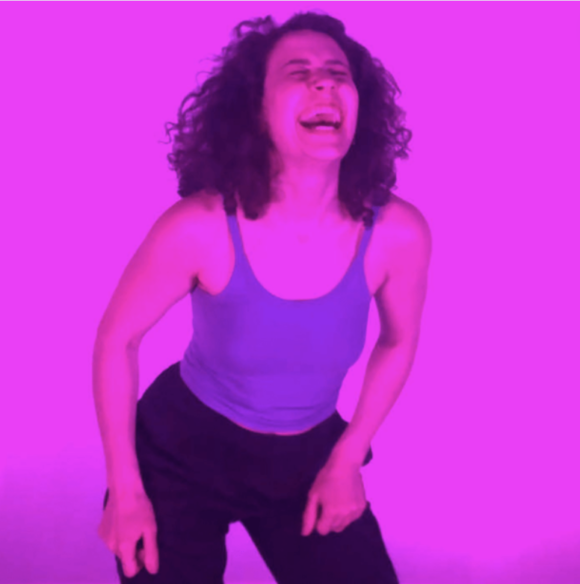 As an artist, I do all sorts of things. I grew up thinking I was going to do musical theatre my whole life, and slowly that opened up to doing all sorts of theatre, musical theatre, children's theatre, Shakespeare, straight plays… but I think there was a part of me that was always intrigued by experimental theatre. I was raised in a way where that wasn't something that was… I mean, I knew it was cool, I just didn't think I really had a place in it. And then there was a time when traditional theatre wasn't lighting a fire for me anymore. I ended up working on a friend's project briefly that was a devised theatre piece and felt super alive, just like, lit up and excited and a friend of mine suggested that if you feel this way about this work, you should check out Portland Experimental Theatre Ensemble (PETE), so I took one of their intensives and it just lit me up in a way that I hadn't been in a really long time. So I did their training program, twice (haha) and I realized that making my own devised experimental physical theatre pieces has been some of the most fulfilling work that I've ever created. So yeah! I went from a person who was into musical theatre and not really in my body to a person who just wants to wiggle and say everything with my body, and not my voice.
How did you first hear about the CoHo Residency program?
I am buddies with Phil Johnson, CoHo's Programming Director, and we realized that we wanted to work together and make art together, especially after creating my CoHo NIGHTLIFE piece Missed Connection. That, and obviously knowing Andrea Vernae and Chris Gonzalez (2021 Resident artists) and being inspired by the work they did… I feel like I was really struggling with trying to find collaborators, people to make art with – it's really tough and I feel like the combination of Institute for Contemporary Performance (ICP) and meeting Phil Johnson and PETE and Philip Cuomo connected me to so many people now that I feel so inspired by and excited to work with. It was a combination of a few badass people that brought me to the CoHo Residency.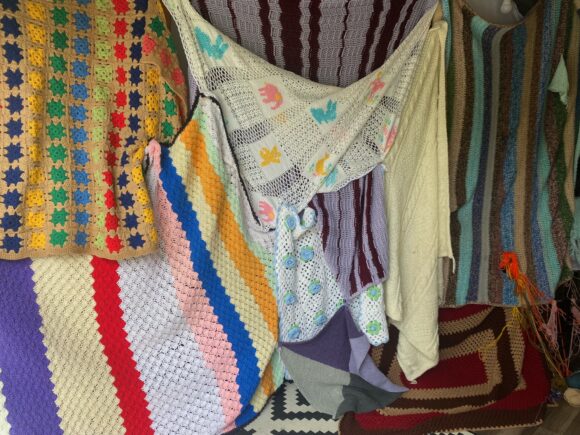 What made you decide to become a Resident at CoHo?
The honor and the freedom of being able to make my own work and be supported by an institution while doing it.
What's it been like to work with the other residents?
Honestly, I wish that we had had the chance to have more meetups. I'm super inspired by Xzavier's work ethic and drive and no fear mentality, and super inspired by Morgan's commitment and exploration of social justice. I wish we had had more time to listen to one another talk about what they were making because I find that really exciting and helpful in my own work.
Let's talk about your piece. Tell us a bit about (un)tangled.
(un)tangled came from a desire to explore my own mental health and mental health struggles and I found it extremely difficult to explore my depression while I was in my depression, because it was hard to do anything, and then I found it extremely difficult to explore my depression while I was out of my depression because I couldn't access those same feelings. I'm a fiber artist, I knit, I just recently taught myself to crochet, I've gotten into tufting, realizing that especially knitting and things, like the self-soothing practice… I often fall back on in the darkest of times. It is the one thing I can continue to do when I am really struggling. I was able to explore mental health and patterns and all these things through the lens of knit and crochet, and that knit and crochet shows me the duality and plurality of all those things, in terms of like – YES.
It is only one stitch at a time, but also, how easy is it to unravel? You've just got to pull the thread and boom – undone. Looking at that moment when you realize, wowwwww, I've been doing the wrong pattern for 50 rows. As ridiculous as this sounds, the way you respond to that moment can reverberate out to how you respond to larger moments. Sometimes, yeah, you want to scream and yell and shout out, "Oh my god, I just wasted all this tiiiiimeeeee!" and also, there's something so beautiful and comforting about being like, "Ok. I'm going to take a deep breath and pull this out, all the way, and then I'm going to start again!" Even just the simplicity of how every knitter or crocheter knows you can go from a really lovely ball of yarn to an insane tangle that you feel like you can never get out of, very quickly. So yeah, the patience and the understanding and the stopping and the noticing and also the repetition… this all helped me explore those things, and the comfort of a knit blanket, and being surrounded by all those things is cozy and warm and lovely, and it can also be like a bit of a cave and a trap… so yeah! That's how (un)tangled started!
Where did your inspiration come from?
I think definitely depression, and also, the first solo piece that I created in my first year at ICP included a massive tangle of pink yarn that I would dance in every night. It would become this insane tangle that would tangle me up, and at the end of the show I would take it off and before the next show, I would sit there and slowly untangle it and re-ravel it and the calm that taught me a lesson. At some point, a lot of my work comes from this, an image just pops into my head and I'll be like, I don't know what this is, but I'm going to follow this thread. I just saw a room just covered in yarn, and knit, and blankets… I saw this, and it started with that image and I knew I wanted to probably look into my depression and things like that but I didn't know how, and then I saw this image, and it just kind of grew from there.
Are there any underlying themes in your piece that we should be aware of?
Mental health, depression, patterns, self-care, self-destruction, yarn:)
What kinds of technical elements are you utilizing for your piece?
I'm doing a site-specific piece that will, at some point, develop into a solo show. I realize that I wouldn't get what I wanted out of this experience and this art if I created a whole solo show that is sort of meant to be a 1-on-1 piece, and because I didn't have any time, I didn't want it to be like, ok, now I'm going to perform it for Phil or one person with a camera setup. What's happening is it's becoming something different. I need to be proud of the piece that I present to the world and if that piece got to be presented 30 times to individual people before the weekend of the 27th, then a shitty recording of it would suffice, but because I don't have the time to do that, I'm creating a short film that will one day lead to the solo performance. Right now, the technical elements I'm dealing with are… it's site-specific, it's in my garage studio, I'm building an installation, a huge intricate set installation which is something new for me, I'm definitely playing with large, epic costumes, and like, lighting? I am not a lighting expert, but I'm going to try to be!
What are some of the biggest challenges in creating this piece?
Creating solo work is hard. I truly believe that no solo work is actually solo work, it's very difficult to do a completely solo piece. Some of the biggest challenges for me are getting in my own way – I tend to be deeply insecure about creating my own work, thank god for Phil Johnson and his even-keel personality and his incredible support and understanding. It is challenging for me to ask my community for help around my artistic endeavors and through this piece, I'm trying to figure out how to undo that pattern in myself.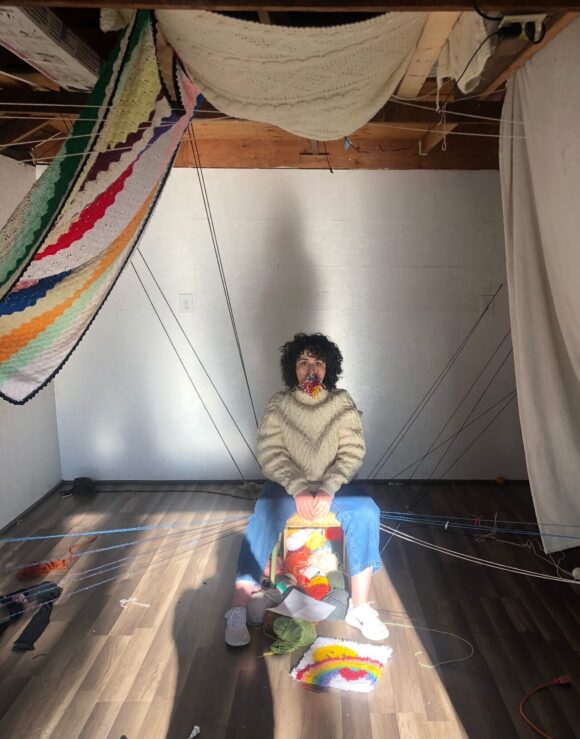 What has been your favorite part of this entire process?
Getting to collaborate with Phil, taking moments when I am really stressed out and feel like I can't do it, to remember that Philip Cuomo would tell me that I could. That's my favorite part, it's been really present, remembering what a support he was and that he is still supporting me now, even though it's really hard without him. That's what he did best, and that's when I miss him the most, because he was so good at believing in people in a way that I am still so in awe of. When things are really hard…I find myself craving more time with him. With someone who believed in me so much. He made me believe in myself. Or at least…he made me DO the thing to prove to that I could do it. I have to remember that with him not being physically here doesn't mean that I can be like, "Fuck, I can't do it, now there's not someone who believes in me." I have to carry his belief in me forward, that even though it seems really hard, that his belief in me didn't run out. I have to be the one who keeps carrying it forward. He makes me want to believe in other people more and to honor his memory, we have to believe in ourselves, and he would be so pissed off if we dropped that ball.

What do you hope audiences take away from your performance?
I think that it's good for all of us to examine our own patterns and to be tender with ourselves and with others when we're lost in the big sad, asking yourself how close am I to unraveling, what are the things I can do to support myself and support others from unraveling.
Is there anything else you would like our community to know about your piece?
I just want the community to support Philip's vision going forward and make it happen, because it's going to be so fucking cool when it does happen. Every piece of art that comes out of CoHo is a living testament to his legacy, and I want to say that through Philip Cuomo and Phil Johnson, the opportunity that CoHo presents when it comes to supporting young, up and coming artists is one of the most exciting things happening in Portland right now. And people should pay attention to that. 
---
body copy
(un)tangled is a site-specific piece and will be available to stream between 12 AM on Friday the 27th through 11:59 PM on Sunday the 29th. Tickets are all Pay-What-You-Can and are available to purchase in advance. Book yours today!