ClownFest: Introduction to Mime Workshop
Presented By Sule Gurbuz
September 17, 2023 From 12 – 5 PM 
***Limited Capacity Event***
Join local and international performer and teacher, Sule Gurbuz, in her captivating Introduction to Mime Workshop, where she will guide participants on a journey of self-discovery and artistic expression. Through a series of engaging exercises, practical demonstrations, and personalized feedback, Sule empowers individuals to unlock their creative potential and harness the power of silent storytelling.
Whether you are a seasoned performer or a curious novice, Sule's workshops provide a unique opportunity to delve into the captivating world of mime, refine your technique, and deepen your understanding of non-verbal communication. 
THE FINE PRINT
The Introduction to Mime Workshop is for adults 18+ and no previous training needed. This workshop is valued at $200.00. However, to help remove financial barriers, a sliding scale is being offered ($200 – $150 – $100). If finances are a barrier to access, please – reach out by emailing our Communications Director at marketing@cohoproductions.org. We'd love for you to attend, and we'll work with you to find a price point that fits within your budget.
OF NOTE: 
We ask that participants plan to attend all 5 hours of the event to get the most out of their workshop experience. 
The Reviews are In
"Sule, the clown, is an incredible performer with exceptional artistic abilities. Her dedication to her craft and rapport with the audience is truly remarkable, and her extensive experience makes her an outstanding teacher. Her classes are sure to be inspiring and engaging."
– Mariano Jaja, former clown at Cirque du Soleil
"Sule is a clowning healer, a healing clown, a force of great kindness and levity.
Her mime is gentle and compassionate and she tells stories as light and sweet as clouds."
– Ken Yoshikawa, Actor / Poet / Playwright
"Sule's teaching style is one of  true constructive support – you will receive warm instruction and feedback all along the way from an expert who will ensure you both learn the material and walk out with a smile."
– John Carter, Songwriter / Singer / Playwright / Poet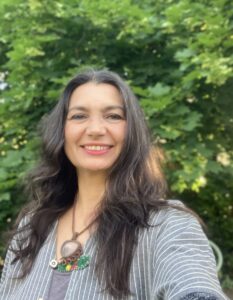 Introducing Sule Gurbuz, a remarkable mime artist with an illustrious career spanning several decades. Sule's extraordinary journey into the world of mime began in 1984 when she embarked on her training under the tutelage of the esteemed mime instructor, Taner Barlas. Her passion for the art form blossomed, leading her to become one of the pioneering members of Turkey's first-ever mime theatre group.
Together with Taner Barlas, Sule collaborated on the creation of a mesmerizing mime show, which featured a collection of 13 captivating plays. These intricate and expressive performances showcased Sule's exceptional talent for silent storytelling, enchanting audiences with her seamless blend of grace, emotion, and impeccable technique.
From 1992 to 2000, Sule dedicated herself to her craft as a professional mime artist. She mesmerized audiences with her remarkable ability to convey complex narratives and emotions through nuanced body language and captivating gestures. Her performances transported spectators into a world of imagination and wonder, leaving an indelible impression on all who witnessed her artistry.
In addition to her accomplishments as a mime artist, Sule also dedicated a significant portion of her career to serving as a Clown Doctor from 1998 to 2016. In this role, she spread laughter, joy, and healing through her comedic and empathetic performances in hospitals. Combining her expertise in mime with her natural ability to connect with people, Sule brought comfort and happiness to patients of all ages, brightening their spirits during challenging times.
Furthermore, Sule Gurbuz extended her passion for mime to her role as an educator. She shared her knowledge and love for the art form by teaching mime at Yildiz Technical University to her English students. Through her teaching, she not only instilled a deep appreciation for mime but also inspired her students to embrace the power of non-verbal communication and creative expression.
Now, Sule Gurbuz is eager to share her wealth of knowledge and experiences with aspiring artists and enthusiasts alike through her transformative mime workshops. Drawing from her extensive background in mime and her profound understanding of non-verbal communication, Sule creates a nurturing and engaging environment for participants to explore the art form. Connect with Sule ONLINE and on INSTAGRAM.