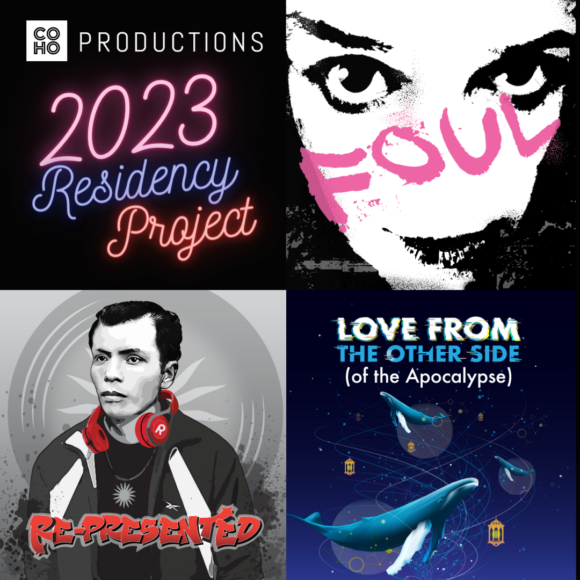 COHO LAB RESIDENCY PROJECT
Produced by CoHo Productions
June 23 – 25, 2023
The CoHo Residency Project is a semester-long opportunity for artists to develop an idea or revive an old project and take it to the next level. Over the course of the semester, each artist will be guided and supported by CoHo to help them cultivate an organic creative process that they can take with them wherever they produce in the future. Back for our third year, CoHo Residency performances will be both live and in person. Learn more about individual shows below, and book your pay-what-you-can tickets today!
The 2023 CoHo Residency Lineup
Presented by Kamala Woods & Sofía Marks
June 23, 2023 @ 7:30 PM
Runtime

: ~30 minutes
FOUL is an exploration of the feminine shadow, where a simple game of baseball becomes a journey into the psyche. This devised film and live performance invites the audience into the realm of ghostgirl, a hungry demon who rules the underworld and breaks all the rules. She hunts down a sweet but stray swanmaiden, initiating her into a Ghost's Game. Inspired by the works of Marion Woodman, Robert Bly, and Carl Jung, FOUL is an expression of the internal wasteland, holding the knowledge that in order to be released from a state of stasis we must lose the game and eat our own darkness. It draws influence from Bly's stages of shadow retrieval, calling upon our cracked selves and forcing us to feed what we've let starve. The deeper we go into the night, the thicker the mud gets. To be lost in this abyss is an invitation; but there we must decide:
Will we bury down our hunger, or risk devouring ourselves?
Created by artists Kamala Woods and Sofía Marks, FOUL is a dark emergence, a crossing over into the shadows where we are challenged to wring out all that haunts us and embody the wild self, lest we remain static. This multi-media performance interweaves mythic and primordial imagery with a pop-art feel, exploring dance, body, breath, and baseball. Film and live performance become interactive with each other, as what happens on screen impacts the stage. Nothing is what you expect it to be, here in the domain of demons, and sometimes the only way to find your path again is to lose it entirely. 
"What do we do then? We send out a crow." –Bly


Croak, croak.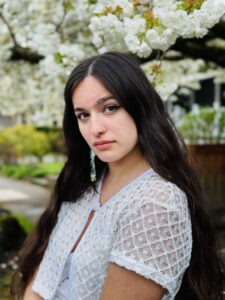 Sofía Leonila Marks is a performer and multidisciplinary theater artist based in Portland. She trained with PETE's Institute of Contemporary Performance (ICP), class of 2022, and graduated from Lewis & Clark College with degrees in Theatre and Biology. Sofía recently performed in Shaking the Tree's Forbidden Fruit as the Apple, and in PETE's, The Cherry Orchard by Anton Chekov, as Anya. She also devised and performed in her original works: "There is Darkness and There is Darkness" and "Con serpientes vengo yo" or "I come with snakes." In both performances, she explored her relationship with her body, femininity, monstrosity, and shame. The Aztec snake goddess Quetzalcoatl, "the one who is at one with the beasts," was the inspiration for the performance and served as a guide for Sofía's search for balance and self-acceptance. For Sofía, her body is a site of reflection, and a ritual tool for remembering herself and engaging in the borderlands of her identity as a mixed Latina in America. Through the transformative process of performance, she can push the limits of her body and voice in hopes of unraveling herself before an audience. Connect on Instagram @so.so.daisy.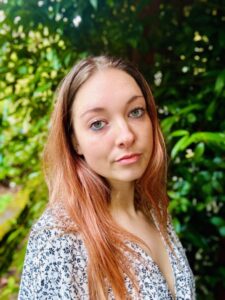 Kamala Woods is an emerging filmmaker and performance artist based out of Portland, OR. She received her BA in Studio Art from Lewis & Clark College, graduating in '21. Since then she has worked with Portland Experimental Theater Ensemble, completing their ICP program in '22. She performed her show VOID in their annual festival. Past shows include Blissters, where she screened her video series Dinner Talk at the Hoffman Art Gallery as part of her senior thesis. Kamala also works in documentary film, having just completed her debut feature HomeFree. Through her experimental and documentary-based films, Kamala seeks to capture the complexity of being alive in all its different states. Her work searches for the nuance and beauty present in difficult circumstances, as she celebrates life in all its various forms.  She often utilizes a mythic and psychological framework when relating to herself and her artistic practice, exploring how film can be an extension of the feminine gaze. Connect ONLINE and on Instagram @errand_grrl.
Presented by Jhus Custodio


June 24, 2023 @ 7:30 PM
"A Pilipino Musical"
Re-Presented is an original hip-hop musical about Filipino rappers who become the target of a CIA investigation. The events and characters are inspired by Filipino revolutionary history during Spanish Colonization in the 1800s but reimagined in America for a modern context. Utilizing hip-hop music influenced by Filipino artists and Lin-Manuel Miranda, Re-Presented tells a timely story of diversity centered on current Filipino issues, while also adding new layers to the conversation about inclusive representation.
Jhus Custodio (CoHo Resident/Writer/Director) is a local community organizer, music producer, writer, rapper, and world-class marching percussionist. He toured the US in 2013 with Oregon Crusaders, a world-class drum and bugle corps, and was section leader for 3 years with OC Indoor, a world-class indoor marching percussion group that was one of the top 10 groups in the world in 2016. He also performed with Green Note, the a cappella group at Portland State University and ICCA quarterfinals champions in 2018, where he won the ICCA Outstanding Vocal Percussion award. His experience organizing with Portland Filipino nonprofits eventually had him focus his art in hip hop as a tool for activism, utilizing the world-class experience as a percussionist for unique hip-hop music production and lyricism that focuses on the struggles of underrepresented communities. He is a frequent featured artist in Filipino community events and mobilizations including cultural night performances, hip-hop theater directing,  and performing in climate justice-focused rallies such as the Portland Youth Climate Strike in 2019 with over 6,000 in attendance. Connect on Instagram @juiceyjhus.
Presented by Ki Ridenour-Starnes


June 25, 2023 @ 2 PM
"Part Mourning Ritual, Part Love Ceremony, Part Joyful Co-Imagining Of A Future, Part Dance Party – All About Love!"
Rooted in the pivotal works, All About Love by bell hooks and Braiding Sweetgrass by Robin Wall Kimmerer – with woven branches of the works of Octavia E. Butler, adrienne maree brown, Frederico Garcìa Lorca, and the expansive loving relationships Ki shares with their loved ones throughout space and time – this moving audio and installation piece is a Love Letter and Invitation to the Community.
Weaving sounds, lights, projections, painting, and embodied performance; Ki moves in symphonic wonder with the beloved voices of community members –
Current and future Elders – excerpts from All About Love – sounds of our non-human relatives (animal, weather, and similar kin) and space and time themselves. Asking the questions: What if WE get to Be Free? What does the community need in this moment? What Delight can we share here and now?
Audiences begin with a quick orientation, where they will be gifted a Guiding Light to accompany them on their journey into the Known Unknown. Each room has been carefully curated with the tools they'll need on their journey to shed their old selves. Offers of opportunities to process grief and sorrow, to hold devotional love, and to emerge into a new shared vision of the future – reminding us of the woven webs of support that exist within and around us.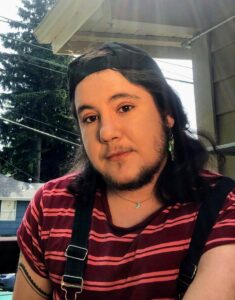 Ki Ridenour-Starnes (she/they/fae/+) is a multi-disciplinary indigenous artist, an embodied emergence based theater-maker, and a knowledge sharer. Their work focuses on the welfare of community; working from the idea that artistic expressions are inherent to our collective existence, survival, and future. They love to explore immersive, audience driven pieces that work on sparking direct action to empower communities and the alchemization of their healing and growth.
In 2021, they graduated with an MFA in Directing from the University of Portland and was a member of the 2020/2021 Cohort for the Institute for Contemporary Performance. They've mainly worked in Portland on pieces like The Flame, And So We Walked, 1984, Hedwig and the Angry Inch, El Público, Wolves Eat Elk, Clown as Protest: Build a Bougie, Shroom Show: A Foraging Tour, and more! When not working they are likely brewing new tea blends, hiking with their pup, reading so many books, playing games with friends, gardening, clowning around with their troupe, or wandering through vast rabbit holes of knowledge. Connect on Instagram @punkfaerieprincet.
Past Residency Performances
In an effort to make art at CoHo accessible, all Residency performances are live streamed to our virtual audience.
Check out the archival footage of the CoHo Residents from 2022 on the CoHo YouTube channel.
Are you an artist with a story to tell, who's been looking for the right environment to nurture and foster your latest work? Do you have a thought or an idea that you want to turn into something more? The CoHo Residency Project is currently seeking residents for our 2023 season! Click HERE to learn more about the program or fill out the rental survey below to apply to be a resident with CoHo Productions.
CoHo is a nonprofit theater that heavily relies on the generosity of our community to continue. If you support our mission, please give what you can!