Julia Bray Proudly Presents
Charles Dickens'
A Christmas Carol
A VICTORIAN READING 
BASED ON CHAS. DICKENS ORIGINAL READING TEXT
With THOM BRAY As MR. DICKENS
December 23, 2023 @ 2 PM & 7:30 PM
Live, On Stage! Mr. Dickens reads his famous "Christmas Carol."
Join us for a re-imagined audience interactive presentation of Dickens' famous reading of his beloved story.
A CHRISTMAS CAROL is one of the most beloved holiday stories in the English language. Here is the tale of Ebenezer Scrooge and his Christmas Eve conversion from "covetous old sinner" to "as good a friend as the City of London would ever know"! 
In the mid 1860s, Charles Dickens took to the stage to give dramatic readings of this story to sold out crowds. Working from the text of the author's original reading copy, veteran actor Thom Bray faithfully recreates the theatrical experience that Dickens' Victorian audiences had!
Appearing as Mr. Dickens himself, Mr. Bray recreates a magical moment in history when literature met theatre. This year, performed for the first time at the intimate CoHo Theatre space, A CHRISTMAS CAROL is wonderful family entertainment.
The Reviews are In
"One-man 'Christmas Carol' Is Revelation"
"No ghostly apparitions floating down from the fly space or up from a trap door.
No street-scene crowds or wooden crutches. Just a room, a text, a voice and the audience's imagination."
–The Oregonian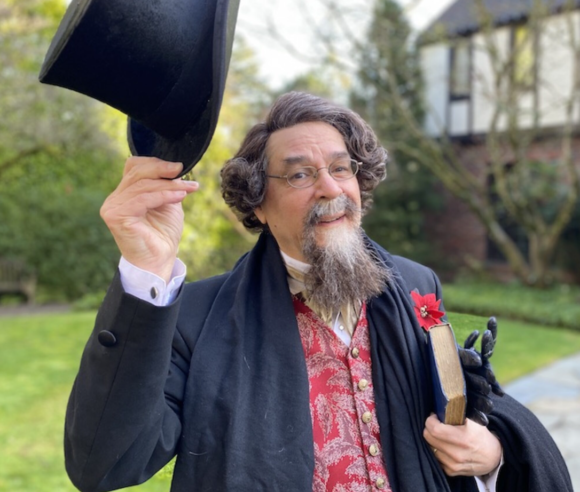 Thom Bray has been a professional actor for over 50 years. He has been on stage in regional theaters throughout the country, including several shows at Portland's Profile Theatre. His films include Burglar, Deep Star Six, Horror Show, and Prince of Darkness. Mr. Bray starred on television in many different shows including Breaking Away, Murder She Wrote, Quincy, Love Boat, and Remington Steele.
His many years of work providing voices for commercials and cartoon shows like Scooby Doo and Teenage Mutant Ninja Turtles has especially prepared him for the many voices he creates – from Scrooge to Tiny Tim – for A Christmas Carol. Thom was also a writer/producer for television shows including Designing Women, Evening Shade, Now & Again, and Nash Bridges. He currently teaches Writing For A Screen at Portland State University.
CoHo is a nonprofit theater that heavily relies on the generosity of our community to continue. If you support our mission, please give what you can!