CoHo Summerfest – Week 3
JULY 6 – 9, 2016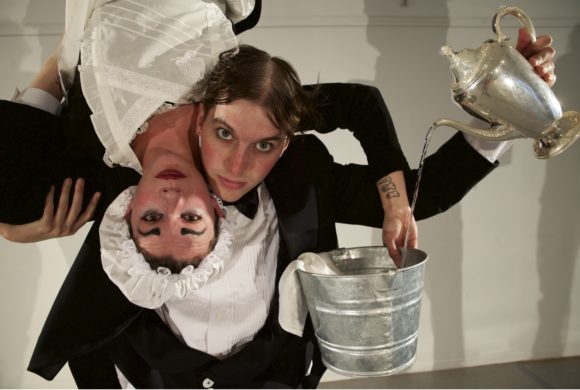 Bella Culpa
ABOUT THE SHOW
A Little Bit Off's newest original work Bella Culpa is a slapstick comedy that follows two peculiar servants in an Edwardian manor as they bustle around, trying in vain to complete all of their chores. With a mess of silver buckets, a slew of uninvited furry guests, and impressive circus-style acrobatic flair, this off-beat comedy will leave everyone chortling. Like Downton Abbey Meets The Three Stooges.
-Winner of the 2016 Orlando Fringe Festival's Patron's Pick
-Selected as Best of the Fest 2016 by the Orlando Sentinel
PRODUCTION CREDITS
Devised and performed by Amica Hunter and David Cantor of A Little Bit Off
ABOUT THE ARTISTS
Amica Hunter has been an artist all her life. She grew up in Albuquerque, New Mexico where she spent her time vaulting, acting, painting, sculpting, swing dancing and climbing trees. Amica moved to Portland in 2010, where she received training in aerial silks, static trapeze, theatrical improvisation, stilt-walking, unicycling and partner acrobatics. After putting together a few multidisciplinary comedic performances, Amica packed up her things and moved to San Francisco to study clowning in the new Clown Conservatory professional program at the San Francisco Circus Center under under director Joe Dieffenbacher with teachers Dan Griffiths and Natty Justiniano. While in the program, Amica gained quality instruction in the disciplines of clowning, bouffon, Commedia Dell'Arte, dance, mime, slapstick and improvisation. She also trained in acrobatics under Xiaohong Weng, contortion with Xia Kemin and worked on flying trapeze during her time at the Circus Center.
David Cantor was born and raised in New York, where he saw the magic of world-renowned Big Apple Circus as a child. Since then, he has performed and taught across the country, been featured in highly respected showcases and is recognized as one of the most innovative and technical Fire Spinners in the world. David co-authored the Vulcan Tech Gospel, a seminal work in the field of object manipulation, as a member of Vulcan Crew and Circus Momentus. He's worked as a solo performer and has created duets with a number of legends in the fire spinning world, including Corey White and Noel Yee. David graduated from the Clown Conservatory class of 2009, and has studied clown from Cirque Du Soleil's Jeff Raz, John Gilkey and Jonas Woolverton, Dan Griffiths (Big Apple Circus) and Ronlin Forman (D'el Arte). He has also studied acrobatics under Master Lu Yi (Former Commissioner of Acrobatics, China), Xia Ke Min (Nanjing Acrobatic Troupe) and Xiao Hong Weng (Nanjing Acrobatic Troupe).
ABOUT THE COMPANY
Co-founded by Amica Hunter and David Cantor, A Little Bit Off began as a theatrical collaboration between two acrobatic clowns dedicated to bringing wonder and laughter to the audiences of the world. Drawing inspiration from the old american vaudevillians and the work of French artist James Thierree, ALBO has grown to produce two fully developed shows with carefully selected themes, hilarious characters, intricate relationships, mind-boggling tricks and a very quirky, off-beat flavor. Their previous show is a critically acclaimed full length physical comedy show called Beau & Aero featuring two bumbling, incompetent aviators. The show has won five awards, including one for Outstanding Physical Theater. ALBO has performed for audiences all over Europe and the United States, captivating audiences of all languages with their dialogue-free approach to storytelling.
SPECIAL THANKS
Lookout Arts Quarry in Bellingham, WA for having us as Artists in Residence.
Anthony Arnista and Sydney Schwindt for helping create our marketing materials.