Benefit Concert Against US-Led War
Presented by Resist US-Led War PDX
November 19, 2023 @ 7:30 PM
Join Resist US-Led War PDX who will be hosting a benefit concert starring Mic Crenshaw and other acts (including anti-imperialist puppets, clowns, and musicians!) to raise money for their upcoming actions in Hawai'i against the Rim of the Pacific joint military exercises (or RIMPAC).
RIMPAC is the world's largest military exercise and occurs on a twice-a-year basis on US-occupied Hawai'i, hosted by the United States and partaken by 27 allied countries. Resist will be traveling to the islands to join the activists and communities on the ground in protesting these violent exercises as a violation of national sovereignty and promoting a pro-people, anti-imperialist alternative. 
The 2024 RIMPAC comes at a terrifying time for peace-loving people around the world.  The US is solidifying new military alliances in the Asia-Pacific region while spending more on military deployment than in any year in history.  As US-allied militaries follow suit, the media ruthlessly carries a fear-mongering campaign against US competitor states such as China, Russia, Iran, Venezuela, North Korea, and others to win our support for a potential World War 3.  It will be catastrophic for humanity if more wars break out, and provocative exercises like RIMPAC are a show of force by the US and its allies to scare other countries into starting it first and act like its hands are clean.
This fundraiser will contribute to the national convergence to expose the US provocations behind RIMPAC, gather anti-war activists from around the world together to build a movement against it, and integrate with indigenous and peace-building communities in Hawai'i to support this historic fight against the US war machine. Book your tickets to the Benefit Concert Against US-Led War and secure your sponsorship in the form of a support pledge and donation to support the upcoming efforts of Resist US-Led War PDX.
Mic Crenshaw was born in Chicago, raised between there and Minneapolis, and currently resides in Portland Oregon. Crenshaw is an independent Hip Hop artist, respected emcee, poet, educator, media producer, and activist. Crenshaw is the Lead U.S. Organizer for the African HipHop Caravan and uses Cultural Activism as a means to develop international solidarity related to Human Rights and Justice through Hip Hop and Popular Education. In his teenage years, Crenshaw was a founding member of the Minneapolis Baldies and Anti Racist Action, both youth movements that actively confronted white supremacist gangs that were a growing part of the hard-core music scene. Mic eventually moved to Portland, where he quickly became one of the most respected artists in the Northwest, and his community efforts have had both local and international impact.
In addition to his highly-acclaimed work in spoken work and Hip Hop, Mic co-founded GlobalFam a lifestyle brand, and is the Executive Director of EducationWithOut Borders 501c3. Together Global Fam and EWOB helped launch a project to createand maintain a computer center for disadvantaged youth in Burundi, Central Africa. Over 400 people have received free 
training, and it is now expanding, generating revenue and creating jobs. Education WithOut Borders (EWOB) supports education, music, and art initiatives in Portland, Tanzania, and beyond and serves as an umbrella for the local Books For Prisoners chapter and GlobalFam itself. Mic Crenshaw is a co-producer, co-director, and one-third of the cast of Crenshaw, Shabazz, and the Homie, Tom. Crenshaw is a co-producer of the It Did Happen Here Podcast and co-editor of the book, It Did Happen Here, An Anti Fascist Peoples' History.

Cesar/The Prodigal Goonie combines lived experience and social commentary to share with the community what are called accountability anthems. Weaving in queer identity, radical politics, and communal love, these words allow him to hold himself accountable to those who listen.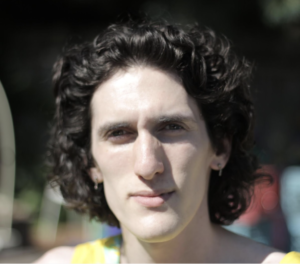 Remy Autumn Torres Presents:
Smegmo and the Angel of Armageddon: A Very Smegmo Holiday Special
featuring Nyx
Remy Autumn Torres is a writer and performer based in Portland, Oregon who has worked with Monkey with a Hat On, Fuse, and Twilight Theater Company, and has been published by Entropy, Nailed Magazine, Spider Web Salon, and others. They ran the Punk Poet Society in Denton, Texas from 2011 to 2014, and co-curated the Pegasus Reading Series in Dallas, Texas from 2014 to 2015. They currently co-curate
the Six Feet Show in Portland and work as a contributing producer for Local Cinema and The Material Condition. Their work explores anxiety, delusion, revolution, and the conundrum of having a body whether you like it or not. This performance features puppeteer Nyx.
ClownBloc is a proud member organization of the Resist US-Led War movement and Portland city chapter. We are dedicated to activating physical comedy and spectacle to enhance the campaigns against US Imperialism. US-Led War is the root cause of worldwide poverty, human rights violation, and environmental catastrophe. We are honored to put on a red nose and let the imperialists know how stupid we think they are.
CoHo is a nonprofit theater that heavily relies on the generosity of our community to continue. If you support our mission, please give what you can!