Clown as Protest: Build a Bougie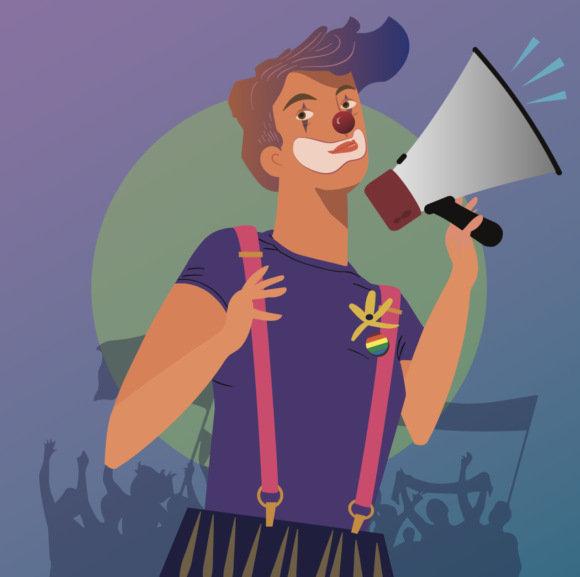 Clown as Protest: Build a Bougie
Created by Morgan Clark-Gaynor
Sept. 17th @ 7 & 9 PM
Join us for a night of game show fun where a troupe of outrageous clowns evolve into their most ridiculous selves to fight for the epic, ultimate prize. Three lucky clown contestants, plucked from the audience (not you, don't worry), compete in rounds of skill and endurance to win a shot at a dizzying cash prize. Round by round, each clown saves their money to bet in a poker game in the Final Round to take home the grand prize, THE AMERICAN DREAM PACKAGE™! 
For first-time-viewers, The American Dream package includes: Financial security, a house in a nice neighborhood, a white picket fence, a shiny new car, a nice heterosexual marriage, 2.5 clean children, and a hefty retirement fund. Which Clown will win?! Tune in to this interaction of Build a Bougie to find out! 
Conceived as the first exploration of Clown as Protest (CaP), a project using Clown to structure social and political agitation towards leftist and humanitarian issues, Build a Bougie explores how we are systemically lured away from our mass belonging and opt for individual safety. This performance is for mature audiences, recommended for viewers 13+. 
Morgan Clark-Gaynor (Christian Whispersmith) graduated from Lewis & Clark college in May of 2019 with a major in Anthropology and a minor in Theatre. They are an alumni of Portland Experimental Theatre Ensemble's Institute for Contemporary Performance, class of 2020. They have worked around Portland expanding their artistic pursuits in everything from comedy to administration, serving as a tech for Curious Comedy Theater and Operations Manager at CoHo Productions. They have also directed and performed in devised and traditional pieces, using theater to agitate social habits in both performers and audiences. They are currently building a continued career in Performance Studies in order to create cultural technologies for community engagement and political activation. Morgan is interested in theatre's ability to unearth new ideas and collaboratively experience the re-evaluation of everyday life.
Logan Ridenour-Starnes (Tyler) is a multi-disciplinary artist, an embodied emergence-based theater-maker, and a knowledge sharer. Their work focuses on the welfare of community; working from the idea that artistic expressions are inherent to our collective existence, survival, and future. They love to explore immersive, audience driven pieces, and pieces that work on sparking direct action to empower communities and the alchemization of their healing. They hold an MFA in Directing from the University of Portland and were part of the 2020/21 Cohort of the Institute for Contemporary Performance. They've only recently begun to explore Clowning and love the complex joy and grief that is able to manifest when we all are able to laugh as a community together.
Piper Tuor (Ron Stonks) is cartoonish by nature, and beyond excited to have the opportunity to share their love of clowning with you today. Beyond that, they are delighted to be a part of a group of energetic, loving, and talented creatives making art for social change. Piper hopes that you enjoy the show and that you find some time to clown around in your everyday life.
Laurel Wilde (Randy JustRandy) is a multi-faceted theatre geek based in Portland, OR. Originally from the Appalachian mountains of North Carolina, Laurel started at CoHo Productions in 2018 as a volunteer and is now the CoHo Communications Director at the little 95 seat black box theater she feels lucky to call home. With a background in technical theater and a BA in Performing Arts Studies, Laurel occasionally moonlights as a stage manager or a stage hand at various theaters around town. When she's not working behind the scenes, Laurel can be found in her kayak on the river, clowning around with her local clown pals, or occasionally slinging pies in the side. A major shout-out goes out to her kids, who patiently tolerate her theatre habit.
Kate Duffly……Dramaturg
Amica Hunter……Collaborator/Deviser
David Cantor……Collaborator/Deviser
Jaren Kerr……Video Director
Ceana……Board Technician
Phil Johnson……Executive Producer