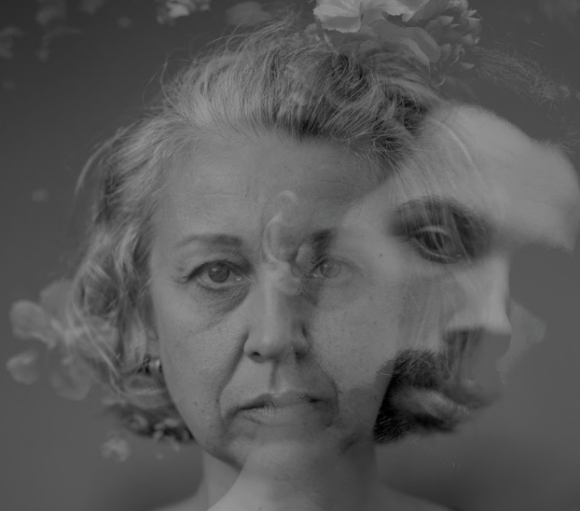 HEART OF STONE
Written by Karen Polinsky
September 9 – 11, 2022
Heart of Stone is the tale of a gifted youth from a small village in Kazakhstan who dreams of a starring role under the white lights of the Moscow stage, only to discover that he must hold on to the colorful threads of his own off-limits culture in order to be free. This is the never-before-told story of the coming of age of award-winning Russian choreographer Alisher Khasanov, Muslim and Uyghur, poetically told in dance, music, and multi-media.
Heart of Stone is a dance theater collaboration with a well-known director from Moscow and Portland's Russian and Russian-American community, and is choreographed by Alisher Khasanov, Director of the Movement Theater 'Mim-Orkestr' and other modern reinterpretations of classic works in Russia and internationally.
This project began with a ten-day workshop in Portland in the Summer of 2021, featuring seven local performers. The result: a short dance theater piece called Spirit Awake, co-written by Karen Polinsky, with video by Alexandr Beran.
The success of this project has inspired the vision for a full-length work based on Khasanov's life. Heart of Stone is about a boy, both Muslim and Uyghur, in love with dance and music who defies both his belligerent father when he tries to save a mysterious ancient artifact in a cave, risking his life but discovering who he is. The first part of this piece appeared in Fertile Ground 2022. The production was selected for a Grow and Grow Light award. In this next phase of the project, Khasanov will bring their choreographed 50-minute piece with a talk-back to Coho Theater in Portland.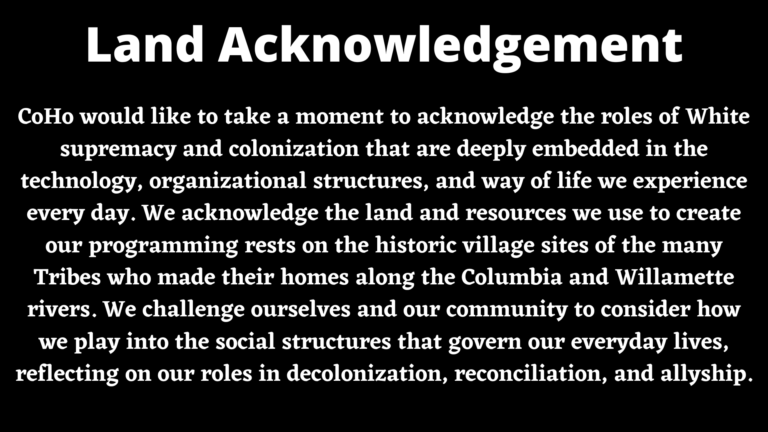 We care about the health of our performers and crew and community. One of our cast members recently has recovered from Covid. Out of an abundance of caution, we will be wearing masks for this performance. We are asking everyone in the audience to wear masks, too. We thank you in advance for your cooperation and understanding.
Fool Hous Art Collective Collaborators, CoHo Productions, Performance Works North West and Linda Austin, the Regional Arts and Culture Council, Karen Polinsky, and each and everyone from the team of Heart of Stone.
Alisher Khasanov (Director and Choreographer) is the Director of the Movement Theater 'Mim-Orkestr' in Moscow. He danced in various theaters in Moscow (including The Stanislavski and Nemirovich-Danchenko Theater) and in St. Petersburg. As a choreographer, he counts more than fifty productions for various theaters in Russia (the Bolshoy Theater, the Opera and Ballet Theater, the Tchelyabinsk, Maloy Bronnoy Theater etc).
Khasanov has participated in various international projects, for example, at the Center for Dramatic Arts in Shanghai (Woman On A White Horse, the opera) and the Gesher Theater, Israel (White Nights, F. Dostoyevsky).
Karen Polinsky (Playwright) is on the leadership team for PDX Playwrights, and author of a host of short and long works in Fertile Ground for the past three years, including the full-length productions The Bad Hour and Fly Away, Breath.
A Note From The Playwright
A former high school English teacher, and a current journalist, novelist, and playwright, I moved to Portland about four years ago. I love it here! Even though the two years of Covid, I have felt warmly folded into my neighborhood and the local arts scene. I'm on the admin team of a playwriting group called PDX Playwrights. In Fertile Ground, I've written and produced two full-length scripts: The Bad Hour and Fly Away, Breath. Mesmerized by the predominant ethos in this insane dog town, I even got my first very puppy: a crazy border collie named Pearl who likes to play basketball.
Devising theater production 
Heart of Stone
 for the past year or so has been one of the highlights. As a writer and director, I love to work in a collaborative space where I can learn from others. Choreographer Alisher Khasanov is a genius of dramatic storytelling through dance. He and I work well together because we share a basic sense of story (and humor!) Olga Kravtsova, the producer is helping us to create the vision and keep the show on track. The three of us make quite a team.
Together with our cast, we're in the process of creating an innovative dance/drama piece inspired by Alisher's coming of age in Kazakhstan. This experience has opened up my mind to a fascinating culture, oddly similar to my own. (I'm a Russian Jew; Alisher from Moscow, was raised in the Muslim faith.) I've never before developed a script for dance; instead of a pen, I feel like I'm using a bright orange crayon.
Our team includes a complex of identities and outlooks. I also appreciate the Regional Arts and Culture Council grant that has made this iteration of Heart of Stone possible.
Olga Kravtsova (Producer and Actor) is a Portland performer and graduate student at University of Washington in the performing arts. Olga graduated from Russian Academy of Theater Arts (GITIS) and College of T. Ustinovoi with a degree in Russian folk dance. She was a resident artist at Drama Theater "A-Z" where she met Alisher Khasanov.
A Note From The Producer
3rd laboratory of Heart of Stone. 
New experimental work that bonded together a group of unique artists. 
This two weeks laboratory was full of inspiration, poetry, visual design, music and dance, will culminate in a series of performances at Coho Theater @cohotheatre September 9 – 11.
Everyone who is part of this project is contributing an essential element to the story. My main idea from the beginning was to encourage artists who don't quite comply with the established standards for their disciplines to offer a stage where they can create freely with others who share their passion. I welcomed actors who are typically type-casted or underrepresented. Here, everyone is appreciated. Everyone's voice is welcome.
Thank you to the teams of all 3 laboratories for contributing your time and talents.
We hope you will come to our show: an expression of a moment in time, yet one filled with hope. Our audience is the reason this group of artists got together. See you there.
Thank you Regional Arts & Culture Council for supporting Heart of Stone and Fertile Grounds Festival '22 for being a platform where we started the project.
Aleksandr Chernousov
is a
film director, comic book author, and scholar researcher at the University of Oregon who accidentally joined the performance and immediately realized it was a project about studying and exploring the origins of human creativity.
Wynee Hu (she, her, hers) is excited to be participating in Heart of Stone. She recently appeared in Corrib Theatre's Kissing the Witch (other Corrib credits: Hurl and Eclipsed.) Earlier this year, she was an understudy for The Great Leap co-produced by Portland Center Stage and Artists Repertory Theatre. She has also worked with Northwest Children's Theater, Bag&Baggage Productions, Boom Arts, Advance Gender Equity in the Arts (AGE), LineStorm Playwrights, PDX Playwrights, Speculative Drama, Oregon Adventure Theatre, and Exoplanetary Media. Wynee is an associate producer for Lunchbox, an independent film. (lunchboxthefilm.com). She was an Emerging Artist in the 2021 Spring Cohort of Advance Gender Equity in the Arts' IGNITE program.
Mikki Jordan
(she/her) is an actor, performance artist, and singer/ songwriter.  She creates and produces original documentary theater and multimedia performance projects. Most recent works include
From These Streets I Rise
, a documentary performance piece examining Portland's homeless crisis (CoHo Theatre, 2020), and
The Keening Revival,
a musical meditation on grief (Fertile Ground, 2022).  She earned her BFA at NYU's Tisch School of the Arts and her MSW at Hunter College in NYC. She is a Licensed Clinical Social Worker with a private therapy practice.  She loves working with fellow artists to help them clarify their vision and overcome barriers in their creative process. Composed specifically for Heart of Stone, Mikki will be performing three of her original songs, "I Am Beautiful", "Abide With Me", and "I Am Home" during the performance.
www.mikkijordan.com
Olga Kravtsova is a Portland performer and graduate student from the University of Washington in the performing arts. Olga graduated from the Russian Academy of Theater Arts (GITIS) and College of T. Ustinovoi with a degree in Russian folk dance. Previously, she was a resident artist at Drama Theater "A-Z" where she met met Alisher Khasanov.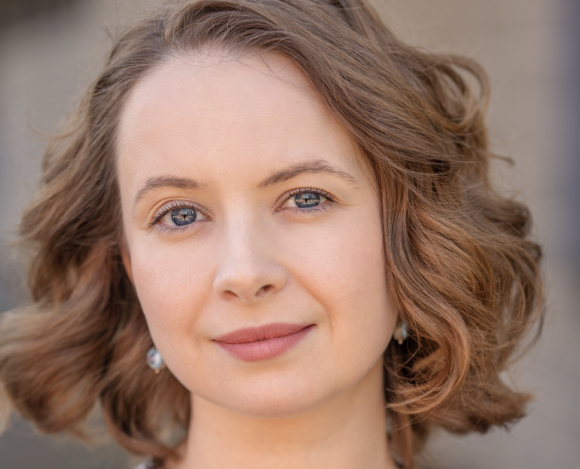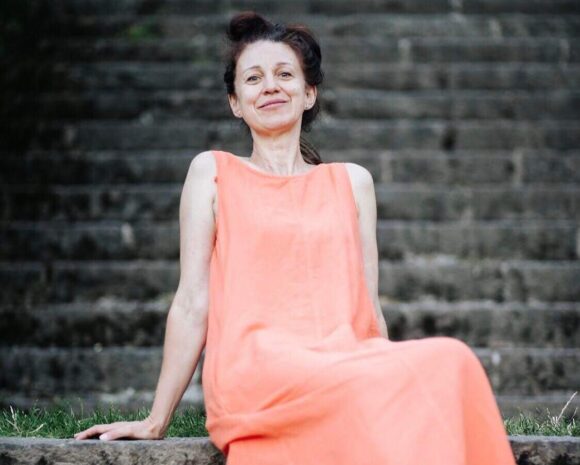 Irina Lavrinenko is thrilled to be a part of Heart of Stone again. This is her third laboratory with Alisher Khasanov. Irina is a performer, director, writer and art educator based in Portland, OR. She is also a cofounder and president of Russian-American community nonprofit organization Fool House Art Collective. Irina is extremely exited and grateful to have the opportunity to work with such an inspiring, creative, and genuinely kind group of people.
Vee Mecum – "The opportunity to work with Alisher came to me the summer after I graduated high school. The flame I had carried for dance for over a decade had fizzled out during lockdown, and I found myself in a sort of haze. Without dance to define my life and identity, I turned to mysticism. However, Alisher's unending enthusiasm and the camaraderie that grew among the team during the first lab reignited my passion for movement. I am beyond excited to bring Heart of Stone to life, in a way that blends my love of spirit and body!"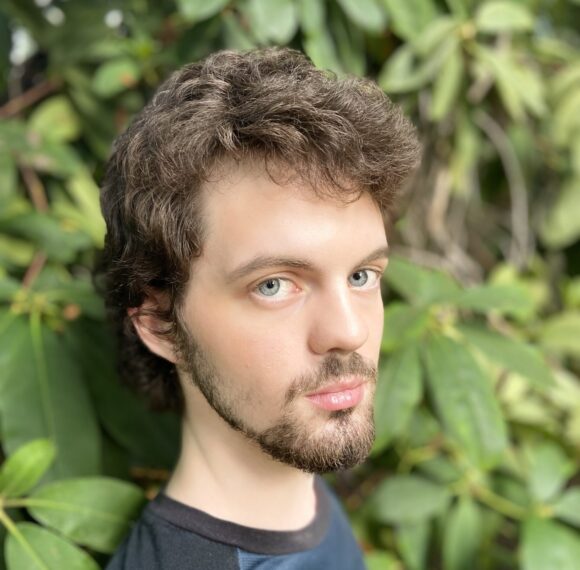 Kylie Jenifer Rose (she/her) is an actor, singer/songwriter, and dialect coach based in Portland. Fueled by coffee and joue de vivre, she is passionate about developing new works and exploring multifaceted characters. Select local performances include Rose in her co-composed musical Bad World and Ken in Red (Crave Theatre), Kelly in From the Ruby Lounge (Theatre Berk), Lydia in Pride and Prejudice (Enso Theatre Ensemble), Mary in Murder on the Orient Express (Lakewood) and Scheherazade in Twisted (Funhouse Lounge). Many, many thanks to her fiancé, Matt for his unwavering support. www.kyliejeniferrose.com 
Leif Schmit (ze/they/she) – "Hi there! I'm a 24yo, Genderqueer, Grown Unschooler, Theatre Professional, and Self-directed Education facilitator. If I've learned anything from theatre, it's that learning things through play and collaboration with others is one of the best ways to make things stick. – and to make cool shit! – I ground my work at The Village Free School & NW Children's Theater with curiosity, an abolitionist lens, transformative justice practices, and radical youth empowerment at heart. I have many hobbies and skills I've fallen in love with like Argentine Tango, Blues Dance, Ukulele, Pixel Art, Animation, Game design, Language Learning, and Mycology (the study of mushrooms!) over the years and I love finding the ways that different areas of knowledge can weave into and enhance our understanding of each other in surprising ways. I care deeply about making sure young people have the space and resources to cultivate their curiosity like I was able to so we can all get free from the oppressive systems of supremacy that we are raised to accept and perpetuate. You are needed, and your needs are seeds. 🌱✨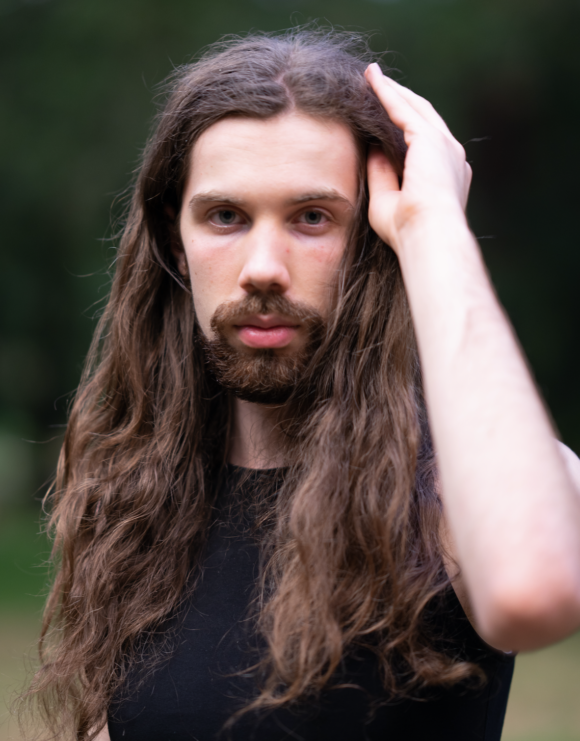 I am excited to embody some of that energy in my character onstage as I guide the boy through parts of his journey to break free from family tradition and unashamedly express himself. This story feels incredibly important to share in whether you relate to that experience or not, because if we're going to reach for each other, we need to be able to listen close to experiences unlike our own. When was the last time you were the only one in the room who everyone treated differently? Did you conform? Did you speak up? How do you think the boy will face a family reunion with a disapproving father after going on his journey to find himself?
My heartfelt thanks to my beloveds, my mentors, my students, my family, my community, my ancestors, the land, and queer, trans, BIPOC, immigrant, poor, and disabled revolutionaries past and present for all the gifts they have – and continue to – offer the world while facing discrimination, marginalization, and oppression in all their insidious forms.
Creatives
Leilani – Sound Tech
Tomoè Martens – Composer and Musician  
Tomoè Martens (Octavia con Amore) is a Japanese-American violinist and composer. Her compositions include music for Whisper Skin Theatre's Beneath The Rawness and Karen Polinsky's The Bad Hour and Fly Away Breath. While her performance training is mostly in Romantic and Baroque era music, her influences also include works from modern composers such as Howard Shore (Lord of the Rings, Ms. Doubtfire), Jeremy Soule (The Elder Scrolls: Skyrim, Guild Wars), and most of all, the stunning music of Kajiura Yuki (Demon Slayer, Sword Art Online, .hack//sign).

Inna Pustakhanova – Costume Designer
"I'm a designer and art doll master. I inspire people to surround themselves with things that reflect their character and personality. I can make a doll from different improvised and sometimes unexpected materials: wire, paper, gypsum, mounting foam and so on. I graduated from the Belarusian Academy of Arts as a puppet theater actress, but I quickly realized that my calling was not to play in the theater but to make dolls, costumes, and scenery. For Heart of Stone, I will create costumes that will move with dancers and scenery pieces."
Nadya Pynkina – Photography

Eric Tolley – Light Designer
Eric Tolley is thrilled to return to lighting design after taking a short break since making the move to Portland. He has 35 years of experience as a designer, director, and actor. Some of his favorite past lighting designs are Hedwig and the Angry Inch, The Women in Black, The Cabinet of Caligari, and Touch.
Olga Wallace – Interpreter
Christie Zhao – Project Management
Christie Zhao graduated from the University of Washington with a double degree in Drama performance and Computer Science. She has experience in directing, producing, light designing, acting, and video editing. She is currently directing a new devised theater work called Monologues of n Women. Before that, she directed The Good Person of Szechwan by Bertolt Brecht, acted in Bodies of Water produced by UW, SU, and Cornish College of the Arts, and Heart of Stone, directed by Alisher Khasanov. Other than that, she founded the Chinese theater club at UW during college to provide more opportunities in bilingual theater production in Seattle.
CoHo is a nonprofit theater that heavily relies on the generosity of our community to continue. If you support our mission, please give what you can!