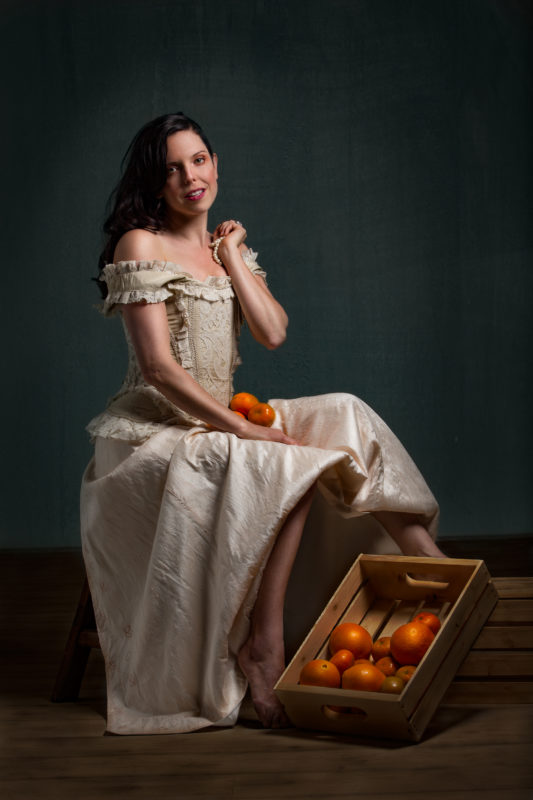 #CoHoSeason21
March 17 – April 8, 2017
Performances Thursday-Saturday at 7:30pm and Sunday at 2pm
CoHo Productions with Brenan Dwyer and McKenna Twedt present
Playhouse Creatures
by April De Angelis
Directed by Alana Byington
Featuring Lorraine Bahr, Brenan Dwyer, Jackyln Maddux, Dainichia Noreault, and McKenna Twedt 
Production Photo Credits to Owen Carey
[maxbutton id="87″]
ABOUT THE PRODUCTION
What does it take to be (or not to be) a woman in the theatre? Playhouse Creatures shamelessly reveals their historic struggle to survive and thrive on stage and behind the scenes. Daring to tread the boards in Restoration England, Nell Gywnn and other leading ladies endured poverty, violence, harassment and social ostracism while under constant pressure to produce new and titillating entertainment. Their successes in the form of leading roles, trysts with the King and eventually shares in the company could – and do – disappear at any time
If the "future is female", what must we learn from "herstory"?  Playwright April De Angelis offers poetic heroines who #resistandpersist, who challenge and inspire others to follow their radical lead. This co-production team and talented cast are all ambitious, creative women who understand today's pressing demands on women in the arts – between freelancing, teaching, day-jobbing, seeking child-care or relying on others for financial stability in the creative pursuit of "this thing one gives one's life blood for" to not only survive, but thrive.
RAVE REVIEWS & PRODUCTION PHOTOS
"delicious absurd extracts from the heroic repertory and frantic dressing room scenes, the prevailing tone is comic but you're not allowed to forget the gutter waiting to reclaim these glittering figures." – Independent
Oregon Arts Watch Review by A.L. Adams
"There's as much to enjoy in this show as there is to unpack. Part of a conscious effort on CoHo's part this season to host more femme-centric plays, this one's an unequivocal triumph, from the stellar casting and acting, to the original score performed live by multi-instrumentalist minstrel Samie Pfeifer haunting the catwalks, to fights conceived by Kristen Mun…Even the period costumes earn applause, as alluring by-women-for-women wardrobe-porn. One surprising takeaway (besides all the feminist grist to chew through) is a new appreciation for the old-world theater forms." Read more.
"at once empowering, and a disheartening glimpse of the perceived value of actresses. The distant time period makes it extra frustrating that woman face so many of the same inequalities centuries later. In the most acute, albeit unplanned, parallel to the modern, we hear of a man who comes backstage to watch the women change—just like our former beauty-pageant-producing, backstage-ogling president."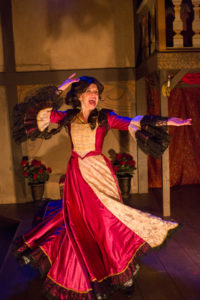 "The strength of this production is its cast, which included several people I've not seen before but certainly hope to see again. I especially liked Dainichia Noreault as the headstrong, foul-mouthed, and entirely unapologetic Nell Gwynn.
But my favorite was Lorraine Bahr as Mrs. Betterton, the older actor who teaches the younger ones while also dealing with the fact that she's being aged out of the theatre, even while her husband, who is the same age, continues to get leading roles (and fancy new costume pieces). I've admired Ms. Bahr's work in the past, and I'm not sure what she has coming up next, but I sincerely hope it's Lady Macbeth. (You'll understand this when you see the play.)" Read more.
Oregonian Review, Lee Williams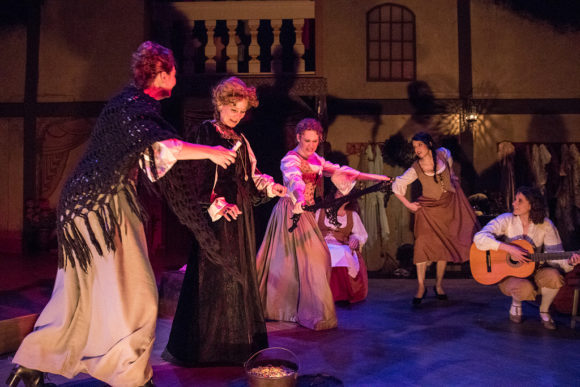 "The chemistry of the five Portland performers gives the piece its strongest spark, and their comic timing runs pretty much like clockwork… Lighting designer Rachel Kinsman Steck's filigree lanterns, dim footlights and small chandelier all give off golden light that sets the right pre-Enlightenment tone. And from fencing knickers to French aristocrat gowns, the costumes by Jessica Carr and Elyse Grimaldi make you want to score an Actors' Equity card just for the wardrobe."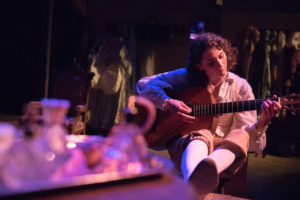 Performer/ Musician Samie Pfeifer plays many instruments, including recorder, classical guitar, viola, keyboard, kazoo, lion's roar.  "She is integral to the show, especially for the music she has composed for it. An unspoken bit of something that speaks to the soul. They all have their moments in the spotlight and they do shine!"
PRODUCTION HISTORY
Playhouse Creatures has enjoyed multiple productions throughout the U.K. and United States, and this will be the first in Portland. It premiered in October 1993 at the Haymarket Theatre in England produced by the Sphinx Theatre Company. A revised commission of the play was produced in 1997 at the Old Vic in London where the playwright expanded the script to add four new characters and two more actors.
ABOUT THE PLAYWRIGHT
April De Angelis's plays include Jumpy (Royal Court and West End), Wild East (Royal Court), A Laughing Matter (Out of Joint/NT/tour), The Warwickshire Testimony (RSC), The Positive Hour (Out of Joint/Hampstead/Old Vic; Sphinx), Headstrong (NT Shell Connections), Playhouse Creatures (Sphinx Theatre Company), Hush (Royal Court), Soft Vengeance (Graeae Theatre Company), Amongst Friends (Hampstead), The Life and Times of Fanny Hill (adapted from the James Cleland novel),Ironmistress (ReSisters Theatre Company) andWuthering Heights (adapted from Emily Brontë's novel for Birmingham Rep). Her work for BBC Radio includes Visitants, The Outlander, which won the Writers' Guild Award 1992, and Cash Cows for the Woman's Hour serial. For opera: Flight with composer Jonathan Dove (Glyndebourne), and the libretto for Silent Twins (Almeida).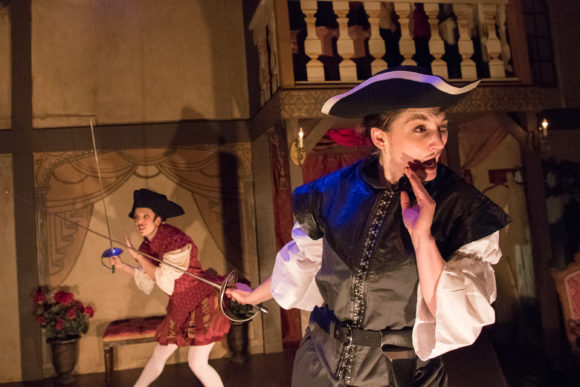 ABOUT THE CO-PRODUCERS
Brenan Dwyer is an actor, writer, director and producer of stage and screen projects. A Portland native, she's worked in numerous houses around town as an acting company member at Northwest Classical Theatre Company, and Oregon Children's Theatre, Artist Repertory Theatre, Imago Theatre, Lakewood Theatre, Action/Adventure Theatre, Willamette Shakespeare and at CoHo in Enjoy.
With particular passion for work by and for women, Brenan is the creator of my web series Potty Talk, delivering three seasons of web-based sketch comedy from a grassroots foundation. She also wrote, directed, and produced No Man's Land for Action/Adventure Theatre's Pilot Season that over-sold every night, and was voted by the audience to return in 2016 for a full run.
McKenna Twedt is an actor and costume designer working in Portland and surrounding areas, and a graduate of Western Oregon University with Bachelor of Fine Arts in Acting and Costume Design. She's worked with local companies Theatre Vertigo, PHAME Academy, defunkt, Post5 Theatre, Third Rail Repertory, Tears of Joy, Lakewood Theatre, CoHo Productions and Northwest Classical Theatre. She is a former Third Rail Mentee, and former educator with Tears of Joy Theatre and Tigard High School Theatre Department.
[maxbutton id="87″]