FEBRUARY 14 – MARCH 7, 2020
THE FOUND DOG RIBBON DANCE
by Dominic Finocchiaro
Co-Producers Connery MacRae & Tom Mounsey
Directed by Connery MacRae
Featuring Marty Beaudet, Clifton Holznagel, Deborah Jensen, Heath Koerschgen, Tom Mounsey, Conor J. Nolan, and Beth Thompson
Norma (a professional cuddler/reluctant dog-rescuer) and Norm (an amateur ribbon-dancer/attentive barista) navigate loneliness, vulnerability, the music of Whitney Houston, a collection of eccentric characters, and the healing power of human connection. A sweet and funny Pacific Northwest curiosity by Reed College alum Dominic Finocchiaro.
"Remarkably unique and richly entertaining…reaches beyond the easy and superficial and probes both heart and mind" – LA Post-Examiner

YOUTUBE VIDEOS. WHITE CHOCOLATE MOCHAS. CLUMSY VULNERABILITY.
---
ABOUT THE PLAYWRIGHT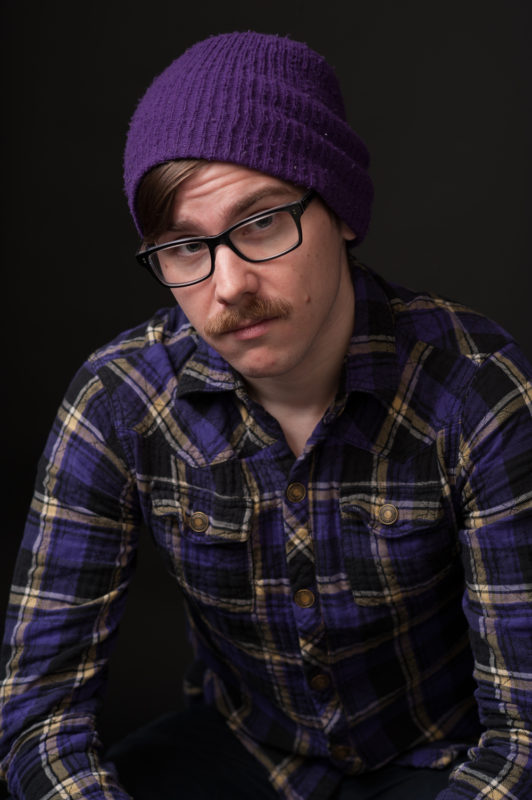 Dominic Finocchiaro is a Brooklyn-based playwright, performer, and freelance dramaturg. His full-length plays include brother brother, brut, complex, The Found Dog Ribbon Dance, Gold Person, The Lucky Ladies (someday you will be loved), mother's son, and Trees in their youth. His writing has been produced and developed around the country, including with Roundabout Theatre, the New Group, Actors Theatre of Louisville, the Echo Theater, the Civilians, Clubbed Thumb, the Lark Play Development Center, the National New Play Network, Portland Center Stage, the Flea Theater, the Kennedy Center, PlayPenn, Seven Devils Playwrights Conference, Dixon Place, and the Amoralists. MacDowell and UCross Fellow. BA Reed College, MFA Columbia University. Learn more at dominicfino.com

ABOUT THE CO-PRODUCERS
Connery MacRae has been working professionally in theater for over 15 years as a director, deviser, production and stage manager, designer, and technician on stages in Portland, Chicago, and abroad. In 2014 he directed and produced a remount of Phil Busse's script The Match.com Monlogues. As a member of the 2015 Third Rail Mentorship program he devised and directed ID[ea] for the Fertile Ground Festival and directed Sam Holcroft's Edgar and Annabel. In 2016 he was the assistant director for Profile's theater's production of Passion Play. He also devised, directed, and produced Doomageddon for Action Adventure's Pilot Season.

Cameron McFee is back in Portland collaborating with theatres, building and designing sets/sound after a 5 years of teaching in high schools from Alaska to New Orleans. He has worked with the Quick and Dirty Art Project (founding member), Third Rail Repertory Theatre, Oregon Children's Theatre, defunkt, Vertigo, TASO, Northwest Children's Theatre, Northwest Classical Theatre, Portland Shakespeare Project, and others. Catch his work these days with Quick and Dirty, Dancing Brain, and Corrib Theatre – and of course, as always, right here with CoHo Productions.
Tom Mounsey graduated from the Portland Actors Conservatory in 2008, and has been active in Portland theatre ever since. Tom has acted with a wide variety of companies over the last 10 years, including Theatre Vertigo, defunkt theatre, Imago Theatre, Northwest Classical Theatre Company, Action/Adventure Theatre, Lakewood Center for the Arts, and many more. He has been a producing member at The Re-Theatre Instrument, Montgomery Street Players, and Theatre Vertigo, where he was a member for five seasons.