Presented By The CoHo Clown Cohort
Sept. 29 – Oct. 1 @ 7:30 PM
The CoHo Clown Cohort is developing a new project – Twister – inspired by the 1996 blockbuster. The Cohort, established by Philip Cuomo, has produced 3 full productions, developing shared vocabulary and devising methods through the lens of clown. Using these same skills, the cohort has created their newest production. Twister was chosen as an artistic challenge and the Cohort is excited to answer these driving questions:
How do clowns intersect with something epic and scary?
How do we create a tornado in a theater?
Can we find humor and tender emotion in this dramatic story?
Whether you have been following the Cohort since 2017 or this is your first introduction, come delight in comedic hijinks and support the creation of the new CoHo Clown Cohort production.
About the CoHo Clown Cohort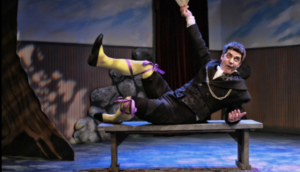 "The difference between a great comic performer and a clown is that a clown doesn't know he's a clown. I think there's a way in which, when society is in turmoil and we're yelling and not listening to one another, theater is a place to feel the sting and yet find the balm to soothe it somehow. And I think clown work does that particularly well. The idea, the goal, is to find some profound truth, with a lot of glee, a lot of magic,
and a center that's deeply connected to the human spirit."
-Philip Cuomo
Supported by a Creative Heights grant from the Oregon Community Foundation, the CoHo Clown Cohort was created by Philip Cuomo to cultivate an experimental ensemble of clown performers and contextualize clowning in the modern theatre landscape. Since its inception in 2017, the Clown CoHort has relied on the CoHo Creative Pipeline to generate content and develop its unique style. These days, the CoHo Clown Cohort serves as the funny bone of CoHo Productions, and is proudly funded in part by the Regional Arts & Culture Council. 
Presenting a series of clowning workshops throughout the year and performing on the MainStage during the 2023 CoHo Clown Festival, come on down to CoHo to see the Clown Cohort in all their spectacular, ridiculous glory. 
Sascha Lynn Blocker is a performer, director, and creator of original work. She earned an MFA in Lecoq Based Actor Created Theater from the London International School of Performing Arts (LISPA) in conjunction with Naropa University. Local credits include: Hand2Mouth, CoHo, Imago, Third Rail, Post 5, Liminal Performance Group, and the Portland Actors Conservatory. Sascha was an associate artist for Drammy award winning theater company Push Leg and is currently a member of the CoHo Clown Cohort. Sascha also works as an adjunct faculty member and teaches classes in Communication Studies and Theater. Theater teaching includes movement, improvisation, devising theater, and clowning.
Emily June Newton is an international multi-skilled comedic performer specializing in the areas of clown, physical comedy and character creation. Originating from Australia, she now resides in Portland, Oregon. Emily has performed both nationally and internationally with companies including Terrapin Puppet Theater (AUS), Oregon Children's Theater (OR, USA), The Children's Art Theater of China (Shanghai, CHN) and Dell'Arte International (CA, USA). She also writes, performs and tours solo interactive comedic works throughout the USA including 'Frank: to be Frank' and 'For the love of down under: an evening with Australia'. Emily holds a Master of Fine Arts (MFA) degree in Ensemble-Based Physical Theater from Dell'Arte International (CA, USA), and is a member of the Coho Clown Cohort (CoHo Productions PDX) and San Francisco's premier burlesque clown troupe Fou Fou Ha (PDX chapter).
Amica Hunter (they/them) is a multidisciplinary artist and performer who has been devising, performing, and producing clown shows since 2012. They are a graduate of the San Francisco Circus Center's Clown Conservatory Program under director Joe Dieffenbacher. Amica is a co-founder of the multi-award-winning physical comedy duo, A Little Bit Off, which has created and toured shows around the US, Canada, Europe, Australia, and New Zealand. A Little Bit Off's physical comedy show Bella Culpa was a part of CoHo's Summerfest series in 2016, and in 2019, Amica got to work with Philip Cuomo as part of the CoHo Clown Cohort in Witch Hunt. What an honor to work with such a fun, generous, and clever man. Amica is thrilled to be back at CoHo doing what they love with these loving, brilliant, and inspiring clowns.
You can find out more about what Amica is up to on Instagram (@MeatyMeekers), and if you like spooky things, check out the brand-new local horror theater festival they are co-producing: Stage Fright Festival (www.stagefrightfestival.com)
Jeff Desautels is a founding member of the award-winning clown troupe, Box of Clowns, with whom he has performed all over the world. Benefiting from pushing themselves past expected limits physically and mentally, and through ruthless play, and fierce editing, Box of Clowns aims to create visceral, emotional, and provocative experiences for their audiences.
Locally, Jeff has performed in Portland with CoHo Clown Cohort Theatre, Tears of Joy Theater, Sir Cupcake's Queer Circus, and Fou Fou Ha. He also performs frequently as the drag queen persona, Mysteria.
Summer Olsson is a performer, writer, director, and designer. Her career has included touring devised theatre through Europe, being one half of the clowns in Duo Doppio, and playing kids shows across the PNW with a trash puppet rock band. Her most recent role was as Second Second Assistant Director on the Guillermo Del Toro stop motion film Pinocchio. Summer is a graduate of Dell' Arte International Physical Theater School.
Beth Summers is a graduate of The Actors Conservatory (formerly Portland Actors Conservatory) where she studied physical theater and clown under Philip Cuomo. Locally, she has worked with Action/Adventure Theatre, Lakewood Theatre, Shaking the Tree Theatre, Post5 Theatre Company, Anonymous Theatre Company, Hillsboro Artists' Regional Theatre, Integrity Productions and FUSE Theatre Ensemble. Beth was one of the original devisers and performers in Push Leg's The Intimacy Project. She has also performed original and devised work at Scratch PDX, ForemanFest, and Fertile Ground.
Angela Van Epps (Stage Manager) has explored the theater in a variety of ways over the decades: directing, acting, clowning, playwriting, costuming, and stage managing in Portland, Blue Lake, Sydney, and Minneapolis. She currently teaches Creative Process at University of Portland and has recently joined PlayWrite Inc as a workshop coach. She studied clown at Wesley Institute in Sydney, Australia, and at Dell 'Arte International School of Physical Theatre in California. Angela is currently re-learning everything she knows about clown via parenting a toddler. 
Allison Normin Johnson, (she/her, Costume Designer) is a Portland area designer and costumer. She has worked in costume shops from Virginia to Arkansas and locally with companies such as Portland Center Stage and Artists Repertory Theatre, but design has always been her passion. Allison grew up in Beaverton and earned her BA in theatre design from Willamette University in 2018, where she also studied art history and met her husband in London. Allison was part of the Third Rail Mentorship company after graduation, meeting Philip Cuomo who recruited her to work on Witch Hunt and join in the clown cohort creations. The time Allison spent learning from and working with Philip was incredibly formative on her career and as an artist, cementing a love of new and emerging work. While challenging, these devised clowning projects have been some of the most rewarding and standout parts of Allison's portfolio, which can be seen on her website at www.allisonjcreates.com.