Institute for Contemporary Performance in Partnership with CoHo Productions presents
Very Poorly Indeed
Directed by Myia Johnson
Created, designed, and performed by Clifton Holznagel , Myia Johnson, Jonathan Lee, Myriel Meissner, and Rose Proctor 
Preview performance June 21 at 7:30pm
June 22 – 23 at 7:30pm and June 24 at 5:00pm
Tickets available on a sliding scale, $5 – $25

ABOUT THE PRODUCTION
Very Poorly Indeed  uses the ill-fated Donner Party, doppelganger lore, and fairy tale to tell a story that blurs the lines between human and animal, beauty and terror, comedy and the grotesque, reality and fantasy. All to ask the question: What would you do to survive?
A swath of crimson to break the monotony of white.
A flickering fire. A vast forest. An empty stomach. A dying companion. Snow falling to form their coffin. A shapeless figure standing a few paces beyond the light of the fire.
"If one should die, all might live," echoes through the campsite.
The Institute for Contemporary Performance Cohort has created a world of desperation where bodies push their limits. Souls confront the edges of humanity, while humanity tests the edges of compassion. Minds blur the lines of sanity. Humans take actions only justified by the continuation of their own lives. As the winter gets colder they reconsider what can be consumed. They realize their true animal nature when they consider their own edibility.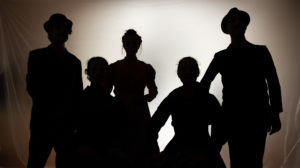 ABOUT THE INSTITUTE FOR CONTEMPORARY PERFORMANCE
The Institute for Contemporary Performance (ICP) creates theatre artists trained to reinvent theatrical storytelling, artists capable of communicating radical thought in space, time and body, provoking and stimulating the expectations of theatre goers, exposing the Portland and regional arts and cultural communities to the next wave of theatre artists and theatrical expression.
ICP is an interdisciplinary training program for contemporary theatre artists. ICP students and faculty are practical and visionary, pragmatic and experimental. Through rigorous daily training, ICP creates a laboratory in which the artist discovers, defines and articulates their individual aesthetic. ICP creates artists and invigorates theatre goers, changing the way theatre is defined.
ICP was founded by the members of PETE (Portland Experimental Theatre Ensemble) in partnership with CoHo Productions and Philip Cuomo. After years of teaching community classes in Viewpoints, Suzuki, voice, clown, and more, we started ICP with the intention of building an institution that will train the next generation of bold performance-makers.