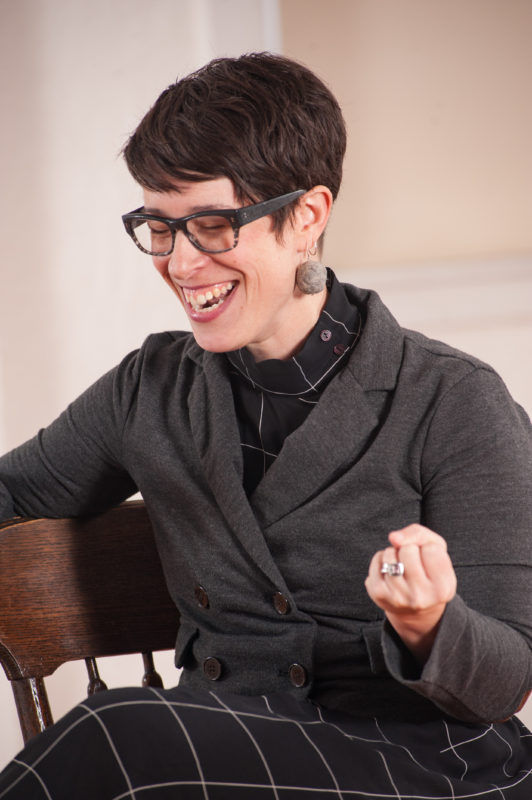 Brilliant designer Jenny Ampersand is the next extraordinary person featured in the This Woman portrait and interview series. Jenny and This Girl Laughs, This Girl Cries, This Girl Does Nothing co-producer and actor Beth Thompson take some time to discuss roadblocks of the brain, finding your own path, and collaborating without using the f-word.
Photos by Lava Alapai
---
Jenny Ampersand is a world-class collaborator. She comes to the table with enthusiasm, ideas and a wide variety of technical skills, but it's these things in relationship with her desire to affect and be affected by her collaborators that make me want to work with her again and again. Artistry feels innate for Jenny. It oozes out of her. And, thanks in part to family support, she's always been making art.
"My family always encouraged the arts. My dad is a very artistic person, but ended up wanting to support his family and went into a very non-arts sort of world, though he was always artistic. My family was always like, 'You need to follow your passion and not get stuck in some kind of crazy job that's just for money.'"
"I was taken to so many plays. I think the most…I don't know if I want to say this, it's so embarrassing. (Insert Beth bullying her to spill the beans here.) So, as a kid I went to see The Nutcracker and things like that. And my parents took me to Phantom of the Opera as a child in Los Angeles. And, that freakin' chandelier comes down and the candles come up out of the fog and I was like, 'This is what I want to do.'"
"We got to do the crazy stuff called Odyssey of The Mind in elementary school. It was student led. It was like what STEAM is now (Science, Technology, Engineering, Arts and Math)…so Odyssey of the Mind was the precursor to that. There were prompts; a science prompt, an arts prompt, a literature prompt and a robotics prompt. I don't remember what everybody else did but we always went for the more literature/theatre/arts prompt.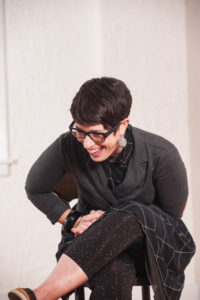 "One year we had to read Old Man and The Sea and then create a play where you shared what happened in the book. That year it was 5 kids and we were our own theatre company. We were in a 5th grade theatre company where we had to figure out how to build all the sets and write the script and we had to decide who was acting. And, I remember freakin' stomping out of the room, saying the f-word and being super mad about some dumb thing. And, then had to come back and apologize. I mean, I'm not like that anymore (laughter) but, this was me learning collaboration as a young person. And, then we would go and present to the regional organization. We, like, did the Geraldo Show to explain what happened in Old Man and The Sea."
Through decades of making work, there was a time when Jenny described herself as a scenic, costume and puppet designer. But, as her work progressed, she was simply doing more costume design. And, as she did more costume design, she had more resources to do great costume design with more ease. But I wanted to know if she felt that her path was at all affected by an industry that tends to put women in costume design positions and men in scenic design positions.
"I don't know that it was that exactly. I definitely think costume design is easier in some ways because of that. I've had some shit experiences with local shops that I will not name that I felt…I mean, I live in the grey area in my designs a lot of the time. Because it could be this or it could be that. We're collaborating and I have questions about things and I don't always have a specific answer. And, I feel that when working with scene shops where you know the (Technical Director) is a male, and a lot of workers are male, you have to be black and white about things in a way that I don't enjoy…."
But she doesn't think those have been the greatest challenges in her path. "Most of my largest roadblocks are in my own brain. It's me responding to what I think the outside expects of me. I hate to say this is a female thing, but I think in our culture women are taught to care and think so much about what other people are needing and thinking. With that training it becomes hard to remember, I feel like it gets hard to know what is me, what is my true self versus what are the expectations of what I should be doing."
And, then we're in the nitty gritty of it and I subject Jenny to one of my own bouts of, "Why do we do this thing we do?" I asked each of the wonderful women I interviewed what service they felt their work offered to the world. But, when I spoke to Jenny, the question was loaded with my own insecurities about the big question 'Does theatre matter?' Ever a collaborator, Jenny had my back."That's rough. You know, sometimes like when I've worked on projects at the Women's Prison (I'm) like, 'Okay, I'm doing something specifically to serve a need.' But, then the work that is most fulfilling to me is the crazy stuff I do with PETE (Portland Experimental Theatre Ensemble). I mean I just feel like the arts in general are there to teach…or not teach, but create the sense of others… It's tough. Part of my brain says, 'Social work kind of work is the most important kind of work!' but I think that's also an outside expectation. Something inside being like, 'This is what the outside expects is good.'
"Also, there is the idea that bringing your true self to the world, you are the only you, and sharing that is the most important thing. And I think that when we're doing that, we find connections with other people and it doesn't have to be a lesson. Everything doesn't have to be a lesson, a teaching, the arts can be, 'Oh, this is my path and someone else's path resonates with me and now I don't feel alone in the world.'"
Thank you, Jenny.
Get tickets for This Girl Laughs, This Girl Cries, This Girl Does Nothing  to check out Jenny's latest costume designs, and see what she's been working on with her home company, Portland Experimental Theatre Ensemble.