MEDIA RELEASE
FOR IMMEDIATE RELEASE
MEDIA CONTACT
CoHo Productions, Ltd
coho@cohoproductions.org
Main: 503-220-2646
THE SECRET LIVES OF TEENAGE GIRLS
Crooked by Catherine Trieschmann captures the angst and delight of adolescence and a
multi-dimensional mother-daughter relationship in this funny and heart-wrenching story
March 4th, 2013 – PORTLAND, OR.
In Crooked, life sucks for fourteen year old Laney who, besides dealing with typical teenage angst is afflicted by a muscle disorder called dystonia, which causes her posture to angle to one side as her back muscles fight with themselves even while at rest. Her mother Elise is recently divorced, in crisis, and has moved herself and her daughter to Oxford, Mississippi where the question "Have you found a church?" is considered polite conversation. Laney has a burning desire to be a writer and she uses her active imagination to write vividly violent short stories. When she befriends Maribel, the open-hearted daughter of an evangelical preacher, Laney uses her penchant for fiction to reinvent herself with actions as rebellious as they are cries for acceptance. This sensitive story of sexual and spiritual awakening follows Laney as she battles her inner demons in her quest to be loved.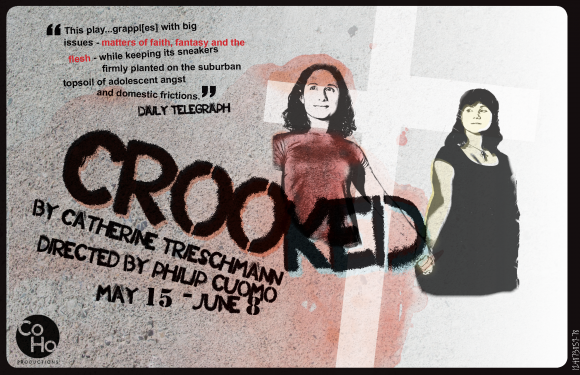 A distinctive new voice in American Theatre, Treischmann's work is quickly becoming known for its smart, humorous dialogue and intriguing female characters set against the backdrop of the Deep South. In Crooked, she creates three full and diverse roles for women exploring themes of spirituality, sexuality, alienation and identity.
"I think Portland needs to see more theatrical stories with a female perspective. Catherine's play is about the aspirations of women and I am ecstatic to spend several months living with it."
director Philip Cuomo, fresh off the critical and popular success of A Noble Failure by Susan Mach.
CoHo's offering features a well-crafted story centered on the multi-dimensional needs and desires of women of different ages. This female-driven story is presented in a time when cries for increased opportunities for female artists are growing louder. However, this play's characters, events and language succeed in providing insight into larger social and spiritual issues recognizable to all audiences regardless of gender: issues of family, friendship, grief, and finding a place to belong.
Recieving its debut at the Edinburgh Fringe Festival, Crooked is the first professionally produced play by Trieschmann in Portland and it has garnered international acclaim:
"Trieschmann shows a precise understanding of the female heart…A play of immense psychological shrewdness." – The Guardian
"fluent, funny and sometimes fearlessly cruel dialogue…" – NY Times
"fiercely idiosyncratic, funny and touching play" – The Daily Telegraph
"Crooked provides an unflinching dissection of the terrors that shadow so many teenage girls but are seldom depicted honestly in the theater or onscreen." – Chicago Reader
"Gloriously funny, Crooked takes on serious issues of religion, mental health and Sapphic sexual awakening…" – OMH London
Director and co-producer Philip Cuomo is the Executive Director of Portland Actors Conservatory (PAC) overseeing a nationally accredited institution. He is an award winning director, theatre teacher and actor and was last month appointed the newest member of CoHo Productions' Board of Directors. Maureen Porter, co-producer and playing the role of Elise, is an award winning actor, gracing all of the major Portland stages and is one of our city's most decorated and respected performers. Kayla Lian won over ArtistsRep's audiences in And So it Goes… and she will melt your heart as Laney. Meghan Chambers plays Laney's love interest, Maribel, and has recently completed the Portland Playhouse Acting Apprenticeship program.
Production Team
Stage Manager
Production Manager
Scenic Design/Tech Director
Light Design
Sound Design
Costume Design
Dramaturg
Sascha Blocker
Jennifer Lin
Demetri Pavlatos
Daniel Meeker
Annalise Albright Woods
Casey Ballard
Larkin Sackett
Show times are 7:30pm Thursday through Saturday, with 2pm matinees on Sundays. Talkbacks with the director and cast will follow the performances on May 19th and 26th and June 2nd. Tickets may be purchased online at www.cohoproductions.org or by phone at 503.220.2646. CoHo Theatre is located at 2257 NW Raleigh Street.
###