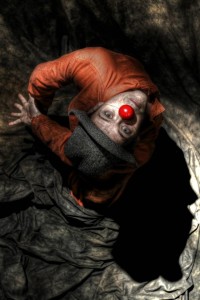 by Chris Harder & Steve Patterson
Directed by Chris Harder
Performed by Andy Lee-Hillstrom
June 7 – 17, 2012
The Centering is a one-man thriller that rips open the mind of a disappeared political prisoner. Driven to the edge by interrogators, Davey's memories reveal a dark and twisted past where only the wisdom of an aging Arab clown and a dream of performing in the circus offer escape. Originally performed by Chris Harder, who received a 2007 Drammy Award for Outstanding Performance and toured the show internationally, Harder now directs award-winning actor Andy Lee-Hillstrom.
Recently performed at the Shoe Box Theatre, CoHo is proud to extend this powerful show for two more weeks. The Oregonian says of this remount," It's a piece of sharp and thought-provoking yet subtle writing (concise, too — it's barely an hour long), and worth catching too as yet another example of Lee-Hillstrom's terrific physical and emotional precision."