Dmae Roberts, MediaRites founder and co-producer of The Brothers Paranormal, writes about her relationship with ghost stories and what drew her to Prince Gomolvilas' play. This article first appeared in the October 21 issue of The Asian Reporter.

---
Asian Ghosts by Dmae Roberts
My mom believed in ghosts and swore to me that she'd seen one. When I was an adolescent, she told me a story about a night when she was walking through a cemetery. She passed by a weeping woman dressed in white with long dark hair covering her face. Thinking it was a ghost, she ran away from the woman in fear. She said if the ghost woman had turned in her direction, its long red tongue would roll out of its mouth onto the ground. And anyone who saw this would die. The image scared me to no end.
Since then I've been apprehensive about going to cemeteries at night. My mom's story created in me a great respect ghosts, just in case they may be around — and watching. I tried to research the particular ghost my mom described. Most Chinese ghost stories have mixed mythologies and folklore. Though I did not locate any with long creepy tongues, I found ghosts with torches or needles as mouths and another with such bad breath even the ghost itself was disgusted. What struck was that there are so many ghosts – and they have quite varied personalities.
It's not that I have a fascination with Asian ghosts, you know those feelings – when you fear something but are also drawn to it. I think it's about testing one's own bravery. I believe that's often why people go to horror movies. The last full-fledged Asian ghost story movie I watched was The Ring. Bad dreams and a need to sleep with a nightlight followed.
It is my personal belief that Asian ghosts are the scariest; there is no benevolent Casper, the friendly ghost. Most seem malevolent and out for revenge. I just finished watching The Terror, a television show on AMC set in a Japanese-American incarceration camp during World War II. One family is haunted by a vengeful female spirit who can take possession of anyone. I started following the show because it's perhaps the most accurate and authentic depiction in film or television of the forced imprisonment of people during this shameful chapter of American history. And though frightening, the ghost demon in the show is a symbol of the horror Japanese-Americans endured, and which still haunts much of the community.
Ghosts can be a catalyst to bring out not only our own fears but also lingering trauma. For instance, Thai ghosts are named for pain and suffering during life and death. Phi Tai Ha is the ghost of someone who died in an accident, Chao Kam Nai Wen is a ghost who continues to have ill will towards a person who has wronged them, and Phi Tai Hong is the ghost of a person that suffered a sudden violent or cruel death. Many Thai ghosts seem to be women, which is a theme of The Brothers Paranormal, a production by playwright Prince Gomolvilas.
Gomolvilas spent 11 years off and on writing the play in the hope it would one day make it to the stage. He received two rolling world premieres last May. And around Halloween this year, MediaRites and its Theatre Diaspora program are co-producing The Brothers Paranormal with CoHo Productions in Portland. Also playing in Seattle, the show up north is presented by Pork Filled Productions and opens at the Theatre Off Jackson on October 26.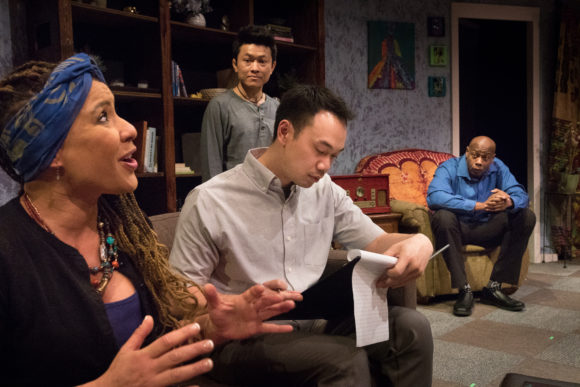 The play centers on two Thai brothers who capitalize on numerous sightings nationwide of female Asian ghosts. Their first clients, an African-American couple who survived Hurricane Katrina, swear they are being haunted by young female Thai ghost. When I read this play, I was drawn to it because it was such a funny and scary page turner with twists and turns. But it's also a metaphor for grief, loss, and what haunts cultural communities.
This particular ghost story also speaks to the reticence of communities of color to seek mental health services. The ghost may indeed be real or could be a manifestation of psychological trauma. The brilliant cast brings this theme to light in every scene leads the audience to wonder if they too might be seeing a ghost in their lives.
Ghost stories serve a purpose in every culture. They give voice to our own mortality and fears, and bring up the question of what might happen in the hereafter. The older I get, the less I fear that question or worry about the potential that ghosts are already around us.
The Brothers Paranormal runs October 25 – November 16. Tickets are on sale now!
---
The Asian Reporter is the Portland area's source for international and local northwest news and events with an Asian focus. The current issue is available online, at various outlets around town, and via subscription.