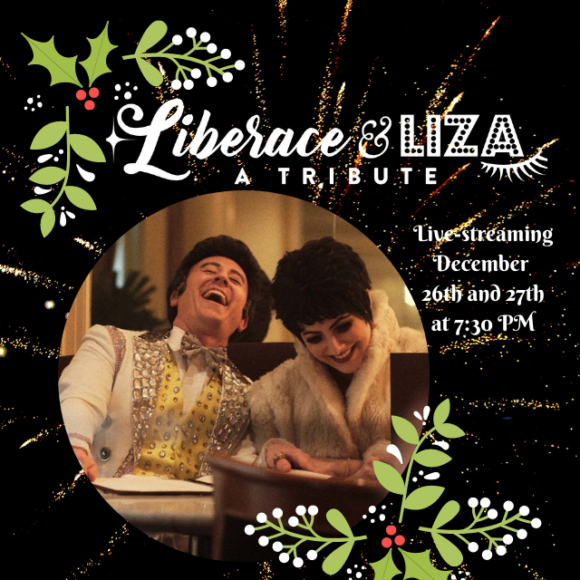 CoHo Presents
Liberace & Liza: A Tribute
December 26th and 27th at 7:30pm
Featuring Liberace and Liza Minnelli tribute artists David Saffert and Jillian Snow Harris
After a sold-out run in December 2019, Liberace & Liza: A Tribute is back on the CoHo stage with their joyful holiday-cabaret extravaganza! Expect upbeat tunes, Christmas carol sing-a-longs, the Limbo, glitz, glam, and more! This year's special guests include Bo Ayars (the actual Liberace's musical director and arranger from 1973-1985) who will be conducting the show.
ABOUT LIBERACE & LIZA: A TRIBUTE
High-voltage virtuosity meets comic chemistry in this dazzling tribute to Liberace & Liza Minnelli.
David Saffert & Jillian Snow Harris share the stage as Liberace & Liza Minnelli, creating an exhilarating night of musical and comical fireworks. Delighting in the costumes, music, and glamour of show business's wildest entertainers, you and your friends will be smiling and clapping along to such hits as Boogie Woogie, Chopsticks, Cabaret, & New York, New York. And conducting the entire show is Bo Ayars who toured with "Lee" for 13 years as his arranger and Music Director. Liberace said, "I don't give concerts, I put on a show." That's what we do, and what a show it is!
Where we've entertained – Feinstein's at the Nikko (San Francisco, CA), Broadway Rose Theatre, Tony Starlight's Showroom, CoHo Theatre, Curious Comedy Theater (Portland, OR), and venues in Minnesota, Wisconsin, and Calgary, Alberta (learn more at liberaceandliza.com)