May 28 – June 7 at Coho Theatre
Hilarious, heartbreaking theatre on the triumphs and struggles of tennis legend Billie Jean King.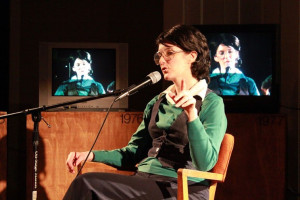 "[Billie Jean King] seems to morph from tennis star to feminist hero before our eyes."  —The New York Times
"Girls in sports today can't imagine there was a time when they didn't have opportunities, just like you and I can't imagine a time when women couldn't vote.  But we have to know our history. It's time to re-awaken people." — Teri Mariani, Former Softball Coach and Administrator, Portland State University, in The Oregonian
Boom Arts presents the West Coast premiere of She is King, a hilarious, heartbreaking multimedia documentary theatre production about pioneering American woman athlete and tennis legend Billie Jean King. In She Is King, acclaimed Minneapolis-based creator/performer Laryssa Husiak and New York director Katherine Brook recreate a series of King's real television interviews from the 1970s—complete with period video technologies, fake potted plants, and hairdos true to their time. As the cameras roll, we witness King's resilience and courage as she boldly breaks the glass ceiling for women in sports amid rampant gender bias. Don't miss this unique occasion to celebrate this true American hero and pass on an important part of women's and sports history to up-and-coming generations. Post-show discussions with special guests from across the community will follow each performance.
❧❧
Boom Arts' presentation of She is King is generously sponsored by Don & Mary Blair and Harold Goldstein & Carol Streeter.  Major project support comes from the Oregon Community Foundation, Oregon Humanities, the Regional Arts & Culture Council, Work for Art, the Multnomah County Cultural Coalition, and the Oregon Cultural Trust. Fiscal Sponsor: CoHo Productions. Community Partner: Girls Inc. of the Pacific NW.