Chris Harder joined the From These Streets I Rise team as a co-producer, but quickly found himself filling the role of Director and Dramaturg for this multi-faceted project. Chris talks to us a little more about his creative process, what inspired him to make his artistic decisions, and how collaboration has allowed this piece to morph into a complex, intricate work of art.
"It's incredible to be in CoHo theatre right now. I love this process. Mikki and Samie are wonderfully talented performers and it feels like the theatre gods have been with us… dropping in to shake things up, asking us to take risks and explore more dynamic possibilities of this piece. It's exciting and invigorating to make bold new choices. To try ideas that don't work and then suddenly discover gold.

I'm inspired by the courage of the people who shared their stories for the piece. The honesty, the heart, and vulnerability. The humanity. Mikki is an inspiring actress. She channels the characters physically, vocally… it's both moving and a delight to watch the characters speak through her and inform her movement in the transitions. Samie is like the heartbeat … the muse of the piece. Her character brings some magic. Her embodiment of the music, her vocals, and original songs are stunning. When the two of them sing together everything else seems to melt away and I get lost in the beauty of it.

I'm honored to be creating in a unique way during this challenging time, and I hope we honor theatre and the ritual of storytelling. It's not gone, it's different. Theatre artists in our community are determined to create. I'm inspired to be a part of the creative expression and theatricality that is happening right now. Theatre is the ultimate form of empathy and it's vital, now more than ever in my lifetime."
ABOUT THE DIRECTOR/DRAMATURG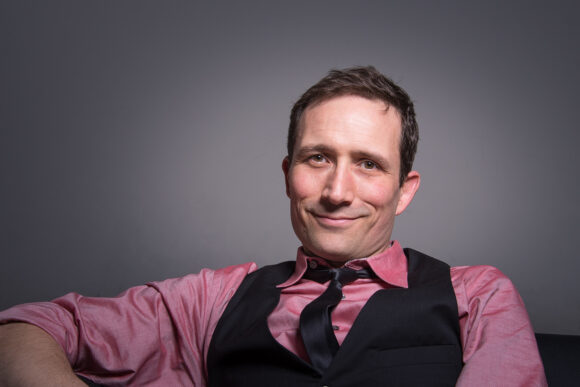 CHRIS HARDER is an actor, director, and theatre-maker dedicated to artistic risk and the creation of new work. He is a Resident Artist with Artists Repertory Theatre and has performed on numerous Portland stages over the past 20+ years. In addition to his private classes, he teaches acting with the Portland Actors Conservatory, Portland Playhouse, and Oregon Children's Theatre. He is currently developing a new theatrical installation online titled TimeCapsule. www.chrisharder.com
---
Tickets to From These Streets I Rise are available now, and all prices are Pay-What-You-Can. Proceeds will be donated directly back to Street Roots. Reserve your spot at this live-streaming event in advance. Click HERE to purchase tickets now.