A change in season has begun. Autumn is here, summer is fading away, and the natural world is changing around us. The ancient Greeks would attribute these changes to the goddess Demeter's intense mourning for her daughter, Persephone, who was imprisoned in the underworld by Hades. Persephone's absence caused Demeter, the goddess of the harvest, such deep sorrow that she refused to allow the earth to grow, renew, and sustain itself. Though we now understand that the changing of seasons is definitely not caused by a powerful mother's grief and anger and her daughter's perseverance and ingenuity despite seemingly impossible circumstances, the story of Persephone remains relevant and resonant today.

This summer, Bedrock Theatre, a group of CoHo-fostered artists passionate about creating theatre in nature, took on the challenge of retelling Persephone's story in the immersive greenery of Leach Botanical Garden. CoHo's Development Associate, Kiera Coughlan, reflects on the artistic experience and environmental impact of Bedrock Theatre's timely adaptation.
---
It takes so little to make nature a stage because it is inherently so intricate, alive and emotionally charged. Our species evolved with it as the setting to all our most powerful stories, and indeed as a character in most of our mythologies. It could be argued that the art of storytelling developed to explain our relationship with nature to ourselves. From ancient earth goddesses to roman gods in chariots pulling the sun across the sky, humanity's most familiar dramas are those that examine the meeting place of the human soul with the natural world.

With the careful placement of three candles on a riverbank, a song sung in a clearing and an audience shepherded along a forest path, Bedrock Theatre took these two ageless staples in human life: nature and stories, and reconnected them here in this tech-saturated age of the anthropocene.
The musical re-telling of the Greek myth of Persephone was the inaugural production by Bedrock Theatre, a group of CoHo fostered artists (founders Sean Grosshans, Joellen Sweeney, and CoHo Operations and Patron Services Coordinator Emily Eisele) that decided to bring theatre outside. In the beautiful Leach Botanical Garden, they staged an originally poignant adaptation of the story that tackled the omnipresnt reality of climate change through this classical myth about human's reliance on the goodwill of the goddess of nature.

Nature. We have created a world where we spin past it in ever speedier vehicles, and an economic system in which the harm done to our natural resources are an "externality"- a word which means it has no numerical or monetary value in our economic trading. A word which means if we accept economic truths as the only truths, nature does not exist. The unseen price paid by Persephone, the goddess Demeter's daughter who spends half the year with the dead so that we mortals may have half a year of vitality, the ability to grow crops and to sustain ourselves, has no way of being valued in an economy, but is actually a life-giving force. This theme played out beautifully in the age-old Greek story woven through the pine and fern of the gardenscapes, as the audience was ushered along paths and over bridges to view a daughter's rebellion, a mother's grief and a god's selfish desire.

Our disconnection from nature in many ways underlies our disconnection from our emotions. And so a play about the power of the emotions of a goddess in defining the earth's sustainability and its seasonal cycles, set in nature, and using the natural setting to pull us into our emotions about nature, has so many levels of re-connecting its hard to conceptualize without becoming lost in the meta-layers of meaning. It's like the painting of a man holding a picture of a painting of a man holding a picture of a painting of a man holding a picture of a painting …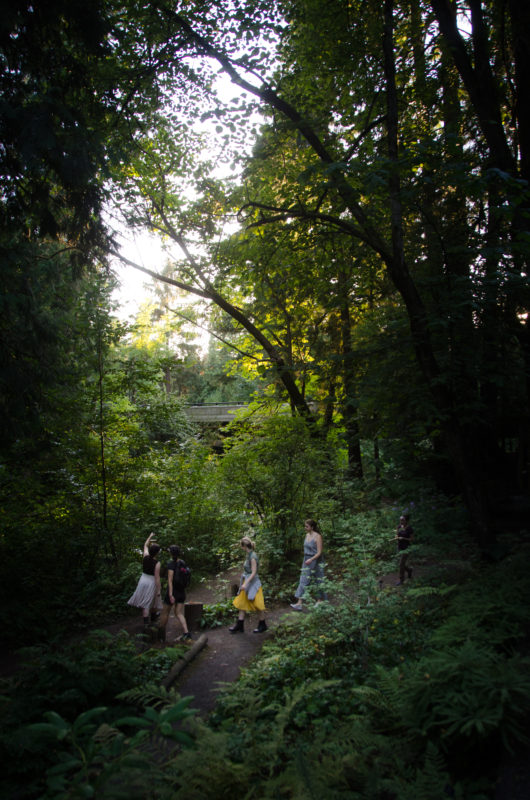 Making the audience move through the setting of the story, which also happens to be the setting of all our stories, was therefore genius, and a great example of the intricately layered thought behind Bedrock's seemingly simple idea of play + hike.

Bedrock Theatre is also a lovely example of what happens when we follow our bliss. The theatre company's founders are theatre people and they are nature people, and when they merged these two loves into one formalized creative collaboration Bedrock was born. The organic evolution of this Portland trio seemed to naturally solve some of the big questions the theatre community has been asking itself in our modern era – How do we re-invigorate an art form that is struggling to remain relevant? What walls need to be broken through? How can new audiences be authentically engaged? The very real way in which Persephone was brought outside of the established theatre institutions and into our immediate world – and the collaboration with the Leach Botanical Garden Association – (both the de facto set designers and a community support to the production), answered these questions without really trying. As it turns out, when we genuinely connect to what brings us joy, others seem to be drawn along. The extensive wait-lists for every night of Persephone's two week run defied norms and challenged any assumptions that may have been floating around about the impending doom for theatre's future as the core audience of white baby-boomers make their own transitions to the underworld. Much like Persephone created a future for all mortals by turning both Hades' and her mother's "No's" into "Yes, and's", Bedrock took a certain reality and was willing to split it, combine it, modify and work with it; to innovate a new place and method for modern theatrical storytelling.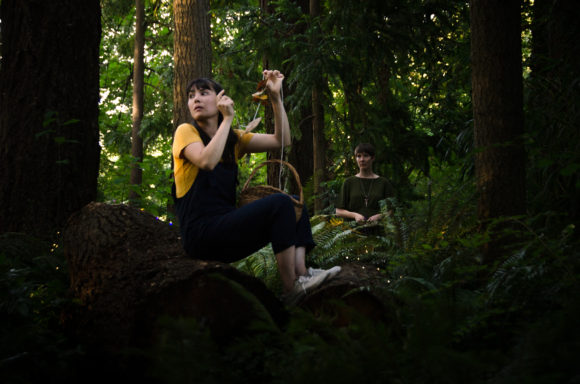 This modern theatrical innovation brought audiences face to face with another modern 'innovation' of sorts –namely the wholesale destruction of the natural environment that, like a grief stricken Demeter, we seem determined to carry out. The relatively young cast, crew and producers of the work are not only depicting Persephone, they are trying to embody her, to be that voice of a younger generation whose shock and horror is the only thing able to snap their elders out of their scorched-earth rampages.

They are not alone. A youth-led movement is protesting outside the UN office in New York this week; youth protesting because it will be the planet they inherit that will come closest to the hellish scenes of destruction Demeter's grief created in Persephone. In fact, young people are suing the government for denying them their constitutional right to life and liberty because we cannot be sure they will grow up on a planet capable of supporting their lives. We passed the point of no return as far as the polar ice caps are concerned long ago. We are losing more species everyday. The rainforest is on fire. There is another hurricane/fire/flood/heatwave on its way.
The world's children should be protesting- they should be demanding we listen to what the news agents and terrified scientists are telling us. But they should also be making theatre. Because what Bedrock was able to tell us, or perhaps just remind us, is something much more personal and fluid though no less impactful. Their immersive performance brought us back into how we feel in nature- how our lives are given meaning when they take place in clearings, on riverbanks, along wooded paths. Persephone gave us the magic of hushed footsteps falling around us as dusk settles onto the hillside, the slight tingling on our skin generated by voices singing from across the river. It gave us the nostalgic feeling, as if from a dream or hazy memory, of a whole life lived in the midst of things that grow. It told us, in no uncertain terms, that we need nature not merely to support our physical act of living but to feel truly alive.
Kiera Coughlan