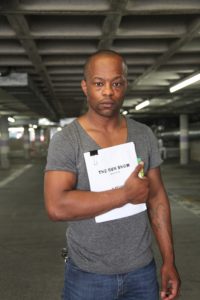 CoHo Productions presents

The Gun Show
by E.M. Lewis
Starring Vin Shambry
Directed by Shawn Lee
Photo by Owen Carey
---
ABOUT THE PRODUCTION
Playwright E.M. Lewis sits with the audience while actor Vin Shambry shares her stories – just five gun stories in a country full of gun stories.
Her words. His voice. Our story.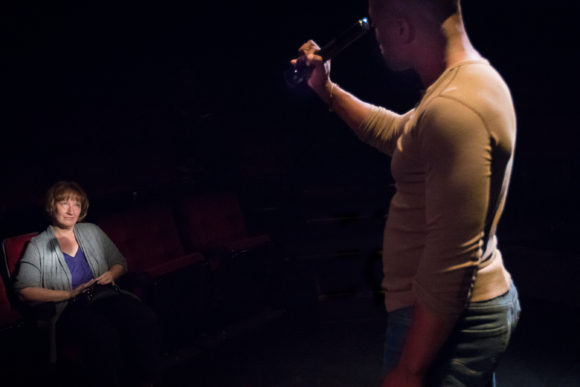 She grew up in rural Oregon, where everyone has guns. She learned to shoot on a date. She worked at Jackson's Bookstore during an armed robbery, and once encountered a threatening cop in New York. And then there's the fifth story: the one that doesn't let go, the story that triggered this show.
The Gun Show takes aim at America's most dangerous past-time with brutal honesty and poignant humor. Leaning neither right nor left, it jumps into the middle of the gun control debate and asks "Can we have a conversation about this?"
Gun Talks will follow each performance. Audience members may share their own gun stories together with the artists and community members in a moderated conversation about issues raised in the production, including safety, violence, control and personal gun stories.
---
EDUCATION
As part of The Gun Show, we believe in engaging young people in this critical conversation. To that end, every city we visit we will bring the production into local high schools free of charge as well as stops at colleges and universities. Young people have a unique and powerful perspective on guns in America, and we want to ensure they have the opportunity to speak and be heard.
"Seeing The Gun Show totally opened my eyes to an issue that I had never bothered to think about in more than one light. I saw it three times- once with my friends, once at school with classmates, and once with the general public, and each time, the conversation post show helped me to learn even more about the many ways we in America interact with guns."
– Quinland, Wilson High School Senior
---
PAST TOUR DATES
July 1, 2017: Artists Repertory Theatre, Portland, OR
July 6-16, 2017: Logan Festival of Solo Performance; 1st Stage Theatre, Tysons, VA
August 4-28, 2017: Edinburgh Fringe Festival, presented by theSpace UK at SpaceTriplex Studio Theatre, 19 Hill Place, Edinburgh, EH8, UK
December 1-2, 2017: Willamette University Theatre, Salem, OR
---
READ FEATURE STORIES
American Theatre Magazine,  "19 Political 'MUST SEE' Shows to See This Fall!"
Oregon ArtsWatch, Under The Gun in Ory-Gun by A.L. Adams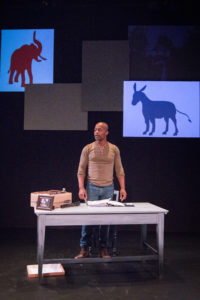 "Guns are everywhere. If the left wing is trying to take them all, as some on the right assume, they have their work cut out for them. Playwright E.M. Lewis is relatively quick to clarify that that's not her objective. Hailing from the rural "Orygun" town Monitor (just east of Woodburn), she's had an intimate long-term relationship with the gun as an implement of recreation and protection as well as a tool of threat and disaster—and she's penned a script comprised of five true gun stories from her life that cover as many sides of the issue."
Portland Monthly Magazine, What Can This Playwright's Story Say about Guns in America? Interview with E.M. Lewis by Rebecca Jacobson
Portland Mercury – Preview by Megan Burbank
"It's about as timely as you can get. And given that Lewis' solo show will be performed by Vin Shambry, one of the city's best actors, it's downright essential."
---
LISTEN TO RADIO COVERAGE
Oregon Public Broadcasting, State of Wonder
(Interview with E.M. Lewis and Vin Shambry)
KBOO Radio, Stage & Studio
(Interview with E.M. Lewis and Vin Shambry)
Adventures in Artslandia
(Podcast Interview with E.M. Lewis, Vin Shambry & Susannah Mars)
---
RAVE REVIEWS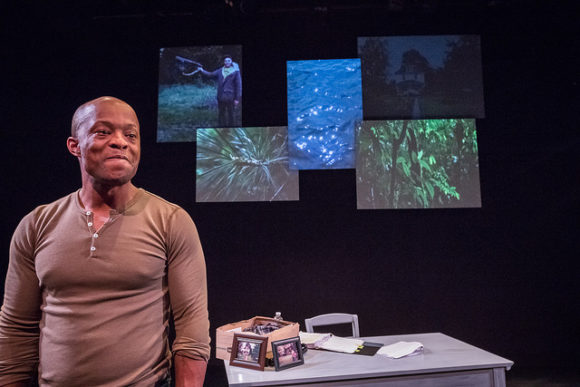 Oregon ArtsWatch, The Great American Gun Divide – Review by Marty Hughley
"…charming, warm, funny, vehement, volcanic, tender, precise … he serves admirably as mouthpiece for the white, middle-aged playwright, allowing us to see her in these stories, yet he doesn't banish his own presence, that of a leonine young black man, with a different upbringing but a similar care and concern about the issue…It's a remarkably committed and affecting performance, intense yet with a quality like a set of shifting transparencies, a convincing illusion pulled off even as he explains the trick to you."
Broadway World, The Gun Show Challenges Us to have a Reasonable Conversation about a Divisive Issue – Review by Krista Garver
"These are personal stories of a woman who has a lot of experience with guns, who understands both their appeal and their danger, and who, because she sees both sides, feels stuck in the middle. She doesn't ask us to support one side or the other.
Portland Mercury – Review
The post-play discussion portion ("Gun Talks") is a bold move and won't be a hit with everyone. Audience members spoke up about using guns in the armed forces, having lost loved ones to gun violence and suicide, and having loved ones who were still alive because they had guns for protection. Gun Talks was uncomfortable, but it would be hard to argue that it didn't enhance the play. Seeing the range of relationships to guns in one small theater changed the effect of what just happened onstage, and required everyone to consider it from a different angle.
"This is, without a doubt, one from the heart and soul. It is not to be ignored. It is not to be trivialized. It is to be heard, digested and solved!"
"Part one of the play is the five stories; part two brings the audience into the conversation. Thus, every part two is a different experience. There is humor, love, and terror. "
---
ABOUT THE CREATIVE TEAM
E.M. Lewis (Playwright) is an award-winning playwright, librettist, and teacher of playwriting. She was a finalist for the 2014 Shakespeare's Sister Fellowship. She received the Hodder Fellowship from Princeton University in 2010-2011, and a fellowship from the New Jersey State Arts Commission in 2012. She won the ATCA/Steinberg Award for her play "Song of Extinction," which also received the Ted Schmitt Award for Outstanding Writing of a World Premiere Play from the Los Angeles Drama Critics Circle. She won the Primus Prize for her play "Heads." Her work has been produced around the world, and is published by Samuel French.
Vin Shambry (Performer) is honored to be part of this important and powerful show, as well as to work with CoHo for the first time. As a local Portlander himself, it is especially meaningful to tell this story of rural Oregon, particularly during this time in our nation, and as a black man. Vin is a resident artist at Artist Repertory Theater and has performed in numerous local shows at Portland Center Stage, Portland Playhouse, Oregon Children's Theater, Staged, Portland Opera, and Artists Repertory Theater. Before returning home to Portland, Vin performed on Broadway as Tom Collins in Rent and John in Miss Saigon, and toured nationally with Rent, Miss Saigon, Honk and Big River.
Vin was recently voted Portland's Best Actor by Willamette Weekly reader's poll (2016), has won three Portland Drammys (2011), and an Audience Award for Best Actor in a Play for Black Man Rising (2006). Vin has a BFA in Musical Theatre from the American Musical and Dramatic Academy in NYC (2005). Vin also moonlights as a live storyteller at the Moth, Back Fence PDX and Entertainment for People, and is working on a collection of short stories about his childhood. In his day jobs, Vin directs and choreographs youth performances in local schools.
"Having the opportunity to step into E.M. Lewis' s words is truly breathtaking. She so eloquently captures her own truth, while simultaneously leading us to confront our own." -Vin Shambry
Shawn Lee (Director) recently directed the Northwest Premiere of Bess Wohle's American Hero at Artists Repertory Theatre. He has 20 years of experience producing theatre, including 25 productions as co-founder and co-artistic director with Furious Theatre Company in Los Angeles. He is the recipient of the Los Angeles Drama Critics Circle Award, The Back Stage Garland Award, LA Weekly Theatre Award, LA Stage Alliance Ovation Award and the Pasadena Arts Council's Gold Crown Award. He is a co-creator of foundfootage.net with Matt Palfrey (MTV Skins) and has directed multiple episodes of the web-series AGANG. Shawn is the Artistic Producer at Artists Repertory Theatre, producing 20 shows to date, as well as coordinating and producing shows for Profile Theatre, Portland Shakespeare Project, Risk/Reward, Hand2Mouth, Tiempo Libre concerts, Corrib Theatre, Phame, and many other solo projects.
"EM Lewis and I have similar backgrounds growing up with guns: her in rural Oregon and me in rural Missouri, where guns were an everyday part of our lives. My relationship with guns has become more complex. I do not understand what is happening in our society when my son has "bad guy" drills at his elementary school and is instructed to hide and be quiet by his teacher. Shootings have become so commonplace in our society that these have become standard school safety procedures. Yet, I do not know what to say to my son. My hope is that The Gun Show will start the discussion." -Shawn Lee
The Gun Show production photos by Owen Carey