Only $5! Click here to buy tickets.
February 8 – Shane Torres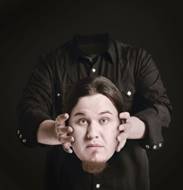 Shane Torres has been performing comedy for just over 5 years. In those 5 years he has been in The Bridgetown Comedy Festival, The New Orleans Comedy Festival, and The Seattle International Comedy Competition. He is funny and hopes he gets to meet you. He is also one of the producers of "Funny Over Everything" at The Hollywood Theater. He really hates writing bios though.
Februry 9 – Jen Allen and Trevor Thorpe
Jen Allen graduated in 2009 from Portland State University with her BA in Theater Arts. That was the first goal. The second has been comedy which Jen has been pursuing full-time since. She has been seen at Comedy Underground in Seattle, Tacoma Comedy Club and Bridge Town Comedy Festival. You can also see Jen at many local showcases around town. If you'd like more information, you can follow Jen on Twitter or Facebook @jeneralisimo.
Trevor Thorpe is originally from San Diego (get over it), Trevor moved to Portland and fell in love with the comedy scene. New to stand-up, Trevor takes his "tattooed nerd bartender" persona and turns it on the world at large Sometimes dark and cynical but always fun. Called delightfully loud (by his girlfriend) Trevor's a fifth level ghost ninja and produces a show at Dante's called "Crazy, Delicious Comedy."
February 15 – Ian Karmel – 
CANCELLED
We regret to announce that Ian Karmel's performance has been cancelled.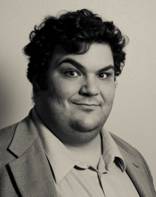 Ian Karmel is a Portland comedian who comes from an improv background, including time with The Groundlings and the Upright Citizens Brigade. Ian entered the world of stand-up with a unique perspective that helped him win the 2011 Funniest Person in Portland, 2010 Portland Amateur Comedy Competition and has given him the opportunity to perform at the Bridgetown Comedy Festival, Bumbershoot and many others. In addition to stand-up, Karmel has appeared on television, playing a character in IFC's sketch show Portlandia and as a post-game analyst and commentator for the Portland Trailblazers.