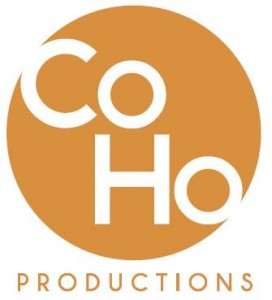 MEDIA RELEASE
FOR IMMEDIATE RELEASE
MEDIA CONTACT
Corinne Gayle Lowenthal
Marketing & Development Strategist
CoHo Productions, Ltd
corinne@cohoproductions.org
Main: 503-220-2646
Direct: 971-223-9032
LAUGH UNTIL YOU CRY WITH THE WORLD PREMIERE OF
International Falls
at CoHo Productions
December 9, 2012 – PORTLAND, ORE. Write down everything and something is bound to be funny. Or at least that's standup comedian Tim's philosophy in International Falls by Thomas Ward. CoHo Productions, as part of the Fertile Ground Festival, will produce the World Premiere. A pay-what-you-will preview performance will be held on January 24th, with opening night on January 25th. The hilarious new show will run Thursday through Sunday through February 16th. Tickets start at $20 with discounts available for students, educators and seniors. Those with a valid International Falls, MN driver's license will receive free admission (pending availability).
In the depths of winter, Tim and Dee find themselves together in a small motel room after Tim's side-splitting
stand-up comedy performance. A philosophical discussion of comic theory, marriage, parenthood, and a few bodily function jokes blurs the line between comedy and tragedy as both are forced to ask, "Now what?" Playwright Thomas Ward (a Professor at Baylor University and former stand-up comic) has carefully crafted the beginning of one journey and the end of another as the pair grapple with each other and their lives. Show times are 7:30pm Thursday through Saturday, with 2pm matinees on Sundays. Talkbacks with the director and cast will follow the performances on February 2, 3 and 9. A panel discussion with area stand-up comics moderated by Isaac Lamb will follow the Sunday, February 10 matinee performance. Tickets may be purchased online at www.cohoproductions.org or by phone at 503.220.2646. CoHo Theatre is located at 2257 NW Raleigh Street.
Brandon Woolley (Company Manager, Portland Center Stage) makes his Portland directorial debut and has cast an exceptional duo of Portland favorites to take on this dark comedy. Tim, a burned out standup comedian will be played by Portland's own comedic actor, Issac Lamb (pictured above) of Third Rail Repertory Theatre. Laura Faye Smith (The Receptionist, Spinning into Butter) returns to CoHo as Dee, the disenchanted motel clerk.
The small Minnesota motel comes to life through Scenic Designer Cameron McFee (Animals and Plants, Body Awareness). Jennifer Lin (Lime Tree Bower) and Em Gusterson set the scene as Lighting Designer and Sound Designer respectively. The production team is deftly rounded out with Amber Peoples as Stage Manager.
CoHo Productions continues its 17th Season: It's about Identity, still utilizing the unique coproduction model that has sustained its efforts to support the artistic community. CoHo provides the funding, venue and complete administrative support, allowing our co-producers to focus on creating the artistic vision. This combination has produced 23 Drammy awards and 10 world premieres, despite the completely unpredictable nature of each season. Located on the edge of the vibrant NW District and in the midst of the 10-year Conway redevelopment project, CoHo Theatre is an intimate 99-seat black box theatre residing in a former book bindery.