CoHo NIGHTLIFE is excited to bring you the first performance in our new series, Lofi Hip Hop with Luvjones. Luvjones' DJ set will take place on the CoHo stage this December 19, 2020 at 9 PM. FRANK will be performed live at CoHo, and live-streamed to the comfort of your own home.
This live set is brought to you by local beatmaker and hip-hop producer, Luvjones.
December 19, 2020 at 9:00 PM
Tickets are FREE and everyone is invited! Follow our Twitch channel and receive a notification when we go live at 9 PM.
………………………………………………………………………………………
---
ABOUT LUVJONES' INSTRUMENTAL SET
Local Portland musician and beatmaker Luvjones kicks off the NIGHTLIFE series this December. Luvjones will be playing a 50-minute set compromised of low-fi music from his extensive catalog of work. The live set will include remixes, seasoned originals, and new unreleased songs from his upcoming album. Luvjones will perform on the CoHo Theatre stage, and the feed will be captured and formatted by our video production team, who will stream the live-feed to CoHo's Twitch channel.
---
ABOUT THE MUSICIAN & DJ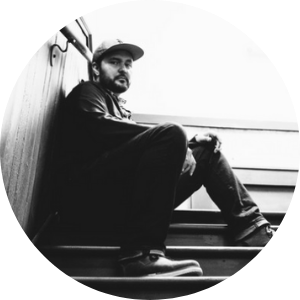 Luvjones is an instrumental hip hop producer, music nerd, and master of mellow vibes whose globetrotting adventures have taken him from Kentucky, California, Wisconsin, DC, and New York. Currently residing in Portland, Oregon, Luvjones is always farming for classic samples, crispy drums, and crafting chill beats for quiet moments.

While his work is primarily instrumental, he continues to work with MC's and vocalists from around the world, often crafting the moody and introspective songs that artists gravitate toward for deep album cuts. A lifelong student of hip hop, soul music, drum patterns, fine art, and low-fi recipes, Luvjonez is always looking to collaborate with like-minded MC's and singers. Click to connect if interested in learning more.
---

CoHo NIGHTLIFE is a series of performances, performed at the CoHo Theatre and streamed live to Twitch. Audience members are invited to engage with the performance through the Twitch chat feature.

All performances are FREE and open to the public. Donations will be collected before, during, and after the show, and audience members are invited to tip the performer directly through their Venmo or Cashapp accounts.

To access the NIGHTLIFE series, we invite our community to follow us on Twitch. If patrons opt-in to receive updates, they will receive an email reminder on the day of the show. Once patrons follow our Twitch channel, they will receive a notification when we go live, and are invited to tune in from the comfort and safety of their own home.

Whether it's music, dance, poetry, or performance art, NIGHTLIFE is Portland's premiere virtual venue.