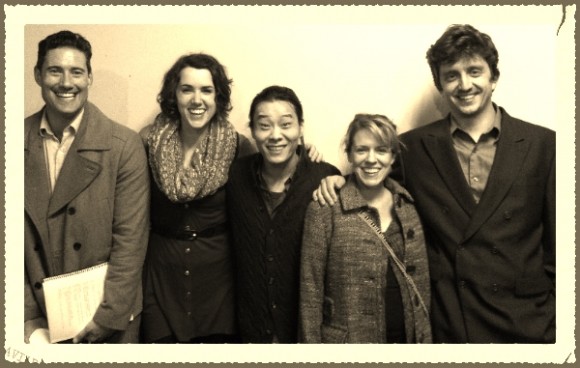 The time has come to introduce the cast of Maple & Vine!
Next week we open, Friday May 2nd.  We are sold out for opening night already. Click here for tickets to reserve yours today!
We are all smiles here at CoHo! The Creative team is working hard on the set. We love the 50's mustard couch and assorted textiles chairs, so fun and whimsical!
Stay tuned for more posts and updates from Maple and Vine cast and crew!
Get out those skinny ties gents, and A-line dresses ladies!
CAST

Katha-Melissa Schenter
Ryu-Heath Hyun Houghton
Dean-Sean McGrath
Ellen/Jenna-Jill Westerby
Roger/Omar-Spencer Conway
CREATIVE TEAM

Director & Co-Producer-Megan Kate Ward
Stage Manager-NicoleGladwin
Scenic Designer-Sarah Lydecker
Sound Designer-Cecil Averett
Lighting Designer-Rachel Kinsman Steck
Costume Designer-Judith Kempe
Master Electrician-Josh Rice
Scenic Builder and Projection Designer-Noah Wesley Phillips