CoHo Productions presents
The (curious case of the) Watson Intelligence
by Madeleine George
CoHo Season 22
September 8 – September 30, 2017

CoHo's 22nd Season begins with Madeleine George's Pulitzer Prize nominated The (Curious Case of the) Watson Intelligence, a time-traveling love triangle between the head, the heart, and the machine. Directed by Producing Artistic Director Philip Cuomo, Watson features a trio of talented actors both familiar and brand new to CoHo audiences.
Sarah Ellis Smith is making her Pacific Northwest debut as Eliza, a brilliant computer engineer specializing
in natural language processing systems and innovative late night snack combinations. Sarah's previous credits include work with the New Orleans Shakespeare Festival at Tulane, Swine Palace (Baton Rouge, LA) and Gainesville Theatre Alliance in Georgia. Some of her favorite roles include Rita (Educating Rita), Helena (A Midsummer Night's Dream), Cordelia (King Lear), and Nora (A Doll's House). She founded Compleat Stage, a non-profit organization in Louisiana focused on multidisciplinary collaboration and arts education. In addition to her work in theatre, Sarah's most recent film and TV credits include Into the Badlands (AMC), American Horror Story (FOX), Treme (HBO) and The Host (Chockstone Pictures). Sarah holds an MFA from Louisiana State University and a BA from Brenau University.
Portland theatre stalwart Gavin Hoffman returns to CoHo where he previously co-produced and directed
Marsha Norman's 'night Mother and acted in Annie Baker's Body Awareness. He plays Frank Merrick, an intense and slightly rage-y lawyer/local political candidate/Eliza's very recently ex-husband. Some of Gavin's Portland credits include Duncan McDougall in Astoria Part 1, Joe in Great Expectations, Ligniere in Cyrano, Iago in Othello, and Karl/Steve in Clybourne Park at Portland Center Stage; Ted in American Hero, Harry in The Understudy, and Dieter in The Monster-Builder at Artists Repertory Theatre; Ellard in The Foreigner at Lakewood Theatre; Wolf/Red in To Cape, The Tripping Point at Shaking the Tree; Ken in Fifth of July at Profile Theatre; Hank in A Noble Failure at Third Rail. He has guest-starred in The Big Easy (USA) and Leverage (TNT), co-starred in Grimm (NBC), and appeared in Portlandia. He is the recipient of four Drammy Awards, a graduate of PCPA, and has a BFA in acting from Ithaca College. He is a proud member of Actors' Equity and SAG-AFTRA.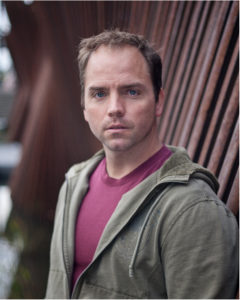 Eric Martin Reid joins us as Watson, the multifaceted being who is Jeopardy champ/IT dweeb/sidekick to Sherlock Holmes/co-inventor of the telephone all in one. He is a member of SAG-AFTRA, a graduate of the Professional Actor's Training Program at the Dell'Arte International School for Physical Theatre, and he went on to study Advanced Meisner with Laurel Vouvray at the Actor's Avenue Studio. Eric has worked onstage with theatres including Insight Out, Sojourn Theatre, Sowelu Theatre, Imago, and CoHo. TV and film credits include a guest starring role on NBC's Grimm, Leverage, Portlandia, and Extraordinary Measures. As a writer and first time director Eric's short film Kidz won Best Comedy at the 2014 NW Short Film Festival. He recently wrapped on the film Six Nights, which he also co-wrote for Limbo Films. Eric teaches at The Studio Northwest and with Acting for Kids and Teens.
Full subscriptions and individual tickets for Season 22 are available now!