#CoHoSummerfest Week 2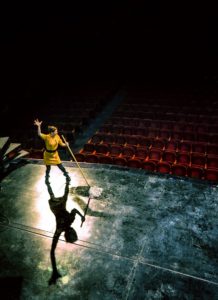 How to Do a One Person Show
June 22 – 25
NYC Comedian. Panic Attack. Beautiful Realization.
The New York Times has called solo performer Kelly Kinsella "terrific and zany" and so she has been invited to a theatre near you to do a one person show about anything she wants! In her "slinky and smart" way (BackstageNY), Kelly shares her panic about not actually having a show by creating one in front of us. It's a Ted Talk gone wild. Through the journey of learning how to create a show she comes to the beautiful realization of why do a one person show. Oh just come, there will be cake.
"There's no question that Kelly Kinsella knows how to do a one person show."-Theatre is Easy
[maxbutton id="108″]
Production Credits
Written and Performed by Kelly Kinsella
Co-written and Directed by Padraic Lillis
Kelly Kinsella (Performer/Writer)
How To Do a One Person Show was an official selection and commission for the tenth annual soloNOVA Festival in New York, NY. Regionally it has played at the Women's Theatre in Parsippany, NJ as well as Shadowland Theatre and The Chenango River Theatre in upstate New York. Her third one woman show, When Thoughts Attack ("She's like us, just funnier."- nytheatre.com), was presented in Portland at CoHo Summerfest 2016, and she is thrilled to be invited back. Kelly has been performing both shows and teaching "The Art Of Solo Performance" at universities including SUNY New Paltz, SUNY Ulster, SUNY Orange, Felician University in NJ, Belmont University in Nashville,TN, and the University of Central Florida. WTA has previously been presented in Provincetown, MA as part of Women's Week, Off-Broadway at the Duke on 42, the Labrats, ArsNova, Emerging Artists, and The Actors Fund of NY as well as regionally, all over the eastern seaboard. Her one woman show, Kelly Kinsella Live! Under Broadway (Top 20 Performances to Remember-BackstageNY) was selected as part of the 2008 New York International Fringe Festival and was produced at the Upright Citizen's Brigade Theatre (NYC and LA), ArsNova, Joe's Pub, and The Metropolitan Room.  Her first one woman show, Excuse Me, I Appear to Have Misplaced My Soul, was a critic's pick at the Orlando Fringe Festival. Kelly is a Manhattan Monologue Slam champion. She performs stand up in NYC, Los Angeles and Boston. Kelly is a cast member of Joe's NYC Bar traveling to Edinburgh Fringe Festival this August and playing Off-Broadway in NYC this fall.
SPECIAL THANKS
I thank myself for wearing all the hats and doing all the jobs that are required when taking on the foolish task of doing a one person show. But even so, "It takes a village," and I am very lucky to have a reliable community of talented artists that made this particular production flow.
I would like to thank Joseph Leo Bwarie, the artistic director of The Falcon Theatre in Los Angeles, CA where I currently reside for staging and rehearsal space; Peter Gregus for choreography, David Anzuelo of the LAByrinth Theatre Company for fight choreography, Kiff Scholl for my genius marketing campaign, Damon Kupper for hosting my stay in Portland, Philip Cuomo for picking me up from the airport (again) and providing me with all around Oregon support along with Kristyn Fix and Deanna Joyer at the Columbia Center for the Arts in Hood River.