Immediacy. The quality of bringing one (you) into direct and instant involvement with something (theatre), giving rise to a sense of urgency or excitement.
As we continue to explore the idea of Radical Listening at CoHo (the process of really listening to that which is presented, responding to that experience through internal processing and/or active conversation with others, and then engaging in the world with a greater sense of empathy because of that experience), we must acknowledge the powerful force of immediacy in live performance. Why attend a live performance, hear a story, bear witness to another's experience through theatre if it is not guaranteed to evoke an immediate response of some kind?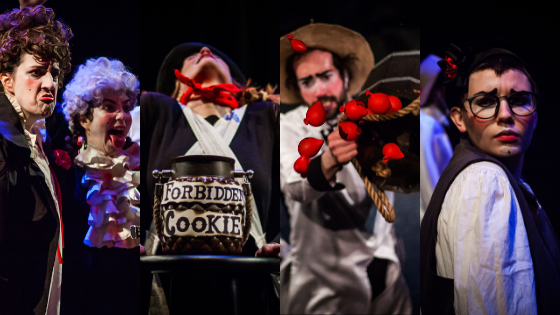 Following a performance of Witch Hunt, director Philip Cuomo received an email from Robert Augustine (PSU Theatre grad and current Institute for Contemporary Performance cohort member), expanding on his realization about the importance of immediacy in his experience. At a particular point in the performance Robert noted that, "it no longer became about me experiencing the show, but all of us (in the audience) experiencing the show (together)." Prior to that turning point, he said he felt engaged with the performance in the sense that it was providing entertainment, but that he was not actively doing anything with what he saw. After the turning point, "as my perspective shifted from (myself) to the (audience as a whole), I noticed most of them had smiles on their faces or were leaning into the stage. This shift in body language…told me the individuals felt like part of the performance. They had (a) stake in the game."
Not only that, this whole group of people had an immediate, invested, active experience…with clowns. CLOWNS. Part of the reason the CoHo Clown CoHort was created in the first place was to thrust the seemingly simple art form of clowning into the context of contemporary theatre, experimenting with the immediacy of silliness to tell complex, layered, empathy-inducing stories in a playful way. If art is the product of play, and the experience of art is meant to be immediate, it follows that the audience should have a stake in the game just by being in the room with the collective intention of watching a play.
But it's not always that simple, of course. There has to be a turning point, a moment, a hook that ignites the immediacy for each audience member. Clowns might do it for some folks, zombies might do it for others. Yes…ZOMBIES.
As we transition from Witch Hunt, a physical comedy-heavy clown show influenced by historical and present day hysteria, to Pontypool, a bloody zombie-based horror play tinged with satire, we continue to examine the immediacy of live performance. Can we practice Radical Listening when zombies are looming? Is there a sense of immediacy beyond terror? What creates the audience's stake in the game? Is the visceral nature of viewing horror theatre in a small space enough to create collective immediacy?
Join us to find out. Pontypool opens February 8. Witch Hunt returns this summer as part of CoHo Summerfest 2019.