JANUARY 15 – FEBRUARY 6, 2016
[maxbutton id="35″]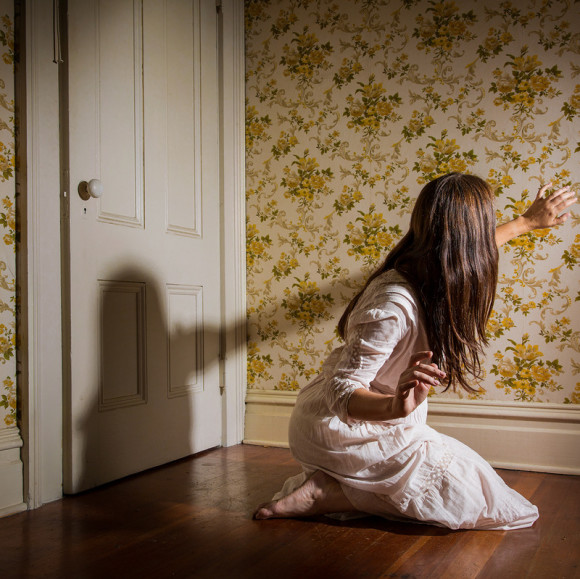 CoHo Productions with Grace Carter and Sue Mach present the world premiere of
The Yellow Wallpaper
Written by Sue Mach
Conceived by Grace Carter
Adapted from the short story by Charlotte Perkins Gilman
Directed by Philip Cuomo
Performed by Grace Carter, Chris Harder & Christy Bigelow
CoHo's 20th Season continues with a new stage adaptation of Charlotte Perkins Gilman's The Yellow Wallpaper, one of the most influential American short stories of the 19th century. This world premiere production will integrate expressionistic audio, visual and movement interludes with the haunting literary text.
Sue Mach is a Portland-based, nationally-produced, award-winning playwright, who has adapted the short story's first-person internal narrative with excerpts from Gilman's published letters and journals detailing her related struggles with mental health and gender inequality. Recently, Mach won the Oregon Book Award and an Oregon Literary  Arts Fellowship, and a remarkable double header of two world premieres at once at Artists Repertory Theatre and Third Rail Repertory Theatre in 2012. She also teaches literature at Clackamas Community College – so her work "tackles dense social and political issues with the clarion voice of both a teacher and a formidable storyteller" (Portland Monthly).
This production of The Yellow Wallpaper is impressively co-produced, conceived and performed by Grace Carter, the multi-talented co-founder of defunkt theatre. It is directed by Philip Cuomo, CoHo's own Producing Artistic Director and company member of Third Rail Repertory Theatre. Shining stars of Portland theatre Chris Harder and Christy Bigelow round out the cast, supported with movement direction by award-winning choreographer Paige McKinney (Portland Experimental Theatre Ensemble). A visionary team of designers will transform CoHo's intimate blackbox theatre to a fully-immersive, elegant, raw space – bringing everyone inside the haunting room with The Yellow Wallpaper.
Charlotte Perkins Gilman's short story follows Charlotte, a woman writer who is confined to a single bedroom with a bolted-down bed for three months in 1890 by her husband who is also her doctor as a "rest cure" for her postpartum depression and anxiety. Isolated and under-stimulated, Charlotte turns to an interior world of imagination, obsessing on the room's ghastly wallpaper until a trapped figure appears to her in the pattern. Is it a hallucination, ghost or animus – a personification of her own trapped psyche? Be immersed in Charlotte's inner landscape to follow her journey through constraint to creativity and transformation.
"Mach's plays… tackle dense social and political issues with the clarion voice of both a teacher and a formidable storyteller." – Portland Monthly
"gripping…defies dramatic conventions…tantalizingly elusive." – Oregonian, Carter's 4.48 Psychosis
[maxbutton id="58″]