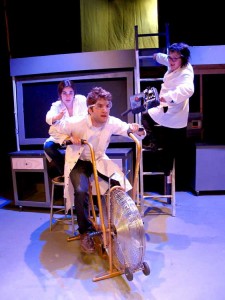 [maxbutton id="3″]
Licking Batteries
A World Premiere
by Ellen Margolis
presented by Playwrights West
in association with
CoHo Productions
Directed by Ryan Reilly
August 9-31
Thurs-Sat at 7:30 PM
Sun at 2:00 PM
Tickets $20-25
Pay What You Will on Thursdays
When Lucy's mother undergoes a treatment that renders her unrecognizable, Lucy begins a quest to understand the intimate impact of electricity. The key players: exposed wiring, the secret lives of household objects, and whatever grown-ups do behind closed doors…
Growing into young adulthood, Lucy gains know-how and determination, but risks letting love and life slip away. Her mother Louise, meanwhile, grasps at connections to begin making her way home.
Through alternating currents of comedy and drama, realism and fantasy, Licking Batteries confronts the nature of complex grief and the irresistible urge to stand out in a thunderstorm.
This performance runs 90 minutes without an intermission.