During the summer downtime, CoHo has been looking ahead to our next season and contemplating what theatre is becoming. We're asking ourselves how digital productions figure into our concept of the art and its future. To gain a deeper understanding of these prominent questions, I sat down with Anthony Arnista, a performer, lighting designer, and technical director here in Rip City.
Anthony and I clowned together during CoHo's Beethoven and Chopin Meet the Bride of Frankenstein and have been coworkers at Curious Comedy Theater for a couple of years now. Due to his diverse array of skills and access points, Anthony's brain is the perfect one to pick. I had an absolute blast talking to Anthony and I am pleased as punch to bring our conversations to you now in the first post of our late summer blog series.
---
The New Theatre, Whatever That Is
Q: What is theatre right now, considering how much has changed in the last 15 months?
A: Theatre is always a reaction to what's happening in the world, it's changing as the world is changing. I think if it doesn't change, maybe the theatre's dead. Theatre people have always had to be crafty, able to accept their circumstances in order to collaborate, and make something that people haven't seen before. I hope that drive is still there for people and that the flame didn't go out.
It was really nice to do lighting designs during this time. And it was very different because, for lighting, I usually rely on my eye to know how it looks. But when we were working with the cameras there was that extra step, like "Oh, that doesn't look as bright on camera as it does in person or, "That color looks different." If we do have hybrid audiences – who am I designing for? As a designer, the more I do it, the more I'll figure it out. It's interesting to have that new area in your art to explore. That's exciting.
A Renaissance of Inspiration
Q: When we go back to more normal circumstances, are we going to keep this hybrid model of filming as well as producing in-person shows?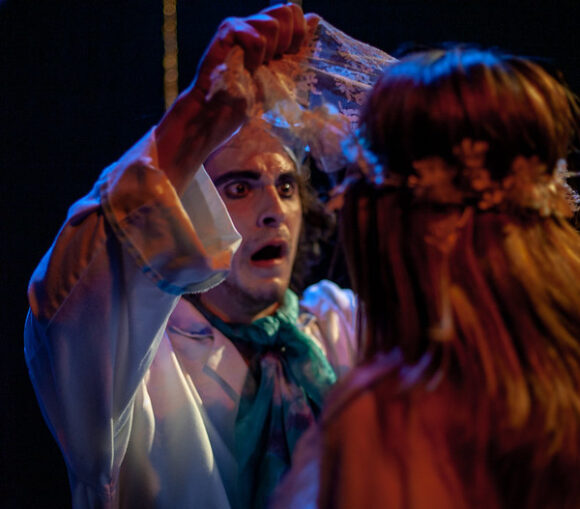 A: I hope that maybe some of this isolation will make people remember why going to see things live is important. There's nothing like going to see something live. I think we forgot that because we have screens and entertainment all the time. At the same time, I think online theatre is great because it makes it accessible to people who can't be there. I thought it was really great that the English National Theater offered world-class productions for free online. That's always the bummer about theatre, when your friend can't make your show – it's ephemeral, it's gone. Which is great and a part of the loveliness of the art, but to be able to have a video for beyond just archival purposes, to be able to really have good material- that could be cool for a theatre to apply for grants, get bigger audiences, to get a bigger community. I wouldn't mind if that became normal.
If a theatre is doing good work and this hybrid model helps them get it out to a bigger audience, then that is worth it. Because that's part of our art form. We inspire each other. Like, when I see a great lighting design, oh my gosh, it makes me so happy! And being surprised, like "Oh I wouldn't have chosen to use a lime green backlight and a blue front, like green is such a no-no!" But seeing other people push the envelope is invaluable to the artform. In that way, I hope the hybrid model continues because I hope it leads to a renaissance of inspiration! I hope this is true for everyone, regardless of access to great technology, because it's gonna be the bigger companies that can afford the film technology.
If you're doing it for the enjoyment or nourishment of other people.
Q: Do you think that online theatre is still theatre?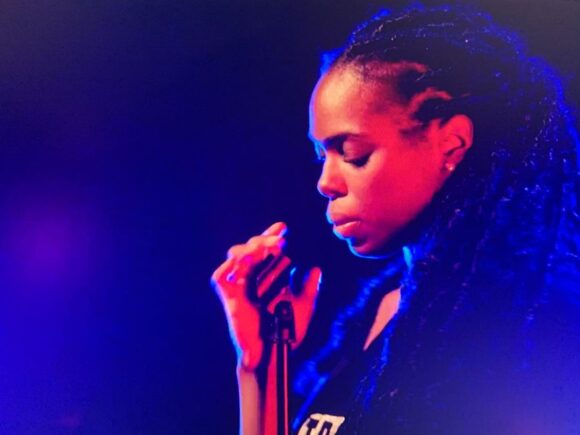 A: I gotta believe that theatre can exist anywhere there's an audience, online or in person. If there wasn't an audience and you're just going at it in a dark room, what are you doing? But if you're doing it for the enjoyment or nourishment of other people then surely that has to be theatre. I think that online theatre is still theatre, but I think that the definition of theatre is always shifting, like "Preseniums are in, preseniums are out!" Theatre in the round! In and out! It's always shifting and this is just the newest shift, it's adapting. How else will it survive?
Q: I like the idea of centering the audience in the definition of what theatre is because it's an art of community experience. Once again, we will need to ask ourselves: what do audiences need? 
A: You're hitting it on the head with that idea of learning. Theatre will be, as it always should be, about learning. There's nothing like having an audience rolling with laughter; but I wonder if when you're performing without an in-person audience and you don't have that immediate feedback, if what you learn is confidence in yourself and your skill because you know these people that you can't see are laughing. Maybe there are lessons like that that will help propel people forward.
Theatre's heart has been broken open.
Q: I love the idea that theatre lives in its own growth. Theatre is it's own adaptation.
A: What if there was a show where the online audience is getting a totally different show then the in-person audience, and the show is about having to see it one time in person and one time online? I know people will continue to prod at what this new theatre means. Society is at a place where it can tear down really old infrastructure and rebuild in a more equitable way, where people with access barriers can see stuff they could have never seen before. That's great! How could that be bad?
Q: We are figuring out how to define things based on what the community needs rather than what a few people in power are interested in. It's exciting for both theatre and its potential impact. It feels like theatre's heart has been broken open and now there's all of this potential for experimentation. I hope we're able to stay in that experimental phase long enough to remain adaptable to community needs, and not get too solidified into a style.
A: It's exciting to think that people in different countries could collaborate because you may not have to be in person. I could work with a set designer from Israel on a show in Portland. That international collaboration could be possible if we continue to push those boundaries. We've all lost something. But the only thing you can do is continue to grow, remembering that joy is there. Keep that flame alive.