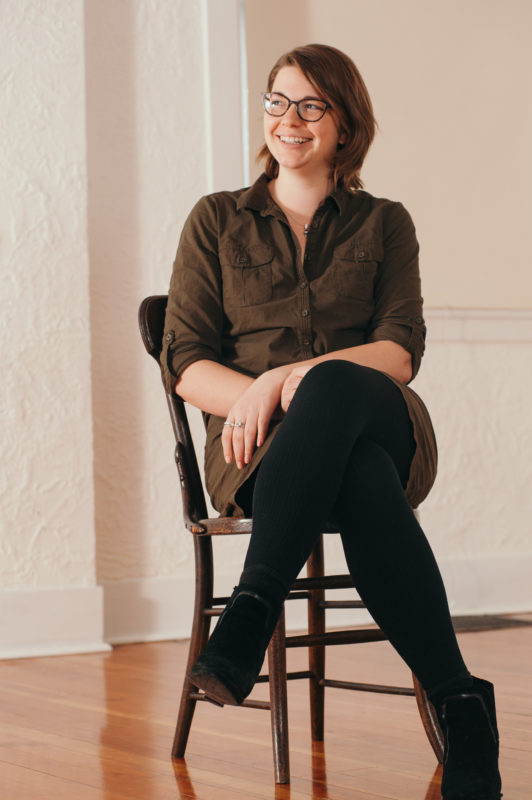 In this final installment of the This Woman portrait and interview series, Crave Theatre Company co-founder and prop designer for This Girl Laughs, This Girl Cries, This Girl Does Nothing Sarah Andrews sits down with co-producer and actor Beth Thompson to talk connecting the dots, leadership, and storming off to do it yourself.
Photos by Lava Alapai 
---
Sarah Andrews is a renaissance woman of the theatre. She seems to have her fingers in as many things as she can make, from props to writing, puppetry to direction. She will go wherever her inspiration leads her.
"Theatre for me is this well of knowledge, and I can just dive into it for hours, days, months. It doesn't end. There are so many different ways and approaches to do the exact same thing and it's fascinating to me. I get wrapped up in it."
"It's the only thing that makes me happy and that's really just the bottom line. I've worked other jobs or I've done other things. I paint. I do that. Sometimes I sell prints of those paintings. But, at the end of the day, I am at my best, in my happy place, when I am directing a show. That's where I find the most joy. I'm at my nerdiest when I'm sitting there listening to interviews with other directors being like, 'Why?! What?!?' So, that's just what I love to do and I'm not very satisfied with anything else.  It makes me very grumpy."
But what did the journey into that focus look like? When did you know theatre was your thing?
"I was around 15. It wasn't like I identified, 'I'm going to become a theater artist for the rest of my life!' It was more like I casually walked up to my father, who was really pushing me to play softball, and I was like, 'So, Dad, I'm not going to do sports anymore.' And he was like, 'Well, now what are you going to do with your time?' And, I've been busy ever since."
"I didn't produce my own show until I was 19. I produced my first show because I finally…I have a BFA in Acting, right? But, it wasn't until my sophomore year when I got cast in my first show. And, was like 'Yes! I got cast! Finally, this is what I want! I want to be onstage.' And I was in the chorus of a Noh play where I sang high soprano for an hour on my knees and was not allowed to move. And, the costume designer had the nerve during my fitting to call me a piece of scenery when presented with a costuming issue, 'Oh, it doesn't matter, she's just a piece of scenery anyway.'"
"I got so mad that I was like, 'Fine. If that's how you feel, I'm going to produce my own show. I can do this.'  Stormed off and did it and learned a lot."
Stormed off and did it and learned a lot. That is a refrain throughout a lot of these interviews and certainly through the story of This Girl Laughs. Many of these women have moments when their value is betrayed or questioned, and that betrayal launches them into independence and action. Sarah also has a theory about the positive things that guide that path.
"For me it's about finding your niche. Finding the things that makes you happy. And, then you've got that. And at that point there's a bunch of other dots around you and so what's the next dot from there? And, then from there you can see what your place and what your purpose is. Like, I can tell you that my place and my purpose is glue. I am glue.  I am a stable thing that will hold other things together and I do it really well."
"But, to get there it started with being put into a situation at a very young age where, you know, my sister was my responsibility. And I had to pick her up from school, and I had to feed her, and I had to make sure her homework was done and that she was bathed.  I had to take on a lot of incredibly motherly roles at a very young age to make sure that this kid was going to be okay. And, then I knew that I had that. That this was a leadership thing I could do. Now, what's the next point I'm going to land at?"
And in this lifelong practice of leadership, how does Sarah define her role as a leader?
"For me, being a leader is – it's decision-making. It's looking at the room and saying, 'Hey, guys. This is a tough spot. But, we're all in it together. And, you know, we're going to get through it because this is only one moment in this whole process and moments come and moments go. And, emotions live and emotions die. And, we're all going to be okay.' And, meaning that, too. And, being the person in the room who believes in what they're doing so much that that excites other people."
Sarah brings her determination, passion, and belief in theatre into every room. I'm excited to see what she continues to do with that love and drive as she travels from dot to dot.
Sarah is directing Crave Theatre's upcoming production of the "gothic feminist ghost story" Crossing by Reza de Wet, May 9-June 3, 2018. Follow Crave Theatre on facebook, Twitter (@cravetheatreco), and Instagram (cravetheatreco) to keep up with the latest news, and get tickets to This Girl Laughs, This Girl Cries, This Girl Does Nothing to see Sarah's latest prop designs.