Bruce Graham's The Outgoing Tide opened this past weekend to both critical and audience acclaim.  As everyone wrote, the play is as much about family as it is about end-of-life issues and the stellar trio of actors that director Stephanie Mulligan has assembled possesses a chemistry so real, it's palpable!
Read what the press has to say
…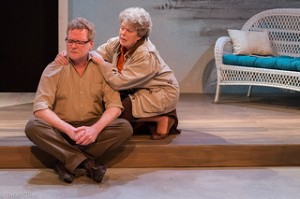 Willamette Week notes – "Thanks to a resoundingly stellar cast, The Outgoing Tide is a must-see. (Tobias) Andersen shines, Jane Fellows is simultaneously grating and endearing and Gary Norman skillfully conveys his character's sadness and sense of mediocrity.  This outstanding trio prompts audiences to zip between laughter and tears for the full 105-minute runtime."
Portland Monthly says – "The play's timeless story of family-and CoHo's superb staging-make this a tide worth catching before it goes out for good. (Playwright) Graham has created a clan that is distinct yet relatable, and wonderfully complex.  His well-shaded characters receive nuanced performances from a trio of seasoned actors."
The Oregonian comments – "A sharp, clever and pathos-rich play.  Anderson… is relishing this role, and he captivates us…Fellows creates a grounded emotional presence…Norman is such an uncluttered performer that he's a pleasure to watch."
BroadwayWorld.Com wrote – "It's realistic, and moving, and brilliant, and it will make you glad you saw it. It will also make you want to call your parents, or your children, or someone you love dearly."

OregonArtsWatch proclaims – "A play about Alzheimer's disease and end-of-life decisions hardly sounds like an evening chock full of laughs. And yet Bruce Graham's "The Outgoing Tide" addresses these topics in a taut family drama that skillfully balances pathos with humor that is sometimes dark and sometimes tender. Graham's play and the current CoHo production of it successfully eschew sentimentality. Instead we are offered a thoughtful glimpse into the particular dynamics driving one family as its dementia-stricken patriarch tries to tie up loose ends and guarantee the future security of his loved ones."
The Portland Mercury pens – "The three-person ensemble is perfectly pitched: As Gunner, Tobias Andersen is so genial and charismatic that his occasional lapses are that much tougher to watch; Jane Fellows as Peg, his long-suffering wife, is a perfect mother hen, overpraising her son's cooking and clucking over his personal life; and as Jack, Gary Norman is commendably restrained as a son struggling to set aside old resentments and cope with his father's decline. (Restraint here is crucial, on the part of both the cast and director Stephanie Mulligan; it's an emotional show that could easily feel treacly, but largely doesn't.)"
Audience members concur
…
"I would highly recommend it as one of the most important plays you will see in Portland today." – L.M.
"The ensemble acting by Tobias Andersen, Jane Fellows and Gary Norman was EXCELLENT.  Take the time to give the piece the attention that it so deserves.  Thank you CoHo, WOW!!!!!" – V.H.
"One of the most touching pieces I've seen in a long time." – S.H.
The Outgoing Tide runs three more weekends thru November 9th but don't wait too long to purchase tickets as performances are already selling out!* Why not join us this weekend to experience this deeply-felt drama for yourself?
*The performance on November 3, 2013 at 2:00PM is sold out.
October 27, 2013 is the only matinee performance with tickets remaining.
Thurs-Sat at 7:30PM and Sun at 2PM
Performance runs 2hrs including one 15-minute intermission