We change lives and improve the wellness of our community by telling our stories.
Founded as an off-shoot of Artists Repertory Theatre's education outreach program, 
WELLARTS
 has been helping ordinary people to share their extraordinary stories through their 'writing-for-theater' workshops since 2000. The concept is simple – participants learn to write down their stories and actors bring them to life for audiences. In addition to programs for vets and people living with physical or mental illness, WellArts sponsors a 
VOICES OF OUR ELDERS
 program to unearth and dramatize the personal tales of our seniors.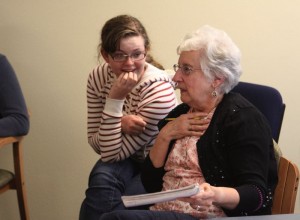 CoHo's season opener THE OUTGOING TIDE tells the poignant yet funny story of a family dealing with suspected Alzheimer's, the specter of assisted living and issues of personal choice.  In a special talk-back following the matinee performance on Sunday, October 20th, WellArts actors will interact with our audience members to elicit our own stories and create a new mini-performance on the spot!
Plan to be part of the audience on Sunday, October 20th for what promises to be a very unique event!