By: Morgan Clark-Gaynor
I arrived early and grabbed a table at the front of the busy coffeehouse, bought my drink, and prepared for my interview with Kayla. She arrived soon after, along with her small dog, Oscar (or Little Bear, as she likes to call him). She greeted me warmly and asked if we could move to a larger table with more shade. Happy to follow her instincts, I set up my operation on the other side of the coffee shop. Though the streets around us were busy, we had no trouble engaging with one another fully. She consented to being recorded and even offered to be photographed, somewhat in jest. She teased, "I don't know, I'm eating this social media shit up. I'm also in a mood today, though." When I asked if she was ready to get started, she cheekily and cheerily said "yes."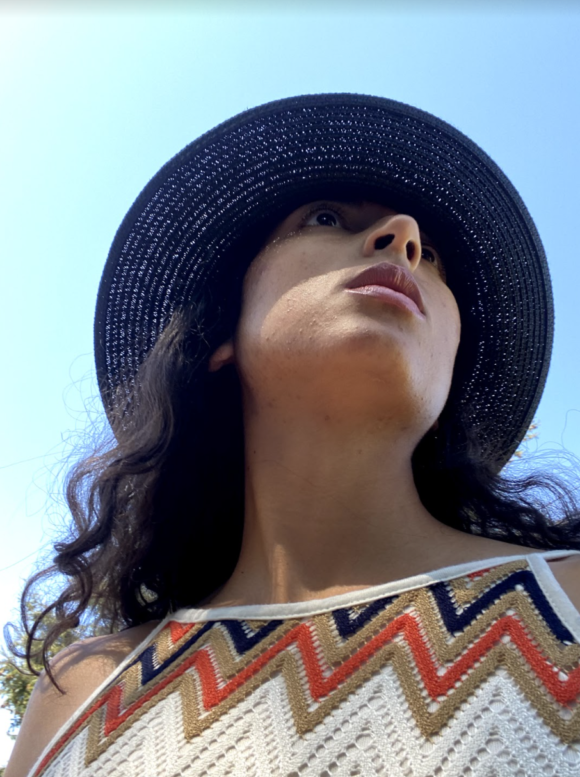 Kayla Banks is one of the three Resident Artists working with us in the CoHo Lab. In our interview, she generously shared the story of her artistic development and actualization. This ultimately became the story of her latest work, Find Your Way. This piece begins with her childhood fascination with music and continues into her current reckoning with intimacy, revealing the ups and downs of Kayla's evolution. I am thrilled to now extend this story to you.
"I was the kid who was dancing and singing."
We began with her past. She shared with me that she was always dancing and singing as a child, something she believes all kids to be prone to as long as they're not kept from it. As she put it, "being human is dancing and singing and leaping. You know, even just with whatever capacity you have." Her love of movement brought her to dance classes, and her love of music brought her to instruments and song. She tried violin, took guitar lessons on and off, and learned piano from her mother. Being left-handed made finding a teacher difficult, so she committed to singing, taking after her great aunt. "My great aunt was an opera singer," Kayla said, "and went to Julliard. She's still living and we talked a lot, so she showed me."
Kayla fell in love with musical theatre in high school. This love affair soon came to include ballet and later morphed into a full-blown career in the performing arts. She was recently accepted to the Florida State University Masters Program with a scholarship to continue pursuing her craft. There she will continue to learn the intricacies of music, dance, and theatre, and help these disciplines evolve.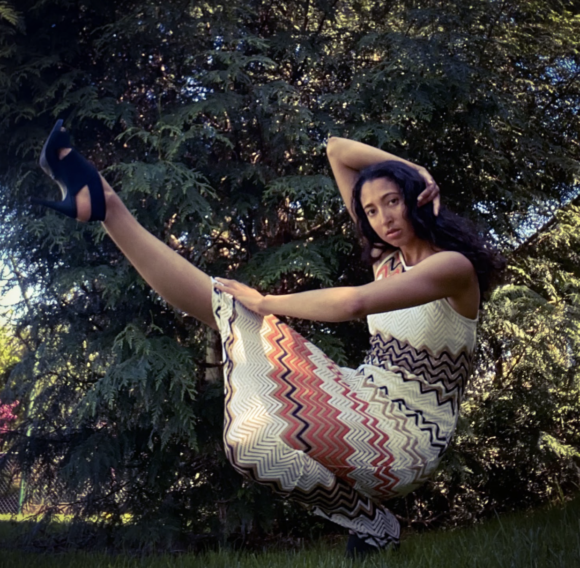 It became clear in our interview that one of Kayla's love languages for art is changing it for the better:

"I feel like it's a really Euro-centric idea and form. And now that I'm learning about my native ancestors and my native culture, and just native culture in general here in the United States is like, what is this? How did we get to this stage and lights and all of this stuff, and so…performing arts has always just been a part of me. I think performing arts is everywhere, through culture, ceremony, and the movement of life. And I take it away from the stage and lights and I deconstruct it."
Through her love for the performing arts, Kayla is empowered to decolonize it. Later, she elaborated that she is committed to seeing more brown people creating original work in the high-profile arts scene. She used Hamilton as an example of a wonderful piece that included brown people, but not their stories, "I just want more brown people creating those stories that should be recognized and should be seen, and that could be catchy as well." In both method and content, Kayla is utilizing her education to build a world that empowers brown artists to create authentically.
"My work relates to me and what I've experienced as a human being."
When I asked Kayla how she would describe her aesthetic, she giggled and stuck out her tongue in a silly, teasing gesture. Good-naturedly, she told me that "it's multimedia, it's music influenced, it's nonlinear." For example, the naming of her current piece was done nonlinearly. The name was found after randomly picking words from a hat and then letting it evolve with time (one of the original choices was "Acid Rain"). Using concepts from visual arts movements, she went on to describe her artistic voice as similar to an abstract painting. "If you're thinking of a Picasso painting, it's abstract in the sense that one side isn't the same as the other side, and there are all these different parts, but it makes one composition." Though her work doesn't obey linear determinants of time and space, it is always focused. She creates work that recounts her life. Her art uplifts her internal experience as a human being and shares it outward.
"When you get an opportunity to create, you should do it."
I asked Kayla why she chose the CoHo Residency program, and in response, she made the case that the program chose her.
"Phil and Philip reached out to me, we were talking about either me coming in and just doing a set for CoHo Nightlife or the residency. And I told them it was up to them and they told me that I should do the residency. And I agreed, of course, and I was like, 'Let me take this opportunity to create."
Portland and CoHo found Kayla and gave her the resources she needed to really dig into this new project. She later told me that Find Your Way has been in the works since 2016. She has been writing, recording, and accumulating text for all these years, waiting for the right time to fully dive in. As she said, the best projects are usually the ones that have taken the longest, "So we'll see, I hope that's true with this piece."
"Some things are meant to burn."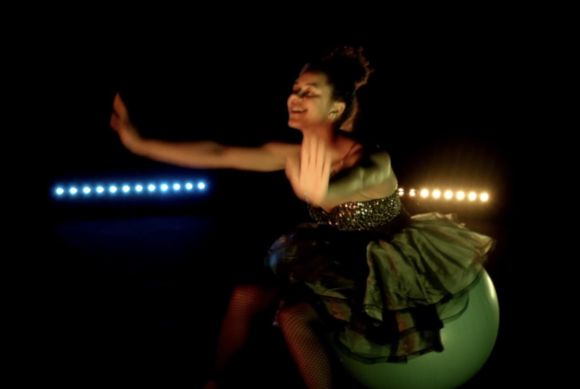 Jumping into her latest work, I asked if she could give me a description of her project as it stands right now. She joked that the synopsis changes every day, but right now it can be said definitively that it's a musical piece with three parts. She made it clear that this project is a continuous process and that the performance she will present is a mere segment of it. It is a living snapshot of her ongoing relationship to deconstruction. The first part will explore excitement and birth, the second will embody downfall, and the third will put movement to recovery and regrowth. This classic, life-defining cycle will be put to her three original songs and music made by other BIPOC artists.
The piece started with her breakup at the beginning of the COVID-19 pandemic. In her words, "It definitely started with my ex. I mean he is now my ex-fiance, we were engaged. We met in Colorado and then moved here to Portland and it was beautiful, magical, like it was the high of love, right?" She explained that this feeling is the heart of her first original song; it remembers when they were in the plane on the way to Portland, in the sky and embodying that high. The magic continued as she settled into Portland, "I got on a film set with Dean Devlin for Bad Samaritan, I was signed with an agent, I was getting modeling work, I was getting commercial work, it was just like "Wow, wow! Portland, Portland!'" Her piece documents the glittering beginning of her time here and serves as a platform for healing from the following breakup. It asks her to fully face herself and extract, as she put it, "What needs to be said and what needs to be felt and heard."
To explain her project's shape, she told me the story of her brother. Kayla's brother had given her a message in a bottle, to be opened only if something hard was happening in her life. She opened it during her breakup. Inside was a reference to an album by Troy Baker called Sitting in the Fire and a note from her brother. "My brother just wrote, 'sometimes-' sorry, I always tear up when I talk about it, but, it's just like 'some things are meant to burn and meant to fall apart so that you can go to the ashes.' You can get to that point where you're burned down to ashes so that rebirth can happen." Though ever-changing, her piece is about her journey through burning, ashes, and rebirth, with a heavy emphasis on the profound connection she has to herself.
"We are so chromatic, we are so colorful."
After being thoroughly intrigued by Kayla's vulnerable and self-assured description of her piece, I asked about her more external process for making it an artistic reality. She continued to impress me as she recalled all of the intensive learning this piece has demanded of her. One of the first things she needed to do was create a musical script. Without training in this skill set, she took a class and riddled it out. After reckoning with story arcs, characters, and outlines, she set her mind to learning how to write sheet music. Once she was more confident in the foundations of writing music, she moved on to learning composition. Her musical abilities strengthened, and her creative curiosity was given the logistical support it needed to manifest.
Kayla was intentional about delineating between the logistical and the nitty-gritty, namely, "How do you get things out of you?" She said that it was a combination of solitude and spontaneity. "When I'm not in the studio or I'm not in the theater, when I'm just walking or have an idea, 'okay, record it right now.' But I like solitude, I really do." There are times that she has to isolate herself in order to do the work of externalizing her ideas.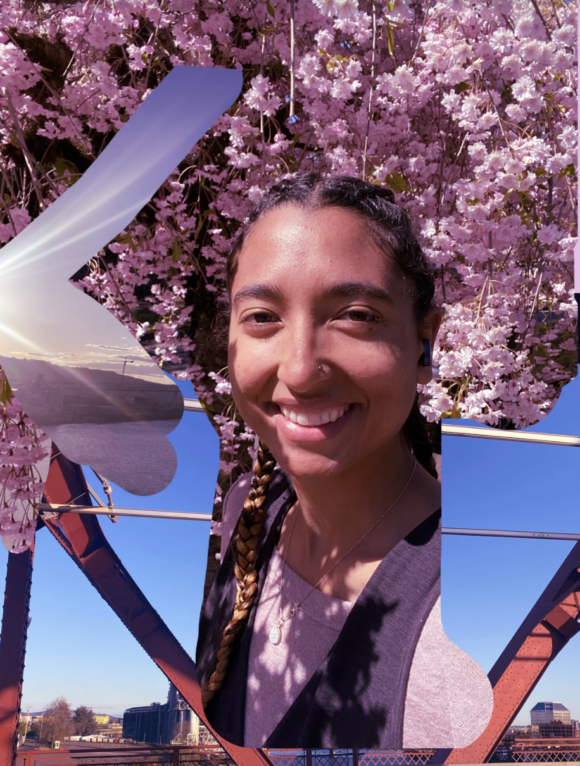 Her work in solitude is made easier by her ample recordings, which she plans to build on further. She thinks that everything in the performance will be recorded, the dialogue and singing included; she will be a moving silhouette within the soundscape. "So it's, again, more of an abstracted musical because it's not like I'm going to be speaking and dancing and singing." She remarked that this compositional decision is a representation of her multiplicities. The performance will feature both her performing self and her recorded self, expressing the different sides of her. She continued, "I feel like we just limit ourselves as beings, like 'oh we are just this way and we have to be this way,' it's like a monotone. And it's like, 'no, we're so chromatic, we're so colorful, right?' We're ever-changing and blooming and growing- the metamorphosis." Metamorphosis is a word she uses to describe her piece, emphasizing its nonlinear consideration of what it means to be undone.
"Molding. Shaping. Elongating. Awakening."
In an attempt to give descriptive form to this ever-changing project, Kayla generously articulated it's meaning. She said, giggling, "It is my life. It is though, it is." She understands this process to be extremely close to her, to be a part of her that will go on long after this residency is over. When I asked her to give a sensory elaboration of her piece, she didn't hesitate to find the words. She went quietly inward and softly said: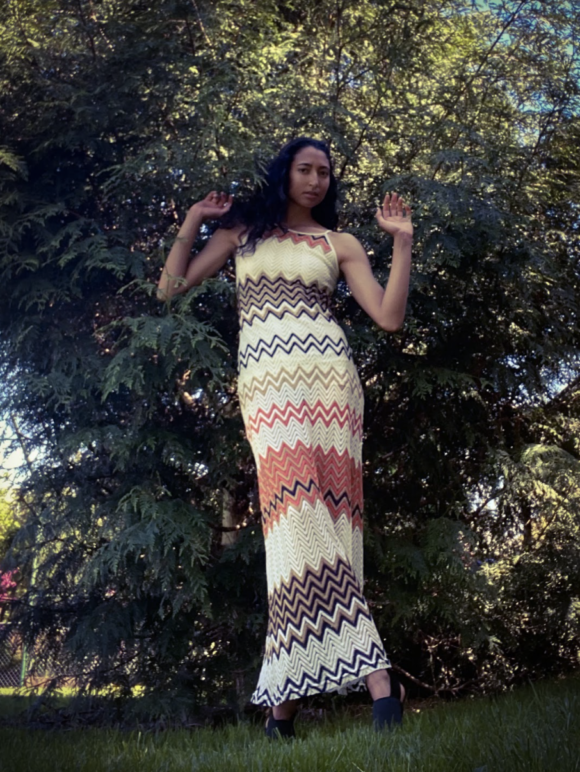 Molding
Shaping
Reshaping
Elongating
Deepening
Soulful
Spiritual
Awakening
Rebirthing
Finding
Attunement
Awareness
Then she returned to her outward presence, meeting my eyes and smiling. I told her how excited I am to see her piece, and she joked that she just hopes that there will be a piece to show. While there certainly will be a finished product, her joke speaks to the evolving nature of her work, her philosophy on life, and her identity as an artist. She is a student of change and an advocate for growth. From the completion of her project at CoHo to her commitment to the diversification of mainstream theatre, Kayla's work holds space for her to bloom- and invites us to do the same.
Join Kayla on her journey of artistic deconstruction, reckoning, and recovery. Tickets to Find Your Way are available now. All tickets are Pay-What-You-Can, so find a price point that feels right and reserve your virtual seat to this monumental show.
I hope you enjoyed spending an afternoon with Kayla as much as I did. Join us next week when I spend some time with Andrea Vernae, discussing her artistic introspection, the pandemic's impact on her process, and her exciting new work. As always, thank you for keeping up with CoHo and our brilliant artists.
Morgan Clark-Gaynor
Theatre Maker
Improviser and Deviser
Operations Assistant with Coho Productions