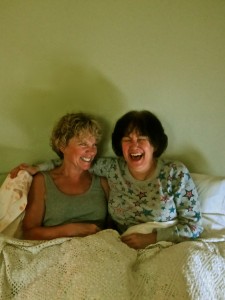 Featuring Gretchen Corbett, Sharonlee McLean, Gavin Hoffman &
Josh Weinstein
October 18 – November 11, 2012
Thurs-Sat at 7:30pm and Sun at 2
 – a Willamette Week Pick! and selected as part of this week's top 12
"Deftly juggling emotion and reason, it slyly tugs at the heartstrings but is too smart to pander to sappy sentiment." – Rebecca Jacobson, Willamette Week

Read more glowing praise for Body Awareness here.
It's "Body Awareness" week at a Vermont college and Phyllis, the organizer, and her partner, Joyce, are hosting one of the guest artists in their home, who turns out to be Frank, a photographer famous for his female nude portraits. Both his presence in the home and his chosen subject instigate tension, humor and intrigue from the start. In addition, Joyce's adult son, who may or may not have Asperger's Syndrome, gets advice from Frank and struggles to express himself physically with heartbreaking results. According to Time Out New York, "Body Awareness is a smart, modest work about ordinary, flawed people, grasping for connection, but none of it feels small, thanks to Baker's sharp ear for the deeply painful and funny longings squirming under her characters' dialogue." The New York Times said, "An engaging new comedy by a young playwright with a probing, understated voice…Its quiet rewards steal up on you."
Watch the interview with director Gretchen Corbett:
http://vimeo.com/51319384
Read the preview by The Oregonian's Marty Hughley here.
Read the reviews by:
The Oregonian's Carol Wells here.
Portlandtheatrescene.com's Win Goodbody here.
PdxBackstage's Kay Olsen here.