HOUSE OF THE LIVING : DAY 1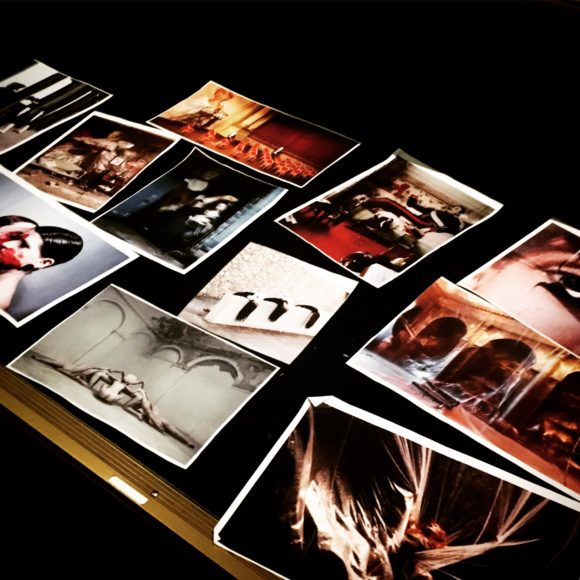 Samantha Shay is pretty tired. It's noon on Monday in Portland, but her brain and body are 7 hours ahead on Iceland time. She returned to the Pacific Northwest from workshopping another project (currently titled M O N U M E N T, inspired by King Lear) abroad less than 24 hours before starting her CoHo Lab residency. At CoHo, she'll be working on the Hedda Gabler-inspired dance theatre piece House of the Living. For her first few days at CoHo, she'll be working alone – collaborators Annelise Lawson and Nini Julia Bang will join her Thursday.
On day 1 of her residency, Shay is alone on an empty black stage in a long black skirt. Inspirational images and a book about the great Pina Bausch are nearby. She uses a single chair and a mirror to devise fluid, abstractly descriptive movement to a mournful yet ethereal Bulgarian song. It is already mesmerizing. She is enveloped in the music one moment, the next bending from her chair to consult her iPhone. Earlier that morning, Shay recalled a poem with a feminist bent about Lot's Wife that she once loved, googled it, and saved the verses to her phone. That poem became the framework for the movement she was creating. The movement itself may or may not be incorporated into House of the Living, but it, along with the poem and the music, is what felt "right" to work with that morning. Each movement is simultaneously precise and visceral, from falling defeatedly into a chair, to the exposure of an ankle from beneath the skirt, to slapping away the hand of another person who isn't actually there.
Shay's work intentionally challenges patriarchal constructs, putting women at the center of the story. Ibsen's Hedda Gabler speaks to that as Hedda strives to gain control over her own destiny and personhood. The movement Shay created on the first day of her residency already echoed these themes, and the work will only grow richer over the next two weeks.
See a work in progress excerpt from House of the Living at CoHo on Sunday August 19th at 8pm. And check out more of Samatha's work with Source Material Collective here.