CoHo Season 21
CoHo Productions with Isaac Lamb and Rebecca Lingafelter co-present a world premiere:
db
by Tommy Smith, 
Created by Tommy Smith & Teddy Bergman
Directed by Isaac Lamb*
Featuring Duffy Epstein, Dana Green, Rebecca Lingafelter*, Don Kenneth Mason and Alex Ramirez
January 13 – February 4, 2017
Download this db Education Packet compiled by CoHo's Artistic Fellow & Dramaturg Jessica Dart
ABOUT THE PRODUCTION
Thanksgiving weekend 1971. A man calling himself D.B. Cooper boards a plane in Portland, hijacks it for $200,000 at the SeaTac Airport, then parachutes into a snowstorm over Mount Rainier, never to be seen again.
db brings to life this electric story, showing how the enduring myth of Cooper has created a canvas for regular Americans to act out fantasies of heroism, celebrity, revenge, retribution and rage.
db takes the audience on a thrill ride from tense moments aboard the hijacked plane to west coast spots where the conspiratorial mystery of D.B. Cooper's supposed triumph still echoes. Who is the real D. B. Cooper? And what does the story of the only unsolved air piracy in American aviation history offer to the people obsessed with it? While D.B. Cooper's exploits continue to fascinate and entertain, how do we reconcile the lasting effect of terror for those whose lives he endangered? The play, like the case itself, provides little in the way of answers, but delivers the riveting complexity of this contemporary American myth.
REVIEWS & PHOTOS
"Buckle in for a gut-level deconstruction that's riveting, unexpectedly funny and as ambitious as Cooper's 10,000-foot high-dive from flight 305."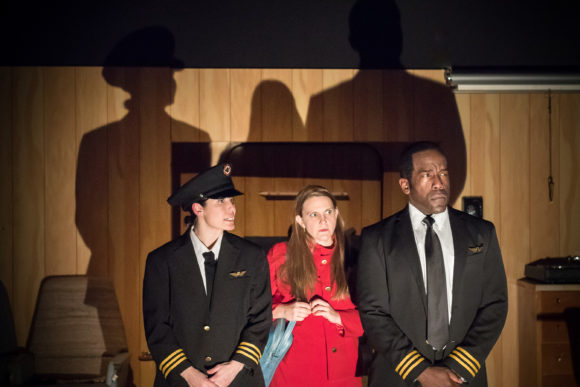 "db has the momentum of a highjacking, we're definitely on the plane" says Smith. Cooper is a gift to a playwright because he's a blank slate. "He could be hundreds of suspects. He could be any of us – a symbol of anarchy, heroism, revenge, libertarianism, Republican, Democrat. My thing is to show how he is all of these things, and nothing."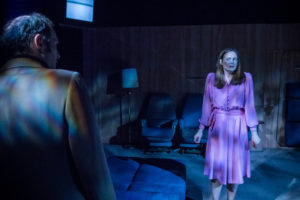 "Speaking of the insanely hard-working cast, I'd like to officially propose we change the name of this play (at least for this production) from db to dg — for Dana Green, who plays seven roles. She owns this show. From Jo (the first DB's girlfriend) to the second DB (aka Barb), to a slightly loopy hypnotist, she's legit."
"I loved the show immensely, even though it takes extreme liberties with the known truths of DB Cooper. But much of it is authentic and accurate, and the sum total is raucous fun and theatrical joy. I laughed a lot, and cried at the end when Cooper jumped."
–Mountain News Review by Bruce A. Smith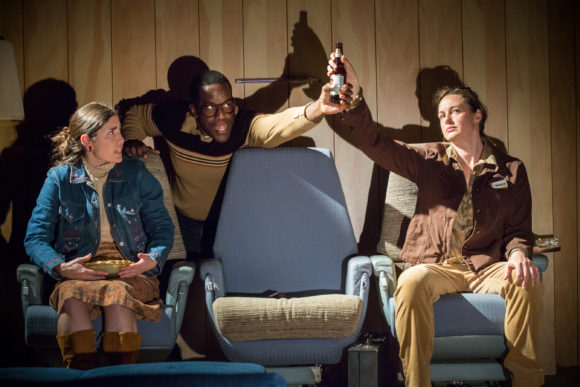 "I think audiences will love this show. I sure did. It's fast-paced, wild and crazy fun. For anyone who was around in 1971 and remembers the actual event and its fallout, it brings up the old questions all over again. What the heck happened to him? Did he get to spend all that money? And for those who weren't, it's a great anti-hero's story any way you choose to look at it."
"What really happened when D. B. Cooper parachuted out of that Boeing 727 somewhere over the Cascades in 1971? It's a question that's animated obsessive quests and countless conspiracy theories, and now a world premiere by Washington-raised playwright Tommy Smith, directed by Portland fave Isaac Lamb. Multiple actors share the role of the sunglass-wearing Cooper, allowing the zippy 75-minute production to explore possible theories about the hijacker's identity, as well as the crime's effect on one of the flight attendants."
"This heist story, which would easily lend itself to a trite, testosterone-drunk action flick  or a series like Unsolved Mysteries, becomes, with deft and diligent handling, a complex yet compelling piece of theater.
Co-producer Rebecca Lingafelter's performance as Tina is the fulcrum of the story around which the three distinct versions of D.B. rotate. As each D.B. in turn sits in Tina's section and delivers demands, each forms a distinct bond with Tina. Variously, the D.B.'s flirt, threaten, and opine, while Tina consistently tries to keep peace. We also get to watch each suspected D.B. interact with his (or in one case, her) respective friends and family outside of the crime."
PRODUCTION HISTORY
This will be the world premiere of db, which bears the mark of being distinctly local. Not only was the show developed at Portland Center Stage's 2014 JAW festival, but Tommy Smith is a Seattle-bred playwright, the entire creative team hails from the Pacific Northwest and the story itself is the stuff of Northwest legend.
ABOUT THE CO-PRODUCERS
Isaac Lamb is a native Portlander, a graduate of Loyola Marymount University, and a proud Core Company Member of Third Rail Repertory Theatre. For several years Isaac starred in the national tour of
Defending the Caveman
, Broadway's longest running one-person show. Locally, Isaac has performed with Third Rail in
The Lying Kind,
Kiss Me Like You Mean It, The Wonderful World of Dissocia
,
That Hopey Changey Thing,
The Aliens, Sweet and Sad, Noises Off, Midsummer: a play with songs, The Mystery of Irma Vep,
and
Belleville
;
Portland Center Stage in
The 25
th
Annual Putnam County Spelling Bee,
and
A Small Fire
; Artists Repertory Theatre in
Assassins
and
Vitriol & Violets (2009 Fertile Ground)
; Broadway Rose in
Sound of Music, Ripper,
PDX-Mas
,
and
Forbidden Broadway;
Portland Playhouse in
Famished
;
Lakewood Theatre Company in
Into the Woods,
Lend Me a Tenor
, and
City of Angels
;
Northwest Children's Theatre in
Beauty and the Beast
(Drammy Award, Best Supporting Actor), and many others.
Isaac is the resident tour director for
Defending the Caveman,
and he also directs professionally in the Portland area, including Drammy-winning productions of
Grounded
at CoHo Productions,
Sweet Charity
at Lakewood Theatre,
Mother Teresa is Dead
at Portland Playhouse, and
Band Geeks
and
Adrift in Macao
for Broadway Rose.
He has spent 15 years as a theatre educator for middle and high school students, including founding and directing Broadway Rose's Teen Summer Workshop.
Rebecca Lingafelter is a performer, teacher and producer living in Portland. She received her MFA from Columbia University in 2005, where she studied with Anne Bogart, Andrei Serban and Kristin Linklater. In New York she performed at Classic Stage Company, PS122, The Ontological Hysteric Incubator, HERE Arts Center, The Bushwick Starr, The Chocolate Factory, Judson Church, Vortex Theatre Company, Target Margin Theatre, and The Metropolitan Opera. She has performed internationally in Korea, Germany, Italy, England and Budapest, Hungary. She was co-artistic director of experimental theatre ensemble Performance Lab 115 from 2005-2010, where she produced and performed in over 12 productions. In addition she was lead-artist for PL115's six-month residency with Mabou Mines mentored by Ruth Maleczech in 2008. Rebecca is currently an Assistant Professor of Theatre at Lewis and Clark College. In addition she has taught at the The New York Conservatory for Dramatic Art, The Public Theater, Classic Stage Company, The Brooklyn Academy of Music, and the Portland Actors Conservatory.  She is a founding member of PETE, a core member of Third Rail Repertory and a proud member of Actors Equity and SAG/AFTRA. Upcoming productions include Sweet and Sad with Third Rail, and Song of the Dodo with PETE.
ABOUT THE PLAYWRIGHT
Tommy Smith's

FIREMEN
 was named by the Los Angeles Times among the
best stage shows of 2014
. FIREMEN also
won five LADCC awards
, including best writing. Tommy's other plays include GHOSTLIGHT (Labyrinth Theatre Company, d. Paul Budraitis),
WHITE HOT
(Here Arts Center, d. May Adrales & West Of Lenin, d. Braden Abraham);
ZERO
,
PTSD
&
PIGEON
(Ensemble Studio Theatre, d. Billy Carden);
THE WIFE
(Access Gallery, d. May Adrales);
CARAVAN MAN
(Williamstown Theatre Festival, music & lyrics by Gabriel Kahane, d. Kip Fagan);
DEMON DREAMS
(Magic Futurebox, music by DJ Spooky, d. Kevin Laibson);
A DAY IN DIG NATION
(PS 122, co-written and d. Michael McQuilken);
AIR CONDITIONING
(Eugene O'Neill Playwrights Conference, d. Steve Cosson); among others.
In addition, he co-created and directed the award-winning stage shows DISINFORMATION, TRANSITION, RADIOPLAY and DUTCH A/V, which played at The Public Theatre, Lamama, The Warhol Museum, MCA Chicago, ICA Boston, On The Boards and PICA: TBA, among others. As a director/writer, Tommy also created the environmental sound performances, NECTARINE EP (for Flea Theater) LOTUS EATERS EP (for IRT Theater, with voices of Neil Gaiman, Marin Ireland & Reed Birney) andFORTH (for MFB, d. Meiyin Wang). He is a graduate of The Juilliard School for playwriting. https://smithsmith.wordpress.com/