Here at CoHo, 2022 is a year of newness. We're in the process of devising some new programs for our upcoming season, we're gutting the CoHo offices to make space for inspiration and creativity, we just debuted the new CoHo website, and we've just given the CoHo lobby a fresh, new look. We are proud to present the CoHo Mural, an original piece of art commissioned by local artist Latoya Lovely (on Instagram @llovely01)!
When Philip Cuomo got sick, we wanted to find a way to keep his spirit alive at CoHo. We also wanted to make the lobby more inviting, to create a physical environment where a diverse array of artists could gather over a cup of coffee or before a show. Philip had a vision about the theater's evolution – he wanted to transform CoHo into a space that feels like everyone can be in abundance together. Latoya generously took up the project and painted this wish onto our walls.
Latoya Lovely is a local Portland artist who's been drawing ever since she was a kid. As a child, her heart would skip a beat when she found a blank space on the back of her school work (even if it meant being reprimanded for not focusing). As an adult, she began with small paintings, then scaled down to greeting cards. In an unlikely and sincerely gorgeous turn of events, she started thinking bigger. Friends stated her cards were mini-masterpieces, and that they wanted to see her boldness grow. She was brave – and she listened. Today, you can find her work around town, from gallery exhibitions to the walls of CoHo.
After the mural was completed, we sat down with Latoya to learn more about what this latest project means to her.
---
AN INTERVIEW WITH LATOYA

Q: Tell us a little bit about how your process. What went into making the mural, and how was the process for you?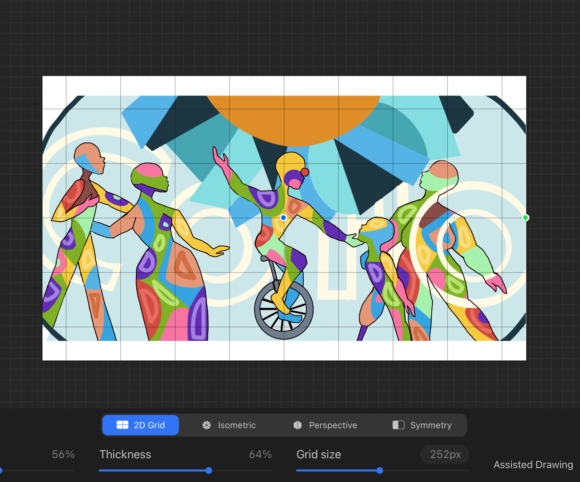 A: Every great process starts with a consultation with the client. I initially met with Laurel who gave me a general idea of what the mural was to represent. I came back with a mockup, then it was decided amongst the staff members that they wanted to go in a different direction. After this, we added Phil into the conversation, and Phil shared his vision with me… and everything just clicked. His interpretation of what he wanted to see, his examples from my past work, and his connection to those pieces – I just saw it. I saw it in my head, and it was a really cool moment, connecting between two artists. Phil is an artist and when he shared his vision, I was able to really feel what he was saying. From here, I shared a new design and CoHo was instantly like, "YES! This is what we want!" This is now one of my most favorite projects, and you can see the vision CoHo laid out, now represented on your walls.
Q: What was your installation process like?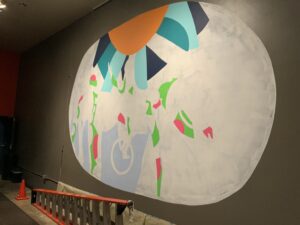 A: For my installation process, it's always different and I'm always learning. I usually freak out in the first couple of days, that's my freakout time. Generally, I get to be by myself and figure my whole life out as I work, but CoHo staff was in the building with me, so I had to sweat and figure things out and change plans on the fly. I had originally planned to project the mockup design onto the wall, but that didn't work out because of the spacing. I had to go a completely different route and was just praying the whole time, but we got there! It was a really cool experience to get through it all and I was able to do something pretty amazing, from my heart to you all.
Q: It is pretty amazing, the mural transforms the space, it's so gorgeous. So what does this piece mean to you? I hear you saying the collaborative process was meaningful, but as far as content goes, how do you relate to it?
A: Vibrant, brilliant colors are always my favorites, and this piece really does bounce off the wall. I'm pretty proud of the outcome and the simplicity of it. It is simple, but it is powerful. and I was able to relate to the work. Even though I didn't personally know Philip, this piece is essentially how Phil described to me what Philip wanted. It helped me to know a little bit about your relationship with Philip. I know everyone's relationship was quite different, but I felt that Philip was a person you all respected, admired and loved. So while I wasn't nervous, I really wanted to make this mural a gift to the CoHo community.
Q: Tell us about the clown in the middle of your piece.
A: Philip is portrayed by the clown in the middle of the mural, and when I was painting the piece, I saved Philip for last. Specifically, I saved his clown nose for last. I wanted to save his image because this mural is his curtain call. This is his final performance. All of the theatre community members in the piece are focused
on Philip. I didn't save his entire body for last because, in my artist mode, I was like, "OK! You've got to get a chunk of something done so you feel good about coming in the next day." But I specifically saved his nose for last because I thought to myself, "This is Phil's piece. It's done when he says it's done." And I'm going to save the last piece for a member of CoHo Productions to complete because ultimately, it's your mural. I wouldn't have been a part of the experience had it not been for your hearts, your love, your admiration for this individual, and your community, your passion, your vision into the future, your hunger and desire to create a space that is inclusive and doing major and inviting things. That last final piece was not for me to complete, it was for someone whose love is in this building to put the final touches on.
Q: Phil told us he had filled in the nose and that you'd saved it, but we had no idea what your process was around it. That feels really good, it feels like the right ethos for this project. What a big contribution to our community model and to our wall – thank you so much. Is there anything else you want to say or you want people to know?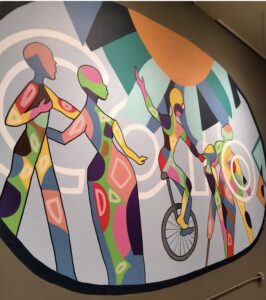 A: Phil was adamant… not so much adamant but resolutely sure of what he wanted, and that was to show diversity in the piece. Of course, when there are non-representational figures, how exactly do you do this? It ended up being something about soul. It's quite evident there are different individuals represented, and that they are individuals of different abilities, and that is very important to me. One of the projects I worked on a while ago, a board member expressed that it was time to start including individuals of different abilities in our art, and I took this to heart. Why the hell had it taken me so long to see that? I now consider this feedback a gift. We have a young child in the mural who has a prosthesis. I understood and received what Phil was sharing with me, there is our auntie, sister and brother in this mural, and there are people who will see themselves as they come through the CoHo Theatre doors, that can relate and see themselves or someone they love in this piece.
Q: Accessibility and representation are key, thank you for helping us contribute to making CoHo a bright, safe space for a diverse audience. Thank you so much for your insight and for joining us on this monumental undertaking. We look forward to working with you again in the not-so-distant future!
---
To check out Latoya's latest work of art in person, come on down to the theatre for the next show! You'll be able to see this beautiful mural in all its creative glory at our next Mainstage show, In the Name of Forgotten Women. The show runs from March 25 – April 16, 2022 and tickets are on sale now – Reserve yours today!