The Squeeze by Clifton Holznagel (REVIEW). Filmed at 79th Avenue Festival. NIGHTLIFE is pleased to bring you CoHo favorite, Clifton Holznagel, presenting #doppelgäng live, a conversation on radicalization, isolation, and decolonization.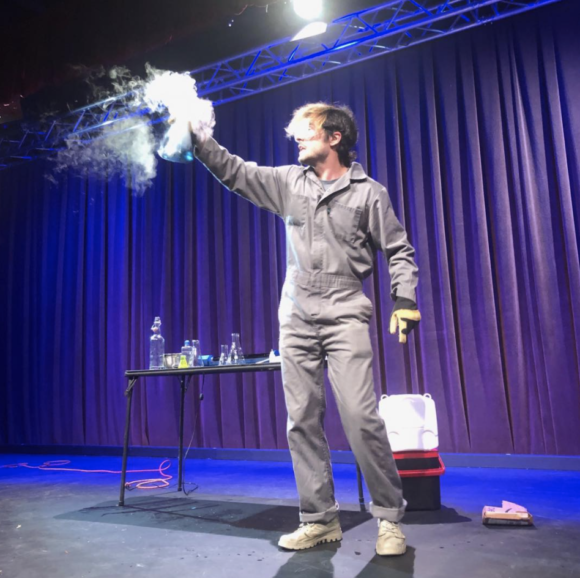 For this performance, Clifton holds late-night interviews with local personalities. He'll be speaking with an anti-fascist about their experience joining the Portland Uprising in the summer of 2020 and how the movement has grown. He'll also be interviewing a Portland artist about the changing nature of performance in the pandemic.
June 18, 2021 at 9:00 PM PST
Featuring musical guest Tatarat (PDX's favorite Ratatat cover band), #doppelgäng live hits the CoHo stage on Friday, June 18th at 9 PM PST.
Tickets are FREE and everyone is invited! Follow our Twitch channel and receive a notification when we go live at 9 PM.
---
CLIFTON HOLZNAGEL has been growing on stage since he was a little bean sprout in Cleveland, Ohio in the late 90s. Theatre has always been his home and community; it has taught him the concepts of self-reflection and empathy as lifelong pursuits. The last few years have brought a deepened desire to play his part in the progress of humanity. He hopes that by following his joy and listening to the world around him he can inspire others to do the same.
Clifton is currently the co-host of the Radical Listening podcast and has spent the last seven years on Portland stages at CoHo, defunkt, Vertigo, Shaking the Tree, and other theatres. He trained with Portland Experimental Theatre Ensemble (PETE) at their Institute for Contemporary Performance and he holds a BFA in Acting from Ohio University.
---
Catch Clifton's past work
Pictured: Clifton Holznagel as "Dog" in Found Dog Ribbon Dance,
and as "Ensemble" in Beethoven & Chopin Meet the Bride of Frankenstein at CoHo.
---

CoHo NIGHTLIFE is a series of eventss, performed at the CoHo Theatre and streamed live to Twitch. Audience members are invited to engage with the performance through the Twitch chat feature.
All performances are FREE and open to the public. Donations will be collected before, during, and after the show, and audience members are invited to tip the performer directly through their Venmo or Cashapp accounts. 
To access the NIGHTLIFE series, we invite our community to follow us on Twitch. If patrons opt-in to receive updates, they will receive an email reminder on the day of the show. Once patrons follow our Twitch channel, they will receive a notification when we go live, and are invited to tune in from the comfort and safety of their own home.
Whether it's music, dance, poetry, or performance art, NIGHTLIFE is Portland's premiere virtual venue.