Amidst our virtual overhaul, CoHo's mission remains the same: to embolden and uplift performing artists in the Portland community. Our Residency program is a lynchpin in the actualization of this mission. It gives local artists four months of dedicated time, resources, and freedom to develop their latest original work.

Throughout their residency, artists give two presentations to showcase their work. One is an in-house showing for staff, crew, and fellow residents. The other is a three-day weekend performance broadcast to the general public. It is CoHo's immense pleasure to produce this festival, which is always filled with music, movement, and memory-making exhibitions.
About the Shows
Kayla Banks
FIND YOUR WAY
May 14th at 7:30 PM PST
Find Your Way is a work-in-process, dance musical project that initiated when Kayla moved to Portland in 2016. The project started with a conversation with her then-partner about the move and the seemingly silly, odd magical weird events that occurred on the way. This experience gave way to an awakening, laying the foundation for this musical. Find Your Way is about the evolution of the human spirit, reckoning, recovery, and the alchemy of metamorphosis.
words words words
Andrea Vernae
S.O.M.A. – STORY OF MY ANXIETY
May 15th at 7:30 PM PST
S.O.M.A. – Story of My Anxiety is a mix of storytelling, music, and a deep reveal of Andrea's journey to quiet all that is loud in her head. Funny, touching, and experimental, this video Tiny Desk Concert-esque performance is sure to reverberate the heartstrings. Part performance art, part collaborative hip-hop adventure, part story-telling spectacular, join Drea as she probes her own mind on the quest to conquer fear.
words words words
Chris Gonzalez
OK ABNER
May 16th at 7:30 PM PST
OK, Abner is a monologue about a man's struggle to save his relationship with his adoptive daughter. His love for her now requires him to step into a deeper authenticity than he's ever known, and as he attempts this he bumps up against his relationship with his own father. OK, Abner is apologies, interracial relationships, wolves, whales, and aliens.

words words wos
---
The CoHo Lab Residency Project: Cast and Crew
FIND YOUR WAY
Kayla Banks………………………..Creator, Choreographer, Videographer
Belinda Washington…………..Collaborator, Dancer

S.O.M.A. STORY OF MY ANXIETY
Andrea Vernae……………………Creator, Performer
Netty McKenzie………………….The Conscious, Background Vocalist, Songwriter, Vocal Arrangement
Jaylin Broadus……………………The Conscious, Background Vocalist, Producer, Composer, Songwriter
Kayla Kelly………………………….Line Producer, Costume Designer
Xzavier "Wolfie" Beacham……….Line Producer
Rory Breshears…………………..Sound Engineer
Kisha Jarret………………………..Mentor Extraordinaire
Paul Thompson…………………..Saxophone Player
OK, ABNER
Chris Gonzalez……………………..Writer/Director
Tamera Lynn………………………..Director of Photography
Malcolm McClinton………………Abner
Leah Hartzell………………………..Ashley

PRODUCTION TEAM
Phil Johnson…………………………Executive Producer
Megan Thorpe……………………..Stage Manager
Alan Cline…………………………….Broadcast Director
Anthony Arnista…………………..Lighting Designer
Clifton Holznagel…………………Projection Designer
Tamera Lyn…………………………..Camera Operator
Philip Cuomo………………………..Producing Artistic Director

COHO STAFF
Philip Cuomo………………………..Producing Artistic Director
Andrea Vernae……………………..Financial Associate
Laurel Wilde Daniel ……………..Communications Manager
Phil Johnson…………………………Artistic Associate
Morgan Clark-Gaynor……………Operations Assistant
---
Featured Music
FIND YOUR WAY
"Bombastica" by Quetzal Guerrero
"Equulei Nembus_2" and other songs by Mickey Majors
"Constant" by Sage Romero
---
SPECIAL THANKS
Portland Playhouse, Artists Repertory Theatre, Third Rail Repertory Theatre, Mary LaFleur, Phil Johnson, Anthony Arnista, Desert Island Studios, Rusty Tennant, Rebecca Lingafelter, Spencer Rodriguez, Claire Mauer, Mr. Bobby Fouther, Kayla Banks' family and friends – thank you for the constant support, and Peshayu (thank you) #pawneecamp Standing Rock water is life prayer song, to donate to cause click here: https://www.standing-rock.org
---
Meet the CoHo Lab Residents
Kayla Banks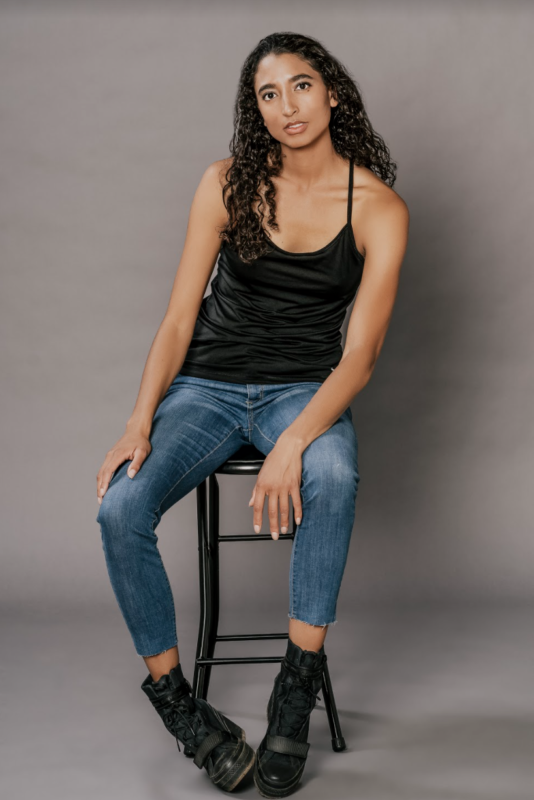 KAYLA BANKS (choreographer, dancer, and actor) is from Denver, Colorado where she received her B.A. in Performing Arts and Business Administration from Colorado State University.

Kayla has trained with NW Dance Project, Cleo Parker Robinson and at the International Blacks in Dance Conference. She has danced professionally with Impact Dance Company, Cleo Parker Robinson and Dancing Earth Indigenous Contemporary Dance Creations. She has performed in an original work by Anya Pearson in New York City at The Public Theater under the choreographic direction of Emily Bufferd.

Under the New Expressive Works residency program, she debuted an original work in March 2019 around multi-ethnicity. She currently teaches on Zoomland and coordinates programs for Jacob's Pillow International Dance. Her focus is on wellness, technique, spirituality, and expression.
Artist Statement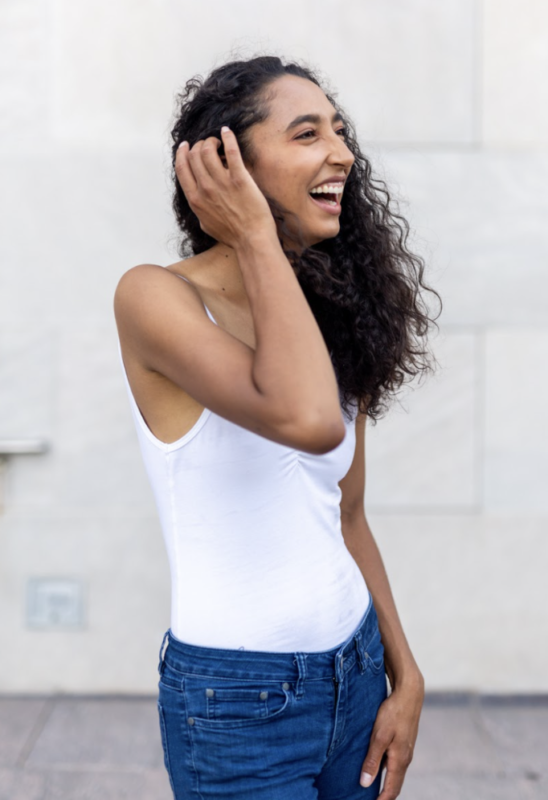 As a multimedia performing artist, I want my work to represent the conflicts that we face in the world. My work is relevant to present conflicts and addresses themes that relate to nature and human existence. I want to tackle these conflicts through dance because movement expresses feelings that my words cannot express.

The stories and imprints that my body can tell are related to ancestry, environment, and sociology. I want to challenge my audience to think about conflicts in multiple ways and to find meaning in their lives. I want to create a space of mutual aid and reciprocity. The performing arts are a medium for reporting and telling stories on an emotional and spiritual level. My work is primarily in film, experimental, and stage dance.
words words words
---
Andrea Vernae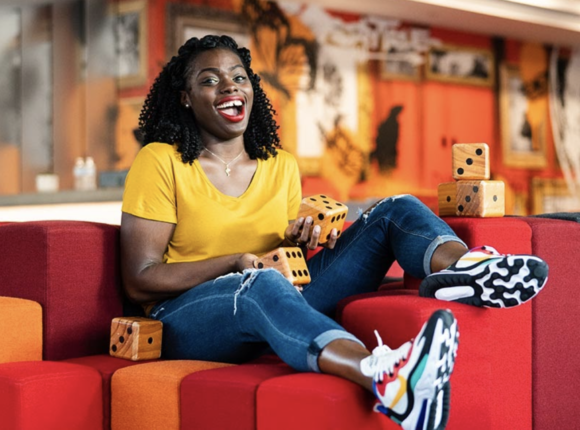 ANDREA VERNAE is an artist. She writes, she directs, she produces, she acts, she sings, and she dances. There is nothing she can't do. Andrea is a Portland-based artist but she is originally from the magical city of Miami, FL.

Since the pandemic, she has felt both the ignition and extinguish of the creative flame. She is grateful to have found that flame reignited again as a Resident a part of CoHo Lab and as a member of The BLVCK Film Collective. Andrea most recently wrote and directed the short film You Don't Know Naan.
Artist Statement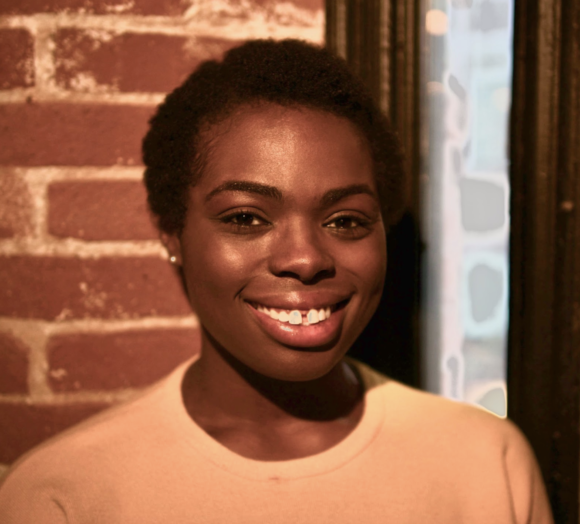 Hi, My name is Andrea and I have anxiety. Picture it, you are reflecting over a long day, you play your Lo-fi playlist since you can't stand to hear words because it all feels like too much for your brain to listen to. You feel at ease and that you can finally hear yourself breathe. Music has an incredible way of just allowing us to lose ourselves in its melodies and shed light on our indescribable emotions.

Through an intimate musical experience, I hope to reveal and illuminate the symptoms of anxiety to those who relate to this experience or are discovering for the first time what they've been feeling for their entire lives.
---
Chris Gonzalez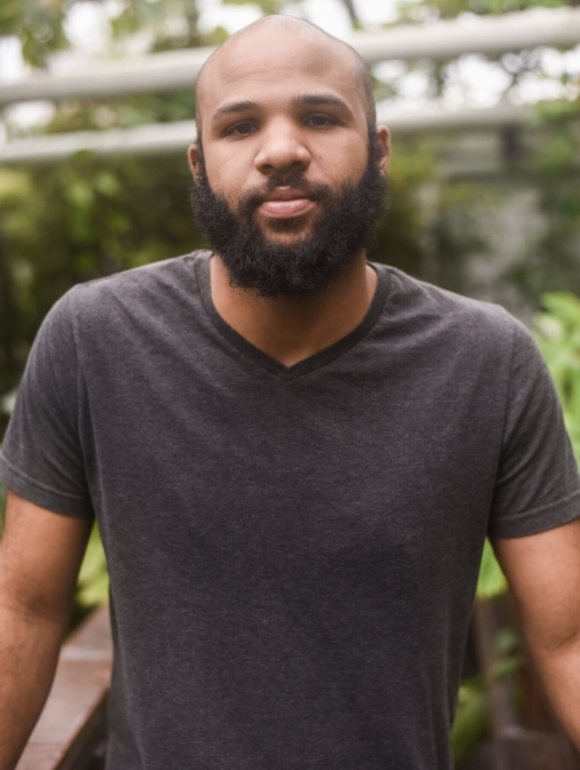 CHRIS GONZALEZ is a playwright, poet, theater critic, musician, and educator based in Portland. He was the recipient of the James Baldwin Memorial Scholarship Fund Award for Playwrighting from the University of Massachusetts, Amherst. He has since written dramatic criticism for The Oregonian, Oregon Arts Watch, The Portland Mercury, and Willamette Week. Chris taught Devised Physical Theater at Portland Playhouse and the School of Contemporary Dance and Thought and worked with the August Wilson Red Door Project, Oregon Children's Theater.

As a poet, he has opened for International Slam Champions Saul Williams and Shane Koyzxan. He has been featured at the Wordlights, Ghost town, Nest, and Slamlandia readings. His book of poetry, Water or Bread, was published by Human Error Press.
Artist Statement
I am writing a cycle of monologues addressing an often overlooked point of division for Oregonians: city and rural life. This cycle of filmed monologues, called, "The Oregonians" is an opportunity to create a bridge between worlds, and explore the chasm that exists between city and country.
---