CoHo NIGHTLIFE is thrilled to present The "Give-Franks for 2021" Telethon, performed at the CoHo theatre this January 16, 2021 at 9 PM. FRANK will be performed live on the CoHo stage, and live-streamed to the comfort of your own home.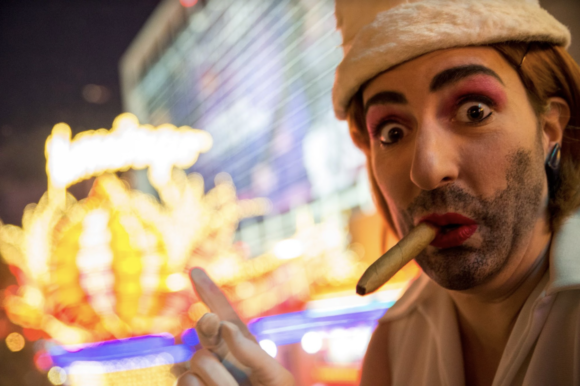 Written, directed, and performed by globe-trotting comedic genius, Emily June Newton.
January 16, 2021 at 9:00 PM
Tickets are FREE and everyone is invited! Follow our Twitch channel and receive a notification when we go live at 9 PM.
………………………..

---
ABOUT THE "GIVE-FRANKS FOR 2021" TELETHON
Let's be Frank – 2020 sucked.
A new year is finally here.
What will YOU pledge to make this a better year for all?
CoHo invites audiences to experience FRANK, The Rat Pack's world-renowned 17th member! America's ritzy, sophisticated songster and ferociously funny entertainer invites you to partake in his interactive live "life retrospective."
This interactive streaming experience is a ridiculous, absurd, comedic act of hope for the year 2021. Brought to you by the world's most entertaining entertainer, FRANK, this NIGHTLIFE performance will grab you by your shoulders and make you feel nostalgia for a star you never knew.
This riveting glimpse into a very special "leading man" is brought to you by Australian comic Emily June Newton. Emily June Newton is a theatre artist specializing in the areas of comedy and character creation. Originating from Australia, Newton has performed her comedic work both nationally and internationally. With over a decade of performance experience in these areas, Newton is a master of transformation and audience interaction.
---
"A delight in drag"
-Warp Magazine, TAS, Australia

"A solo show that is actually good"
-The Mercury, Portland OR

"Complete and beautiful nonsense"
-Plank Magazine, BC, Canada
---
ABOUT THE CREATOR
EMILY JUNE NEWTON is an international multi-skilled comedic performer specializing in the areas of clown, physical comedy, and character creation. Emily has performed both national and internationally with companies including Terrapin Puppet Theatre (AUS), Tasmanian Theatre Company (AUS), Oregon Children's Theatre (OR, USA), The Children's Art Theatre of China (Shanghai, CHN), Dell'Arte International (CA, USA), Coho Clown Cohort (OR, USA) and has toured her solo work within the Canadian/USA Fringe Festival Circuit.
Emily holds a Master of Fine Arts (MFA) degree in Ensemble-Based Physical Theatre from Dell'Arte International in California and is passionate about character-driven and interactive theater experiences that explore the boundaries between audience and performer. Emily resides in Portland, Oregon with her husband Forest and poodle-mix, Dennis Murphy.
---

CoHo NIGHTLIFE is a series of performances, performed at the CoHo Theatre and streamed live to Twitch. Audience members are invited to engage with the performance through the Twitch chat feature.

All performances are FREE and open to the public. Donations will be collected before, during, and after the show, and audience members are invited to tip the performer directly through their Venmo or Cashapp accounts.

To access the NIGHTLIFE series, we invite our community to follow us on Twitch. If patrons opt-in to receive updates, they will receive an email reminder on the day of the show. Once patrons follow our Twitch channel, they will receive a notification when we go live, and are invited to tune in from the comfort and safety of their own home.

Whether it's music, dance, poetry, or performance art, NIGHTLIFE is Portland's premiere virtual venue.