For 25 years, CoHo has dedicatedly championed new works from local Portland artists. CoHo busily uplifts and disseminates theatre that is innovative, exploratory, and brand spanking new. And although we can't gather in person to watch live theatre this year, CoHo persists as an incubator for artists to workshop their craft. We grant access to technical and production support and provide artists with the space to showcase their latest creations. It is more important now than ever to support our city's creatives as they process the world around us, imagine new futures, and bring our communities together.
As CoHo embraces virtual theater and excitedly stretches into its future, we'd like to take a moment of reflection. This year, we pay tribute to our last season at CoHo, which paved the way for our current and necessitated expansion. Please join us as we reminisce on this walk down memory lane.
---
COHO SEASON 24 – DO YOU REMEMBER JUST LAST YEAR?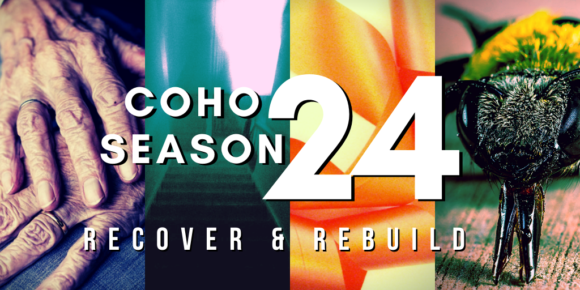 MALA by Melinda Lopez
Co-produced by Brian Schnipper and A.R. Nicholas
Remember Julana Torres' tour de force performance as Mala! Megan Wiljkerson and Laura Savage's spectacular and elegant scenic design of the breaking iceberg, beautifully lit by Carl Faber.

Melinda Lopez unapologetically showed us the struggles of a grown-up child bravely caring for a complicated parent at the end of their life. This irreverent one-woman show combined humor, tension, and vulnerability to create a deeply intricate story of love and perseverance.
Remember a cast of all African-American and Thai-American actors led by the enchanting Andrea White and the earnest Samson Syharath! This one was a startling, scary, and poignant production directed masterfully by Catherine Ming T'ien Duffley.

We watched as brothers Max and Visarut launched a ghost-hunting business to capitalize on the nationwide increase in sightings of "Asian-looking ghosts." When the siblings investigated the home of an African-American couple displaced by Hurricane Katrina and haunted by a terrifying spirit, everyone involved was forced to reevaluate their notions of sanity and superstition to discover the shocking truth. Written by the self-proclaimed "world's only Thai-American playwright," Prince Gomolvilas, The Brothers Paranormal left audience members shivering in their seats
It will be hard to forget Tom in wrestling mask and boxer shorts that were just too short doing those ribbon dances to Whitney Houston Music! This vision was matched by the incomparable Beth Thompson, who gave a gentle and dynamic performance as a Cuddler sharing intimacy with strangers while she struggles to find it for herself.

This heart-warming story was rich with nostalgia, physical affection, and unconventional intimacy. By Reed College alum Dominic Finocchiaro, Found Dog had us pondering our human desire for physical touch in a disconnected world.
---
COHO SEASON 25 – ARE YOU READY?
In this new age of virtual programming, CoHo has adjusted the way we produce live theatre. Unable to invite audiences into our space to experience the spontaneous and immediate magic, we bring it to the safety and comfort of their homes. Though things look a little different this year, CoHo is still hard at work producing plays and supporting Portland artists.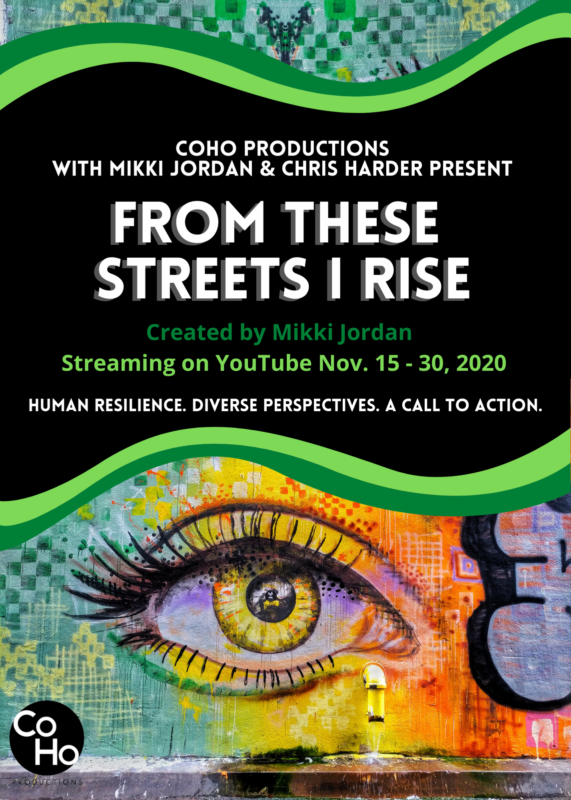 We kicked off our 25th Season with From These Streets I Rise, an inspirational piece of love and compassion from Mikki Jordan. This play honored the diverse stories and immediate experiences of Portland Street Roots' vendors impacted by houselessness, revealing their creative resilience. Weaving together stories and live music, one actress shifted seamlessly through multiple characters, taking audience members on a unique journey that centered the power of community and our responsibility to one another.

From These Streets I Rise was produced and filmed as a live show at the CoHo Theater in front of an empty house. Working with three cameras, CoHo captured the show in real-time. We live-streamed the production on YouTube so patrons could tune into the production from any web browser or internet-connected device. The show was a resounding success, drawing audiences from across the country during its one-week "run." In the following weeks, audience members could watch and share archival footage at their leisure. This helped us promote the production to a wider audience and give our patrons a variety of ways to interact with it.
Following From These Streets I Rise was the scintillating holiday spectacular, Liberace and Liza, featuring the dynamic duo David Saffert & Jillian Snow Harris. These two shared the stage as Liberace & Liza Minnelli, creating an exhilarating virtual night of musical and comical fireworks. Audiences were met with upbeat tunes, Christmas carol sing-a-longs, and a delightful explosion of glitz and glam. This year's special guests included Bo Ayars (the actual Liberace's musical director and arranger from 1973-1985), who conducted the show.
Like From These Streets I Rise, this musical experience was captured by our video cameras and live-streamed to audiences at home. We were heartened to provide some holiday cheer for our cozy, homebound patrons. Ticket sales were through the roof, and we received feedback that the show was a digital delight. It was an honor to host Liberace and Liza for the 4th time here at CoHo, they are always a pleasure to produce.
Finally, CoHo has an ongoing treat for audiences at home. In an online web series we've affectionately dubbed "CoHo NIGHTLIFE," we live-stream emerging creatives showcasing their talent on the CoHo stage. These performances, although theatrical in nature, feature a wide variety of artistic skill. So far we've featured a live DJ set, a drag comedy telethon, an evening of intergalactic Black music, and an interactive movement piece. NIGHTLIFE streams once a month, for free, on Twitch. We push for audience members to tip their performers as they enjoy the show; it is our goal to promote local artists and get them paid for the work they produce.
---
THANK YOU
As CoHo adapts to meet the pandemic's challenges, we are continually amazed by the tenacity and heart of Portland artists and audiences. Our community has continued to prioritize creativity and fuel our wonder, connection, and resolve. We are grateful to all of the artists and patrons who participated in CoHo Season 25 – your determination and generosity are an invaluable resource to our work. CoHo Season 25 wouldn't be the miraculous project it's been without the legacy of Season 24. To all those who created and witnessed the work of Season 24, thank you for giving your talent and engagement to CoHo's stage. It was a delight to produce and witness the artistic excellence exhibited by Season 24's cohort of dedicated creators.

We look forward to producing more exciting new work in the year to come. Catch you on Twitch and YouTube for our upcoming CoHo NIGHTLIFE, residency projects, and a 25th Season Celebration of this year's performances coming in May!