4 Cool Shows in 4 Hot Weekends for $60
Unknown Drag Legend.
Masked Shakespearean FanFic.
Acrobatic Edwardian Servants.
Laughable Panic Attacks.
JUNE 23 – 26
FRANK: to be frank
ABOUT THE SHOW:
World-renowned! The Rat Pack's 17th member! America's most entertaining entertainer! A very special leading man's interactive live "life retrospective." FRANK will grab you by your shoulders and make you nostalgic for a star you never knew!
[maxbutton id="73″]
ABOUT THE ARTIST:
Emily June Newton is a theater maker and comedian specializing in the areas of cabaret and character creation. With years of MC, comedy and cabaret experience, Emily loves audience interaction and strives to entertain and provoke through her own style of character performance.
Originating from Australia, her time in Melbourne saw her complete a Diploma of Arts – Small Companies and Community Theater and appear in the annual Moomba Festival and The Short and Sweet Festival 2006. She was a founding member of the physical theater trio The Ladder Co-operative (3D Fest '04 CUB Malthouse/Victoria University). Her time in Tasmania saw her perform in various shows, events and groups including: The Second Echo Ensemble, Dream Masons, founding member of The Short Back and Side Show. Emily performed regularly as characters 'Madam Goulash' and 'Maurice Lombardo' at various comedy and cabaret nights, and private functions both locally and interstate. In 2010 Emily traveled with Terrapin  Puppet  TheatER  to Shanghai, China to devise and perform When The Pictures Came, and resulting tour to the Come Out Children's Festival, Adelaide and 10 Days on the Island Festival, Hobart. Emily also toured state-wide with the company with The Waltzing Tree. Emily was seen as part of the Festival of Voices 2011 and 2012 at Voices of Vice where she showcased her original comedic characters to sell out houses.
In 2014 Emily completed her MFA in Ensemble Based Physical Theater at Dell'Arte  International School of Physical TheatER in California USA. During her MFA, she appeared in many cabarets, festivals and was employed by the Dell'Arte Theater Company for their productions of Comedy of Errors, Babes in Toyland and Korbel.
After graduation, Emily and her clown group The Defenestrators, performed at the 2014 FURY FACTORY Festival of Ensemble Theater, in San Francisco and most recently at Fertile Ground in Portland, Oregon. Emily now resides in Portland, Oregon and is currently creating a new solo show with her character 'Frank' under the direction of Deanna Fleysher (aka BUTT KAPINSKI). She can also be found roaming the city as PAT MCKENSIE.
JUNE 30 – JULY 3
Venus and Adonis
ABOUT THE SHOW:
Sex-goddess Venus is obsessed with petulant pretty boy Adonis. He rejects the offer of being her divine toy boy, preferring to go boar-hunting instead, but finally gives in to her advances. He ends up gored by a ferocious wild boar, and Venus curses love for ever more. Directed by Samantha Van Der Merwe, Matthew Kerrigan and Rebecca Ridenour deliver Shakespeare's most famous erotic poem… in mask!
[maxbutton id="74″]
ABOUT THE ARTISTS
Shaking the Tree's Performance Group are an artistic collective of collaborators with a strong connection to the mission, values and aesthetic of Shaking the Tree Theatre. Performance Group members are ambassadors of Shaking the Tree out in the world, and are connected to STT in many ways, offering their time and expertize where applicable. In return STT offers opportunities for collaboration on projects, teaching, and use of space, as well as resources (such as fiscal sponsorship), for individual projects presented at Shaking the Tree's venue.  http://www.shaking-the-tree.com/
Samantha Van Der Merwe (Director) is the founder, Artistic Director and teacher at Shaking the Tree Theatre, where she directs theatrical productions and teaches drama classes for children aged 5 and up. She is a Licentiate of Trinity College, London and holds an (LTCL) Teaching diploma in Speech and Drama. She founded Shaking the Tree in 2003, and after a few years as a thriving art and drama studio, she began directing.
Since joining the performance group in 2013, Matthew Kerrigan (Actor) has performed with Shaking the Tree in Wilde Tales, One Flea Spare, Masque of the Red Death, Suddenly Last Summer, The Dissenter's Handbook (Summerfest 2014 premiere), and The Passion Play. Matthew's magnetic presence and intuitive physicality on stage make him a perfect collaborator and conduit for Samantha Van Der Merwe and Shaking the Tree's unique approach to theatrical storytelling.
Rebecca Ridenour is delighted to be working for the first time on CoHo's stage. Portland credits include: Actor 5/Sarah in We Are Proud To Present… with Artists Repertory Theatre, Judith in Equivocation at Post 5 Theatre, Constance Leadbelly in Good Night Desdemona Good Morning Juliet with North West Classical, Miss Foxhill in Suddenly Last Summer with Shaking The Tree, Gender Tree with Post 5 Theatre, Ophelia in ¡O Romeo! with Milagro Theater, Susan Brady in Playboy of the Western World with A.R.T, Goneril in Lear and Brutus in Julius Caesar with Bag and Baggage, Nancy in Hard Times Come Again No More with Sowelu Theater, and Spectravagasm I,II,III, VI,VII,VIII. Rebecca is from Santa Barbara, CA and a graduate of Portland Actors Conservatory class of 2012.
JULY 6 – 9
Bella Culpa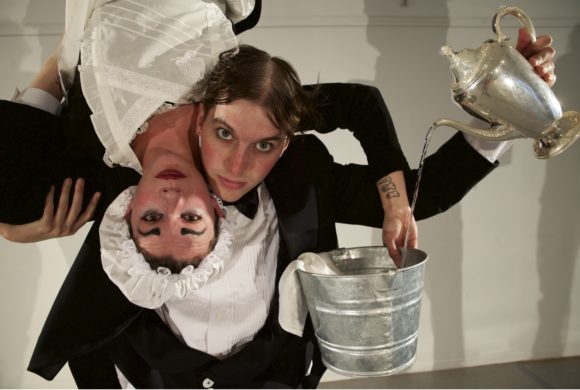 ABOUT THE SHOW:
Downton Abbey meets The Three Stooges. Follow two peculiar servants in an Edwardian manor as they bustle around, trying in vain to complete all of their chores. A Little Bit Off's latest original slapstick comedy is a mess of silver buckets, a slew of uninvited furry guests and impressive circus-style acrobatic flair.
[maxbutton id="75″]
ABOUT THE ARTISTS
Co-founded by Amica Hunter and David Cantor, A Little Bit Off began as a theatrical collaboration between two acrobatic clowns dedicated to bringing wonder and laughter to the audiences of the world. Drawing inspiration from the old american vaudevillians, and work of French artist James Thierree, ALBO has grown to produce two fully developed shows with carefully selected themes, hilarious characters, intricate relationships, mind-boggling tricks, and a very quirky, off-beat flavor. ALBO has performed for audiences all over Europe and the United States, captivating audiences of all languages with their dialogue-free approach to storytelling.
JULY 14 – 17
When Thoughts Attack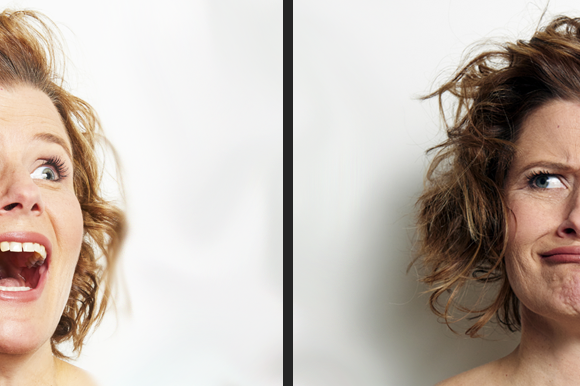 ABOUT THE SHOW
A woman walks into a restaurant to order lunch and is sucked into a whirlpool of anxiety. Clinging to her sense of humor and an emergency Xanax, she teeters between the salmon or a complete nervous breakdown. The act of ordering lunch has never been so entertaining! "Hilarious…it had the audience in stitches." – The Huffington Post
 [maxbutton id="76″]
ABOUT THE ARTIST
Kinsella's style is raw, unique, personal yet universal, in the vein of storytellers Amy and David Sedaris, Louis CK and Lily Tomlin. WHEN THOUGHTS ATTACK was an official selection in NYC's ninth annual
soloNOVA Festival. It originally received a staged reading hosted by theActor's Fund of New York and was workshopped at Ars Nova in NYC. The show went on to appear Off- Broadway at the Duke on 42 St. and played regionally along the east coast as well as on numerous college campuses including Belmont University in Nashville, TN.
[maxbutton id="70″]
Summerfest Passes
$60    4-Show Pass
$45    3-Show Pass 
$30    2-Show Pass 
$20    Single Ticket