During the usual runs of our shows at CoHo's theatre, we curate a collection of visual artwork from local galleries, selecting pieces who's themes closely connect with the central ideas of the show. Since our latest show From These Streets I Rise was a virtual live-streaming experience, we decided to create a virtual lobby to match!

We reached out to RACC, who connected us with the community of visual artists here in Portland. Four artists were selected to be a part of our gallery, and their work was displayed in the "Virtual Lobby" before the run of the show.

In the coming weeks, we're going to be highlighting these artists, showcasing some of their latest work, and giving you an opportunity to connect with your creative community in a more immediate way. Take a peek at the enduring creative spirit captured in their art, and so wonderfully embodied in From These Streets I Rise.
---
Zach McKinley
Zach Mckinley is a multi-medium artist who lives and works in Portland, Oregon. Originally from Anaheim, California, this is where he first saw graffiti. His use of colors to bring a certain feeling to his work stems from the diverse cities he's explored around the world. Blending all different types of styles, colors, textures, and tones. This can also be viewed in his photography, illustrations, and woodblock prints.

"Colors let you feel, imperfections show you beauty."
HOW TO CONNECT: Follow Zach on Instagram at @zamckinley and @smpltrvlr

---
Jamaali Roberts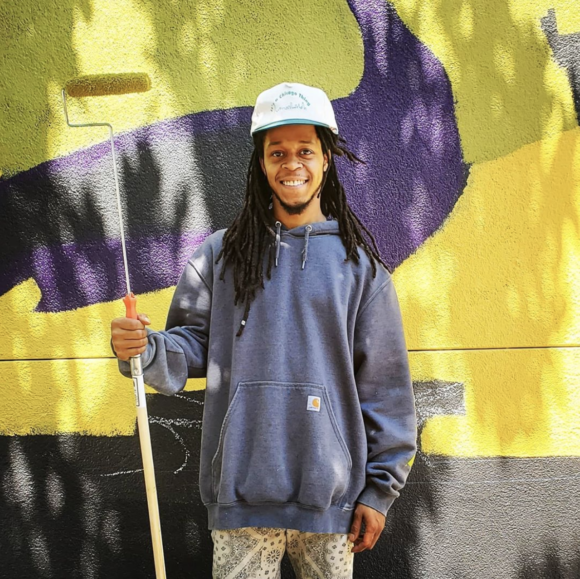 Jamaali Roberts is a multidisciplinary visual and musical artists. His illustrative paintings and drawings investigate the rich, multi-faceted, and diverse experiences of African-Americans. He is especially interested in African heritage and with the phenomenon of movement and rhythm patterns we see everyday.

Alongside his visual works, Jamaali is active part of the community within the greater Portland area, sharing African drumming, hosting collaborative drawing events, painting murals and designing traditional hand-lettered signage, along with directing educational workshops for youth in schools, the houseless community, and those serving jail/prison sentences. Jamaali hails from Atlanta, GA and graduated from Portland's Pacific Northwest College of Art in 2017 with his Bachelor's degree of Fine Art in Painting.
HOW TO CONNECT: Follow Jamaali on Instagram at @jamjamart
---
Aileen McPherson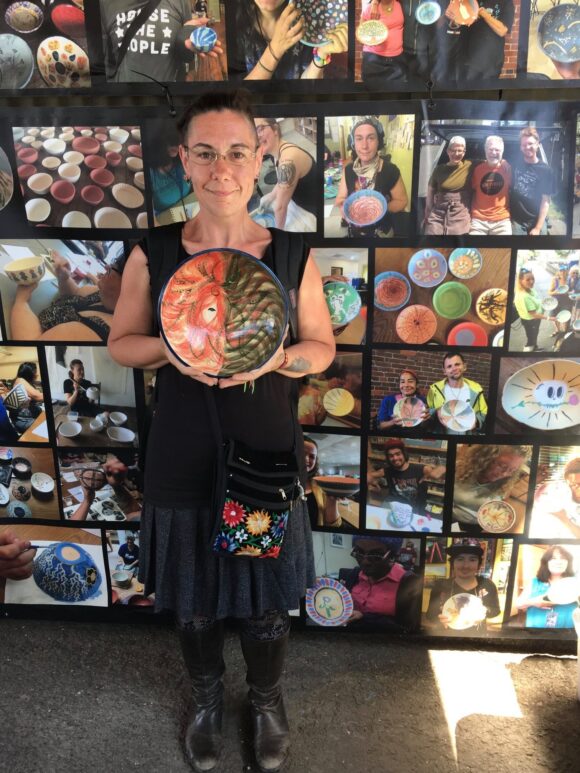 Aileen McPherson was born in Shreveport,Louisiana. She had been writing poetry sporadically since her twenties; however, a Street Roots creative writing class in 2014 galvanized her efforts in 2014 after she became a vendor. She has been a frequent contributor to Street Roots. She has been a BLICK local artist (March 2018), a participant in the Giving Tree project "Bloom", a collaborative art installation at the J. Pepin Gallery (May 2018), and is featured in the Portland Art Museum installation "Object Stories: One Step Away" (July 2018). She started working with Dana Louis and Gather make Shelter in 2018 as one of her painters and are still currently working together painting pottery and on a painting project for Hygiene 4 All, coming this year.

One-third of the proceeds from sales will help fund the McPherson Homeless Housing Campaign; the second third will support future books; the final third will help support her little family (husband Charles, and emotional support companions "Jac", a 10-year-old toy poodle, and "Munchkin", a 7-year-old cat) all of whom live in Portland, OR.
Artist Statement
I'm Aileen McPherson, a Creator of Life. I like time with my family, simply enjoying life one day at a time, since you never know when it may be your last. My loves are designing, drawing, writing, sketching, painting, sewing, making, building, learning, understanding, and one day I hope to be knowing what all life has going for me. As with everything I do I am a work in progress changing, growing, healing, constantly testing my resolve. I hope you will enjoy the visual and literary journey my work takes you on. Each piece is created to empty my mind while exploring and expanding both the mind of the viewer reader, as well as my own.

My art helps me to heal mentally, while physically it causes aggravation to my carpal tunnel and nerves, but I won't stop until my hands make me, no surgery here yet. One day in my future I do hope to own my own home with a studio and gallery shop to have a place for visitors to come and see the artistic process and meet the artist. Until then I will be continuing to heal, grow, and guide myself as well as others through this ongoing process. I welcome you to follow me on my journey.
HOW TO CONNECT: Follow Aileen on Instagram @aidesigns2074 or on her personal webpage.
---
Sean Lambert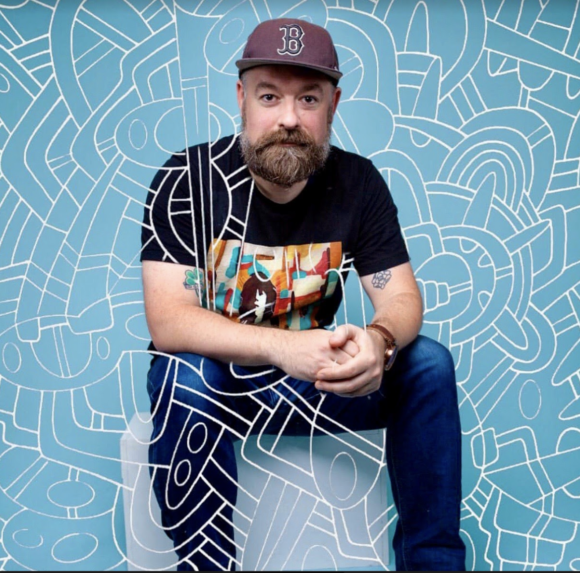 Born and raised in Bennington, Vermont, Lambert has called Portland his home for the last five years. During this time, the depth and maturity of his work has grown exponentially. From winning the 2018 Nike BIKETOWN Design Challenge to expanding the scope of his art to include powerful mural collaborations in response to our city's reckoning with police violence, COVID 19, systemic racism and politics at large, the artist's singular style seamlessly translates across a diverse array of presentations.

Although best known for his abstract renderings on paper and canvas, utilizing a bright color palette in a variety of mediums, Lambert's dedication to color, form, and balance is a fresh and vibrant take on contemporary creativity. Unafraid to mashup imagery with his more familiar milieu, Lambert's explorative nature comes full circle in a variety of pieces wherein the viewer can interpret the ranging lines and shapes as recognizable pieces of a larger continuous whole.
Artist Statement
It is a great honor to contribute my work to this remarkable production of From These Streets I rise. Honoring the diverse stories and experiences of Portland Street Roots' vendors impacted by homelessness is no small task. We see the terrible effects of homelessness in all corners of our city and giving voice to those who persevere against it plays a crucial role in helping to combat what can feel like an insurmountable situation. To have my art included as part of Coho's efforts to showcase local artists alongside such meaningful theater is not only affirming to me as a creative, it also attests to the shared concern for other humans that I put at the forefront of my thoughts when attempting to navigate through the difficulties we are all facing right now. My own thoughts, frustrations and dedicated aims at positivity are poured into the work I've chosen to share with you here. My sincere hope is it resonates with the stuff of life; complex, tragic and as beautiful as it ever was and will continue to be.
HOW TO CONNECT: Follow Sean on Instagram at @lambskins or on his personal webpage.
---
Latoya Lovely
Latoya Lovely works in Special Education for Portland Public School District, she is also a dance instructor. She has been drawing ever since she was a kid- when her heart would skip a beat to find a clean, blank space on the back of her school work, even if it meant being reprimanded because she wasn't actually doing her school work. As an adult she began with small paintings, then scaled down to greeting cards because she would get frustrated not seeing the end in sight. Isn't it funny how we try to control the wild horses of our gifts when we're afraid of the unknown. Friends encouraged her to create bigger pieces as they stated her cards were mini masterpieces. So she was brave, and she listened.

Artist Statement
"Resilient" is the word that has made itself a mosaic in my life. I have spent a lightning-quick half a year turning the meaning of it over in my hands. Letting it slip through my fingers, and onto the bristles of my paint brushes. It pushes through brilliant pigments, and onto the walls of public spaces, and I continue to wonder at it, and at myself. As a Black woman in this strange time, I have had to learn how not to be angry about being on this stage for all the world to see. While Black life after Black life falls, wherever I go, people are looking to see how I will react. I am a mother. The minute the ultrasound revealed that a baby boy was growing in my womb I yelled in glee and laughed loudly as tears ran down my face. And as I left my appointment, the realization that I would be raising a Black man in this world made me sick.

My son is now 5, and for each of those years I have grown in my knowledge of what it means to be resilient. My art is for myself, for my son, and for my sisters and brothers to see themselves in.

I have been growing in my art skills for the past 3 years and I love mixed media. I incorporate fabric, and handsewn glass beads into my acrylic and oil pieces. I have an affinity for bright hues and my favorite subjects to paint are cityscapes and portrayals of strong, Black women.

HOW TO CONNECT: Follow Latoya on Instagram at @llovely01 or on her personal webpage.